Thanksgiving Coloring Tablecloth for the Kids at Heart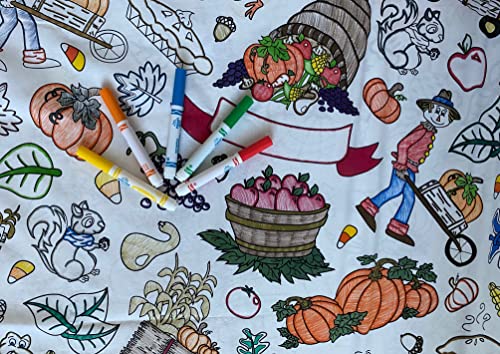 Autumn means it's almost time to gather round for our annual turkey-based meal. When was that sucker ever done on time, though? This awesome Thanksgiving coloring tablecloth gives all your guests a way to stay occupied while waiting for dinner.
Since it's also an actual, practical tablecloth, you'll have décor covered and your table will be saved from wayward crayons. I mean, how could you go wrong? So let's dive into what we love about this washable coloring tablecloth so you can decide if it's right for you too!
What is a Thanksgiving Coloring Tablecloth?
A Thanksgiving coloring tablecloth is a lot like it sounds. It's a fabric tablecloth that's pre-printed with various holiday-themed designs, such as:
Pumpkins
Apple barrels
Scarecrows
Candy Corn
Squirrels
Gourds
Leaves
Acorns
Pies
Cornucopias
Turkeys
Corn on the Cob
And more!
It's designed for use with markers or crayons, which you'll use to color in the various designs around the table. What better way is there to pass the time while waiting for that slow-roasting bird to cook?
Features of the Washable Thanksgiving Coloring Tablecloth:
Made from a wrinkle resistant Polyester/Cotton blend
Reinforced backing to prevent color bleed through
Available in square or rectangle shapes to fit a variety of tables
Reusable if used with washable markers or crayons
Coloring may be permanent if used with fabric markers
Machine washable in case someone drops the gravy boat
Are There Different Versions of the Thanksgiving Coloring Tablecloth?
There aren't different versions of the Thanksgiving coloring tablecloth. However, there are several other patterns of washable coloring tablecloth available:
Birthday celebration
Foods
Picture Frames
Christmas themed
ABCs and shapes
Mandala
Ocean friends
If you totally love these tablecloths like us, then you may want one for every season!
Note that there are some similar paper versions of the tablecloth available. However, as paper, they are not reusable and so not quite apples to apples for comparison.
Frequently Asked Questions About the Washable Thanksgiving Coloring Tablecloth:
Can the Thanksgiving Coloring Tablecloth Go in the Dryer?
Yes, feel free to put your coloring tablecloth in the dryer. If you're trying to set the color, make sure to follow temperature guidelines from your ink manufacturer. Otherwise, just wash in cold water and dry on low heat.
Can I Use This Washable Coloring Tablecloth on a Round Table?
Yes, even though this coloring tablecloth only comes in square or rectangle, it works on round tables as well. Choose the square option to fit up to a 60" diameter round table.
What Tip Style Marker is Best for a Coloring Tablecloth?
Regular or wide tip markers are best for a coloring tablecloth. The designs are large enough that a fine tip would take an incredibly long time to color with.
Our Overall Ratings of the Thanksgiving Coloring Tablecloth
Washable Coloring Tablecloth for Thanksgiving
We love this Thanksgiving coloring tablecloth. It's so much fun and keeps kids and adults alike entertained. My only complaint is that sometimes it takes a couple washes to get it entirely cleaned, particularly with blues and reds.

However, that doesn't stop us from using this washable coloring tablecloth any chance we get, and rotating out various designs throughout the seasons. They're even great for RVs and camping and keep little ones entertained on rainy days!
Bottom Line
If anyone in the family enjoys coloring, you're going to love this washable coloring tablecloth. It gives a mess free way to express creativity and it's still a practical table covering!
Your holidays will be that much more entertaining, and you can feel good about the investment because it's reusable for many seasons to come. What's not to love?
Where to Buy
If you're ready to dress up the table as well as the turkey, here's where to find this unique washable Thanksgiving coloring tablecloth:
Related Products
Here are some other fun Thanksgiving themed items you might enjoy:
Play a game of Would You Rather: Thanksgiving Edition for holiday themed family laughs!

Would You Rather Game Book for Kids! Thanksgiving Edition: A Hilarious and Interactive Picture Book the Whole Family Will Love
Start a new tradition this year with the Turkey on the Table kit

Turkey on the Table Book and Activity Kit - Give Thanks and Start a New Thanksgiving Tradition
Welcome your guests with the fun loving Minions Thanksgiving inflatable in your yard

Gemmy 3' Airblown Inflatable Minion Stuart w/Thanksgiving Banner Universal
Add some Scandinavian charm to your seasonal décor with a pair of Swedish Tomte Thanksgiving gnomes

Tifeson Mr and Mrs Fall Gnome Plush Thanksgiving Decorations - 2 Pcs Handmade Swedish Gnomes Plush Elf Scandinavian Autumn Tomte - Thanksgiving Table Ornament, Housewarming Present
Top your new tablecloth with these adorable turkey tea light holders

Set of 6 Turkey Tea Light Candleholders
The Coloring Table – Thanksgiving and Fall Fun Design – XL Rectangle Tablecloth – Fabric Coloring Tablecloth – Colorable Designs – Washable and Reusable – Coloring Activity for Children and Adults
 out of stock
as of May 1, 2023 8:09 pm
Features
CREATIVE EXPRESSION & LEARNING - The various design patterns available for coloring allows both kids and adults the opportunity to have a relaxing form of self expression that stimulates creativity while promoting a range of benefits. Improved hand- eye coordination, developing spatial awareness, teaching color and shape recognition, enhancing fine motor development and building concentration and focus are all amazing opportunities with this creative activity.
PATENTED ADVANCED MATERIAL - This fabric is a Poly-cotton blend with a specialty backing that assures markers will not bleed through when coloring. It is a reusable, machine washable and wrinkle free fabric.
GREAT GIFT IDEA - Perfect gift for both kids and adults. Enjoy hours of creative fun for holidays, birthdays, graduations, sleepovers, vacations and other celebrations.
BEST USED WITH - For washable option; this product is best used with Crayola Ultra Clean washable markers or Crayola Ultra Clean washable crayons. For a permanent keepsake; this product works best with Tulip fabric markers.