Minion Thanksgiving Inflatable – Stuart Helps Gru Celebrate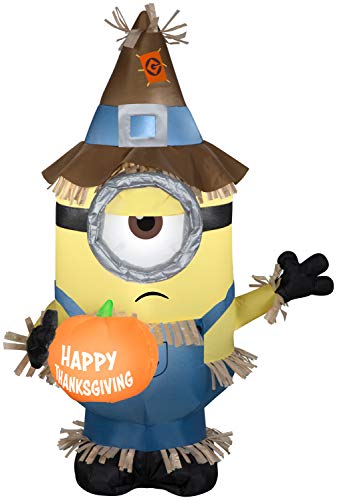 No, Bob, I didn't get a banana for the lawn. You must have seen my Minion Thanksgiving inflatable out in the yard. Speaking of it though, I could use a snack before getting back to being an evil mastermind.
Welcome a little mayhem and mischief to your home with a Minion Thanksgiving inflatable. Everyone's favorite yellow sidekick is ready to greet guests arriving at your lair. Whether it's a volcano base, skull mountain, or just your front yard, it's the perfect addition to your fall décor.
Nothing says turkey day like a Minion Thanksgiving inflatable for the yard!
They're yellow, obsessed with bananas, and the funniest sidekicks of all. The Minion Thanksgiving inflatable is ready to welcome guests to your secret lair this season!
Your Minion is even dressed for the occasion. Sporting overalls, gloves, and a hat, Stuart is dressed like a scarecrow. While he probably won't scare any crows, he is holding a pumpkin that states 'Happy Thanksgiving' just in case you forgot what holiday it was already.
While he looks none too pleased with your shenanigans, just threaten him with a shrink ray, and he'll perk right up. Stuart lights up too, so you'll be able to locate cloaked lairs even at night!
Make sure to secure your Thanksgiving Minion inflatable to the ground with the included stakes and tethers. We don't want a repeat of the last Minion who had that job.
Just plug your inflatable into an indoor or outdoor power source, and it will inflate in seconds. Conversely, it quickly and easily deflates for storage at the end of the season. You know, when you need to switch to your Christmas minions.
Additional Notes