Dinosaur Garden Kit – Grow Your Own Dino Habitat that Glows!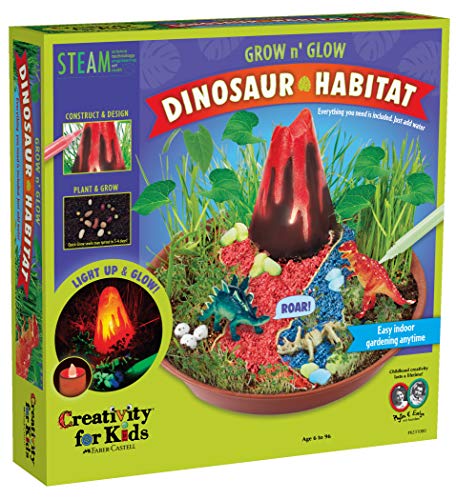 You want to try to hatch a dinosaur? Well, I don't think that's going to work well seeing as they're extinct. What if we made a dinosaur garden kit together and made a habitat for our dinosaurs to enjoy instead?
This interactive dinosaur garden kit is the perfect learning toy for kids. Grow your own garden, learn about fossils, and even enjoy a glowing, light up volcano at night. Your kids will get to design their ideal environment and then play with their dinos.
Forget vegetables, who needs to grow those when we have a dinosaur garden kit!
This dinosaur garden kit is the perfect way to bring dinos to "life" in a fun activity with the kids. The Grow n' Glow kit comes with everything you need to start a dino garden – just add water!
The base of the kit is a small indoor garden. Fill it with the included potting soil, and then add some of the seeds. You'll grow:
Chia
Wheatgrass
Bean sprouts
Quick-growing seed varieties sprout in as little as 3-4 days, and you'll get enough kits for a few grow cycles. Plant them in various patterns to create an interesting landscape habitat for your dinosaurs!
Two plastic dinos, a Tyrannosaurus Rex and a Stegosaurus, are included to keep watch over your growing forests. There's even some dino eggs for them to guard! You'll also get Triceratops bones to hide beneath the dirt for excavation later. When it's time to re-plant, see what you unearth!
Different colored rocks allow you to personalize your garden. I like to use them to separate different types of seeds, but make it your own!
In the center of the garden, you'll place a special light up volcano! At night, turn on the light and watch it glow. Speaking of glowing, a glow paint stick allows you to color rocks, dinos, and whatever you like to make them shine!
Kids will love playing with the dinosaurs, learning about fossils, and caring for their garden. This unique kit is a STEAM kit, teaching kids botany, paleontology, and art all in one. They'll just know they're having fun!
Additional Notes
Also available in enchanted fairy version instead of dinosaurs
Recommended for ages 6+
Measures about 12.5 x 12.25 inches and weighs around 2.5 pounds
Water mister included for plant care; parental supervision recommended
4.5 star rating with over 2,600 reviews – parent and kid approved!
For good, clean fun, try this dino soap making kit too
Burn off that energy outside with some bounce dinosaurs for inflatable hopping fun!
Hatch your very own dino with a T-Rex egg candle, which burns to reveal the hidden dinosaur inside!
Try your hard at growing crystals too with a mega crystal growing lab, then put them on a stand and watch them glow
You may also enjoy this DIY firefly light kit, where you color and create beautiful fireflies. Without, you know, the bugs.