Pongbot the Moving Beer Pong Robot – Ultimate Party Game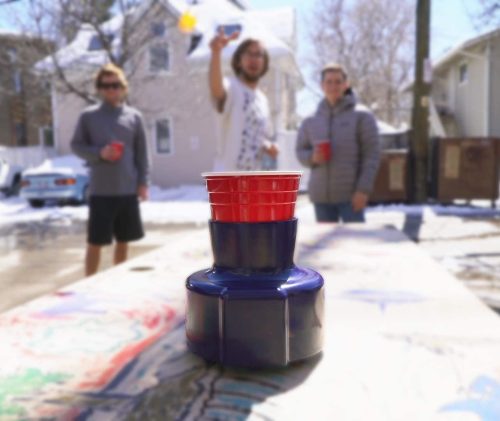 You know, I've been wanting a rematch since our last pong night. I know you bumped the table on my last throw! If we're allowed to move the cups, then let's bring out the Pongbot beer pong robot to make things even. Now we'll see who has the winning touch!
Pongbot is the pong robot that takes your game to the next level. Whether you're playing beer pong, or practicing your ping pong skills, Pongbot ups the challenge. Let it move on its own or control the motions yourself, but either way you're sure to have fun.
Party games have never been as much fun as when you break out the Pongbot beer pong robot!
If you think you've mastered beer pong, think again with the Pongbot beer pong robot. This fancy robot moves your cups around the table for an even greater challenge!
Just like some sort of drink-wielding Roomba, the Pongbot roves along the table using built-in sensors to keep it from falling off the edge. In the event it does take a dive, it's made of a pretty sturdy plastic so it should be fine.
A remote control is also included, should you wish to manually move the beer pong robot. Steer it and spin it with a two-button system. I love juking the competition!
Pongbot can hold one Solo sized cup in the central compartment. Slide on the multi cup attachment to add 4 additional cups around the central cup.
You can use this high-tech robotic cup holder for your beer pong game, practicing your ping pong ball shots, and for all sorts of competitive fun. It's sure to be a hit at your next party! In fact, it's even got LED lights on the bottom, so it really knows how to blend into the party atmosphere.
Additional Notes
Comes with one Pongbot, which can be shared for team play – use different colored cups if you'd like
Requires AA batteries (not included)
Cups and ping pong balls are also not included
Rated 4.1 stars!
If you're practicing your ping pong skills, grab the play anywhere table tennis set. You can turn any flat surface into a practice table!
Think you've become a master? Try the de-illuminating ping pong table for the ultimate challenge. You'll have to hit specific squares to turn the lights off and win!
Or for more gaming fun, check out this 3-in-1 multi game table that swaps between ping pong, pool, and air hockey!
Shopping for a new table? Learn more about standard ping pong table size, and get some recommendations for your home
Is your beer getting warm? The beer pong ice rack doesn't move, but it sure helps to keep your drinks chilled over long games
Need something more kid-friendly? Check out Deer Pong, the smack talking animated deer that holds cups in his antlers!