Play Anywhere Table Tennis Set – Ping Pong on ANY Table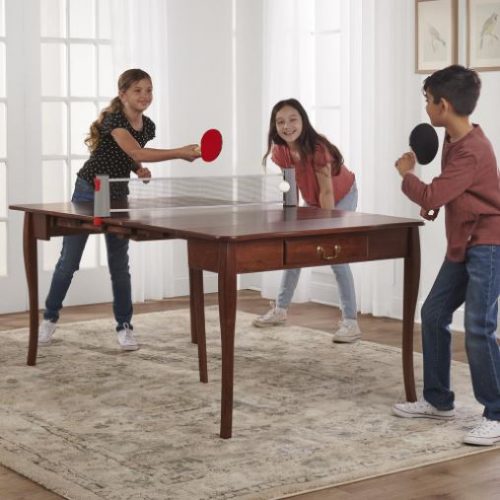 Why are you all hanging out in the dining room? I didn't think the place we eat dinner would be such a hopping spot. You're playing ping pong on the dining table with the play anywhere table tennis set? Well, as long as you don't break your mother's favorite china, I'm all for it!
Convert any solid table into a ping pong game with the play anywhere table tennis set. This retractable table tennis net clamps to any flat surface to create a play space. It's an easy way to use an existing table in place of a large table game in your home.
The play anywhere table tennis set uses a retractable net to make a gaming table on any flat surface!
The play anywhere table tennis set is designed to add ping pong action to any flat surface. Using a retractable net, the dining table, coffee table, or even a piece of plywood become a table tennis game board. Play on the island while mom makes dinner – just don't drop a ping pong ball in the pasta!
Any surface up to 1 3/4" that is flat and solid is the ideal candidate for your ping pong net. The clamps attach to the sides of the table, and installation takes only seconds! The net stretches up to 6 feet wide, but will adjust down to smaller spans as needed. I'm eyeing that side table we never use as we speak.
This set comes with the clamp and retractable table tennis net system, two paddles, three white ping pong balls, and a storage bag.  When you lose balls like I always do, just grab some replacements. I particularly like rainbow colored ping pong balls because they're easy to spot.
Additional Notes
Stores easily in a drawer or cabinet!
If the kids really enjoy it, perhaps an upgrade to a real table is in the cards. Learn more about standard ping pong table size, and the best choices for your home
Put those ping pong balls to another use with this beer pong ice rack. It keeps the beer cold no matter how long you take to make that trick shot
Really up your ping pong challenge game with the de-illuminating ping pong table. Not only do you have to pass your opponent, you'll also have to hit a specific square on the table!
Looking for more great table game options? Check out this 3-in-1 game table which features ping pong, air hockey, and swivel pool. It's another spacing saver with multiple games
A foosball coffee table brings the fun of a table game with the function of a coffee table. I love multi-purpose items!
Speaking of multi-purpose, this dining top pool table is a full size and functional dinner table that quickly converts to billiards!
Alternatively, save space inside by taking it outside, using this outdoor foosball table