Dining Top Pool Table – Ultimate Dinner to Billiards Conversion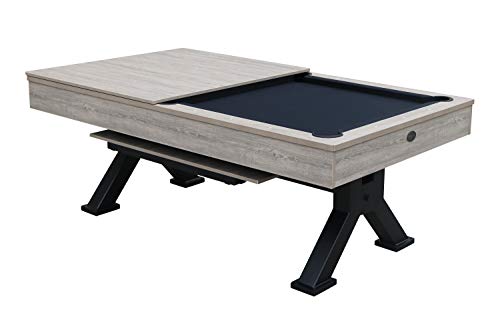 Well, that was a delicious dinner. Now, who's up for a game of pool? We don't even have to go anywhere. I'll just remove the cover because this is a dining top pool table that converts in seconds. I love space saving furniture!
While you wouldn't want to use a normal pool table as a dining table, this one is designed specifically for that purpose. Just slide on the wood panels to create a classy dining area, which protects the fabric of the billiards underneath. When it's time to play, just slide the panels off again.
This dining top pool table makes family dinners and game night easy!
With this pool table with a dining top, you don't even have to leave the dining room. Transition from eating to playing in less than a minute. Just make sure to clear your plates first, I wouldn't want to make Mom mad.
The Playcraft Canyon table is a 7' long two in one table. It converts from dining table to pool table seamlessly with the help of wooden panels that cover the play area. The two-piece cover slides off and stores under the table while in use.
Under the engineered wood table, you'll find the billiards play area. A classy black wool blend table with real drop pockets awaits. The base is an 18mm MDF, so your play surface stays nice and even.
To get you started, the dining pool table also comes with all the accessories you'll need to play. That's two 57″ cues, a triangle, chalk, a brush, and a complete set of pool balls!
Two table legs (one at each end) are Y-shaped and made from powder coated metal for stability. This does make it tricky for dining chairs at the ends. The table is therefore best suited for 4 chairs total, two on each of the long sides.
Dining chairs are not included. The neutral gray and black tones of the table make it suitable for a huge variety of chairs, so choose your favorite. I personally like the classic, elegant look of these upholstered dining chairs.
Additional Notes
Minimal assembly required as you must attach the legs upon arrival
Table measures 84.5″ L x 50″ W x 31″ H and weighs about 290 pounds
Pool playfield measures 36″ W x 73.25″ L
Each dining leaf weighs about 42 pounds
Perfect for use indoors or outdoors under cover
Love billiards? Check out this golf pool game, which combines mini golf and pool into family friendly fun!

HearthSong Golf Pool Indoor Family Game-Includes Two Golf Clubs, 16 Golf Balls, Six Pockets, Green Mat, and Rails

Don't want to mix gaming with dinnertime? Perhaps you'd prefer this multi-game table instead. It's got pool, ping pong, and air hockey all in one game table.

Triumph 3-in-1 Swivel Multigame Table

If you really want to impress guests, then let them play a game of billiards on this classic 1959 Corvette pool table!

1959 Corvette Billiards Table

Decorate your new dining table with this trivet runner. It's a decorative table runner and a trivet for serving hot dishes all in one!

Fennoma Hotrun 2 in 1 Trivet and Decorative Table Runner Handles Heat Up to 356F, Anti Slip, Waterproof, and Convenient for Hot Dishes and Pots (Wood)