Giant Rainbow Piano Mat – 8.5′ Toe Tap Musical Toy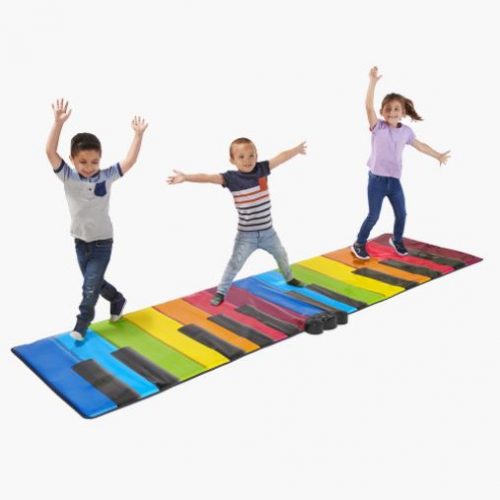 What's all the commotion in here? I see you kids think you're mini Mozarts now, running on your giant rainbow piano mat. Just don't run into the china cabinet; I'm not explaining that one to your mother.
This colorful version of the walking piano mat, also known as a toe tap piano, is giant sized fun. Walk, run, dance, jump and make music of your own. This 8.5 foot long play piano is every child's dream and a great way to encourage motor skill development and creativity.
You don't have to be Big to enjoy this giant rainbow piano mat!
This giant walking piano is inspired by the iconic classic that was seen in FAO Schwartz in the movie Big. Don't worry though, you don't have to be big yourself to enjoy walking and playing on this toe tap style piano!
A total of fourteen colorful keys span across this 8.5 foot long piano mat. They span the colors of the rainbow and are intermixed with 10 classic black piano keys as well.
Whether you have one child or multiple, they'll all be able to play and create their own music. Dance, jump and run to create songs. The rainbow piano mat can even record and playback, so kids can listen to their masterpieces!
If those creative juices aren't flowing, no worries! Tap along to the beat of your favorite artist's music too. The walking piano connects to a smartphone or tablet to play any song you like, so you can dance to the beat!
Even though it looks like just an ordinary piano, this mat has a lot more hidden instruments as well. If you're trying to be the whole band, you got this. The giant walking piano mat can replicate nine different instruments:
Saxophone
Violin
Harp
Trumpet
Guitar
Music box
Vibraphone
Accordion
Piano (ok that one was obvious)
From classical to rock and roll or folk music, the only limitation is your imagination!
Additional Notes
Recommended for ages 3+
Requires four AA batteries
Measures 102″ L x 29″ D and weighs about 5.75 pounds
If you're looking for a little less exercise, how about the self-contained hootenanny? It's a 17 piece mechanical band in a box!
Kick back and listen to your favorites on this all media jukebox. From vinyls to CDs to MP3s, it's got you covered!
While the kids play on their piano mat, you could assemble this LEGO playable grand piano. It's beautiful to both display and listen to
Are your little composers looking for other ways to create some tunes? This electronic keyboard will help them learn how to play with their hands too.