All Media Jukebox – Full Size Retro Vinyl, CD, MP3, and More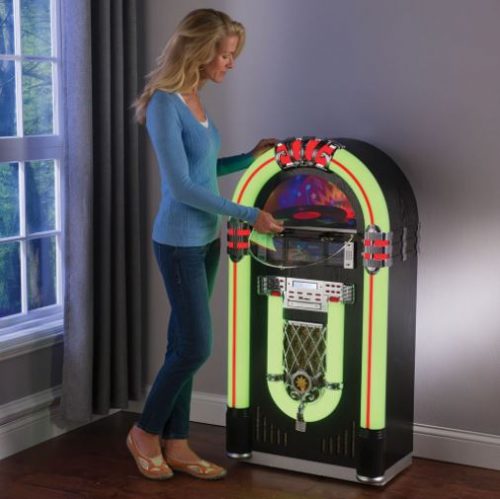 I wish we still had a record player around, I have such a love for old vinyls. I also know, however, that we don't have room for any more equipment. There are way too many ways to enjoy music nowadays. We should get an all media jukebox to replace all these other units.
The all media jukebox is an all-in-one unit that plays nearly any type of music media. While the exterior may appear like a classic, retro-style jukebox, don't be fooled. The heart of this music machine will pump out your tunes from both modern and classic formats.
Take a journey through the decades with an all media jukebox!
This impressive and unique all media jukebox is a wonderful addition for any music aficionado. The jukebox itself is a full-sized dome top jukebox, styled after the Deutsche-Wurlitzer 1015 model. Modern LED lights glow in red, blue, and green for a new update on the classic style.
The heart of the jukebox is what really sets it apart and makes it unique. Instead of just one form of media, this box can handle many different styles from all sorts of eras. Here are the formats compatible with the all media jukebox:
Vinyl records
Smartphone via Bluetooth streaming (iPhone and Android compatible)
CDs
FM Radio
SD storage card
iPod or other MP3 player
USB flash drive
For all the vinyl lovers, the turntable is ready to accept whatever you collect. The three speed table is controlled by a modern microprocessor. Despite the modern flair, it turns out tunes from 33 1/3 (LP), 45, and 78-rpm records with ease!
No matter which method you choose, each has a variety of controls to make it easier to kick back and relax. In fact, the included remote means you don't even need to get up from your chair! This jukebox fills the whole room with sound with its built-in 100-watt amplifier.  It delivers rich sound through two full range 40-watt speakers, two 5″ tweeters, and a 6 1/2″ woofer.
Additional Notes
Requires AC power (US)
Cabinet itself is wood with veneer finish
Measures 50 1/2″ H x 27 1/4″ W x 15″ D and weighs 77 pounds
Enjoy 13,000 different songs when listening to this self contained hootenanny! It features 17 different self playing instruments from bongos and maracas to snare drums and guitar.
For more great classical music accents for the home, check out this Viola Entertainer clock. The beautiful songs and stylistic movements are a unique way to keep time
Put together a LEGO playable grand piano while you relax to your favorite songs. The resulting piece is a beautiful addition for any music collector!
Is your new jukebox annoying the neighbors? Check out our guide to how to soundproof a room to help keep sounds in while you're rocking out
This jukebox is also a perfect addition if you're looking for basement remodeling ideas. It's perfect for that game room or home bar!
In fact, you can fill out your game room with this Star Wars pinball machine featuring retro comic graphics!
If you're on the go, check out this Bluetooth beanie, which allows you to stream music to your hat. How's that for modern convenience?
Don't forget to leave some Pet Tunes on for your furry friend. They can't operate a jukebox with paws!
You can't take a jukebox outside, so why not grab some TikiTunes? These Bluetooth torches provide light and sound for your outdoor paradise!