1959 Corvette Pool Table – Play Billiards on a Classic!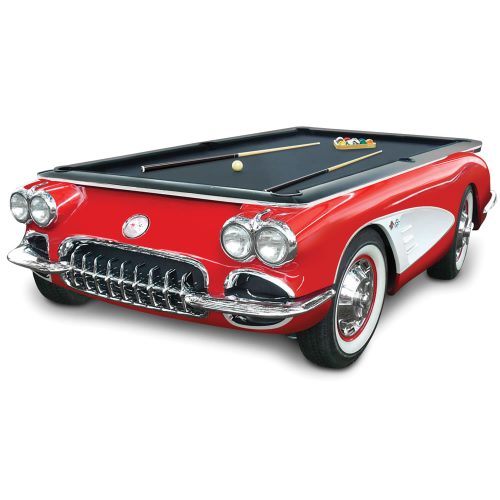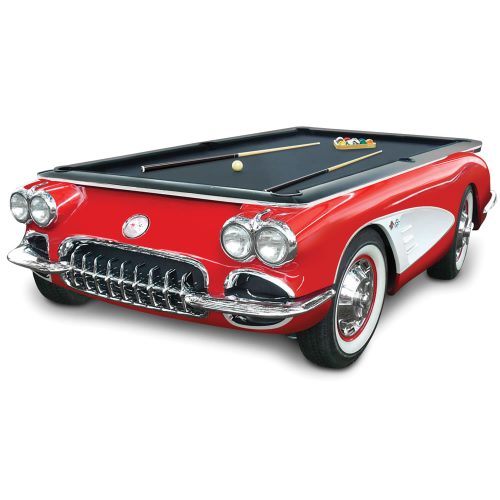 I know you've had your eyes on a classic car for a while. They're just so hard to find! Instead, I opted to get the next best thing with this 1959 Corvette pool table. We won't even have to worry about door dings!
This regulation sized Corvette pool table is made from an original piece of the Chevy classic. While you won't be hitting the roads, you'll be able to sink some sweet corner shots. This incredibly unique table is the perfect addition to a game room for those that love classic cars and billiards.
Rev up your next billiards game when you play on this 1959 classic Corvette pool table!
This 1959 Corvette pool table is an incredibly unique yet functional billiards table. The base is molded based on the original Chevrolet classic car.
A stylish Roman Red and Snowcrest White paint job covers the body, recreating the original look. It's finished with an automotive shellac and buffed to shine brightly. A sparkling chrome bumper and grill make it feel truly authentic.
Four full sized wheels feature steel rims, chrome covers, and spinners. These serve as the legs of the table. The body has the signature flags and official Corvette emblem on the hood and trunk lids.
Working headlights operated via remote really finish the look. It's an eye-catching piece in any room!
If the car body itself wasn't enough of a statement, the billiards table on top is fully functional. It's a 4.5' x 9' regulation sized table with solid hardwood rails.
Sleek black felt covers a sturdy 1" thick slate tabletop, so you never need to worry about warping. It has the standard six pockets, and padded edges for smooth play.
The table ships with a set of cues, pool balls, and a mock VIN and title for your shiny classic Corvette. Drive one into your game room today for the ultimate classic cars meets pool mashup.
Additional Notes
Requires AC power (US plug) for lights
Overall table measures 130″ L x 72″ W x 32″ D in total and weighs a whopping 1,200 pounds!
Need to save space? Consider this dining top pool table instead. Now, you can play after dinner in the same room!
For more great games, check out a 3-in-1 multi game table, which features pool, ping pong, and air hockey all in one unit
With this golf pool game, you can mashup billiards and mini golf which your whole family will enjoy together!
If you need to expand your space for all your new table games, check out our guide on how to remodel your finished basement to create the ultimate game room!