Crazy Aaron's Thinking Putty – Multi Colored Metallic Illusions!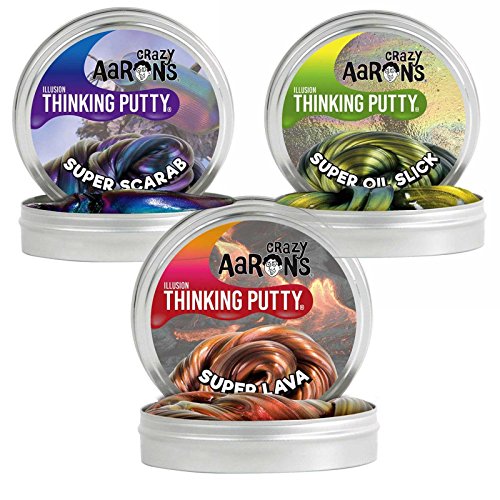 I remember Sunday mornings as a kid, squishing Silly Putty onto comics in the paper. The ink would smudge off into the putty, making for fun colors and designs. Nowadays, all you have to do is grab a tub of Crazy Aaron's thinking putty instead. It comes in these fun iridescent colors, no newspaper required!
Crazy Aaron's thinking putty is a safe, non-toxic putty that never dries out. Mold it, squish it, and play with it, as it's a great stress reliever. It comes in a variety of colors and styles that make a great toy for kids and adults. It improves hand strength, motor skills, and it's just plain fun.
Squish the stress away with Crazy Aaron's thinking putty!
Crazy Aaron's thinking putty is the modern-day version of classic Silly Putty. While pretty similar in terms of texture, thinking putty comes in a huge variety of colors. No more needing to press it on the weekly comics!
This pack of 3 mini thinking putty features different colors from the illusions collection. You'll receive one tin of each of:
Super Scarab, featuring blue and purple tones
Super Lava, with orange, bronze, and gold hues
Super Oil Slick, which has various shades of green
Each is a metallic color, offering a huge variety of pleasing looks as you twist, pop, bounce, and mold it in your hands.  The mini size holds about .5 ounces of each putty in it, so you get to try a sampling and find your favorites.
They're perfect to pack along for long trips, or any time you need a little de-stressing. Kids and adults both will enjoy thinking putty!
Note that, like most putty, Thinking Putty is best used on a hard surface and with parental supervision. If it gets into soft surfaces, it can be difficult to remove and/or cause staining.
Can you wash Thinking Putty?
Thinking Putty is entirely waterproof, so you can wash it under a stream of water to remove any external debris. Just don't leave it in the pocket of your jeans before throwing them in the wash. That variety of washing will not end well for you or the putty.
How do I remove Thinking Putty from my clothes or carpets?
To remove Thinking Putty from fabric, first use another piece of putty to remove the excess, as it sticks to itself. Next, pour some 70% Isopropyl Rubbing Alcohol on the affected area. It will begin to dissolve the putty, which can then be removed by pulling it away from the fabric.
Note that this method only works on natural fabrics, such as cotton, linen, wool, or denim. If there is a residual stain left, run through the washer or use a detergent and water to remove. Results work best if treated within 24-48 hours.
For synthetic fabrics, avoid the rubbing alcohol, as that may damage your fabric. Instead, grab some WD-40, and apply that instead. Let it sit a few minutes, then rub and blot with a soft cloth to remove.
How do I get Aaron's Thinking Putty out of my hair?
We've all been there. To get Aaron's Thinking Putty out of your hair, you can apply rubbing alcohol to it which causes it to dissolve. Then, pull it out with your fingers or a comb. Alternatively, you can try baby oil or conditioner, and then use a comb to try and slide it off the hair.
Additional Notes
Makes a perfect stocking stuffer, but if you need more inspiration, then check out our list of 27 fun stocking stuffer ideas!
Made in the USA
Silicone based
Rated 4.5 stars with nearly 1,000 reviews!
This version is not magnetic, but there is a magnetic Thinking Putty as well
You may also enjoy aromatherapy dough. Just squish and sniff your way to stress relief!
Even as an adult, you can enjoy some grown up Play-Doh with 6 different novelty scents like coffee and smoked meats!
Let the kids improve coordination too with this Flybar pogo stick
For some hand eye coordination skills, try your hand at Pindaloo!