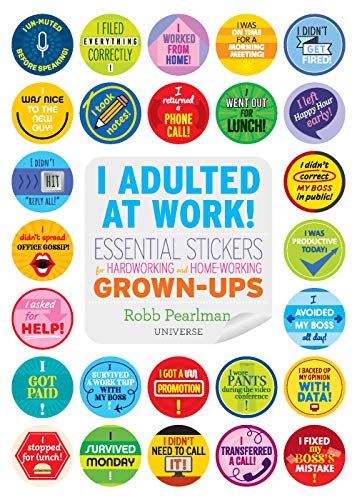 Why are you just standing there staring at me? Would you like a sticker or something? Oh, I bet you want one from my new I Adulted at Work sticker book. I agree, adulting is hard, so we should give ourselves a pat on the back for that one.
Everyone knows adulting is hard, so why not make it a little more humorous with the I Adulted at Work book. This book contains stickers to reward you for things you've successfully done at work. It boasts a mix of both physical and remote office tasks to make your coworkers jealous.
RELATED:
Cure boredom at work with our list of fun office and desk games!
If you enjoy audio books, try Amazon's Audible Plus for free!
The I Adulted at Work sticker book rewards you in fun ways for adulting in the office!
Some days, I just feel grateful that I made it out of bed and into the office. Now, I can reward myself for doing so with the I Adulted at Work sticker book.
This 66-page paperback book is filled with a whopping 250 full-color stickers to reward you for the difficult task of adulting. Why yes, I did put pants on today, and I'm pretty proud of myself. Thanks for asking!
Declare office life's little victories by sticking them to your notebook, your shirt, on your desk or on your cubicle. You could probably put them on your computer too, but if you get in trouble with IT I'm going to plead the fifth.
I Adulted at Work contains a mix of achievement suites for both in-person and virtual office settings. It's a great gift for the new coworker, for a White Elephant party, or just to pass around for fun. I treated myself just for the motivation of a job well done.
So, set down that extra latte and stop jittering all afternoon. You've got this adult thing, and I'll give you a sticker to prove it!
What I Adulted at Work stickers will you receive?
Since there are 250 total, we can't cover them all, but here are some of the great adulted at work stickers you'll get in the book:
Didn't fall asleep during the conference call
I actually listened to my voicemail
Was well-lit on the video call
Didn't hit "reply all"
Cleared my inbox
My dog made everyone smile
I stopped for lunch
Changed the toner
Cleaned my keyboard
Wore pants during the video conference
Helped a coworker
Didn't spread office gossip
Connected to the servers
I didn't get fired!
Recycled
Fixed my boss's mistake
I survived Monday
Took notes during the meeting
Many more!
Note that there are some duplicates in the book. Look, I assume that I'm going to succeed at not getting fired at least two days in a row if I'm doing the rest of the stuff.
If you're already not at work, never fear! I Adulted: Stickers for Grown Ups is the non-office alternative. Don't worry, there's still plenty of stickers to win just for everyday adult stuff!
Additional Notes
Measures 4.98 x 0.28 x 6.99 inches and weighs 4.8 ounces
Rated 4.5 stars with about 100 reviews!
For more fun office supplies, consider this bubble wrap calendar. Pop your way to stress relief while also knowing what day it is!

Bubble Wrap Calendar - A Poster Sized Wall Calendar with a Bubble to Pop Everyday

You may also enjoy The Office Party Planning Guide, to help you plan the perfect event from the hit sitcom

The Office: The Official Party Planning Guide to Planning Parties: Authentic Parties, Recipes, and Pranks from The Dundies to Kevin's Famous Chili

Show the office you're the hero they deserve with this Batman chair cape!

Justice League Movie Batman Chair Cape - Convention Exclusive

Take your notes on this catchy Paper Voodoo notepad. Just, you know, make sure HR isn't around

Knock Knock Paper Voodoo Note Pad, 6 x 9-inches

You may be in line for a sticker if you completed this cheesy pick-up lines adult coloring book and heard them all before!

Cheesy And Funny Pick-up Lines Adult Coloring Book: A Humorous Coloring Book for Couples and Not Only |Perfect for Adults Relaxation and Stress ... Girlfriend ,or Crush. (Adult Coloring Books)

Let out that frustration by putting your pencils back in the Julius Caesar pencil holder. Beware the Ides of March, though

Ides of March Pen and Pencil Holder - Julius Caesar Office Desk Accessory