Paper Voodoo Notepad – The Novelty Karen from HR will Hate!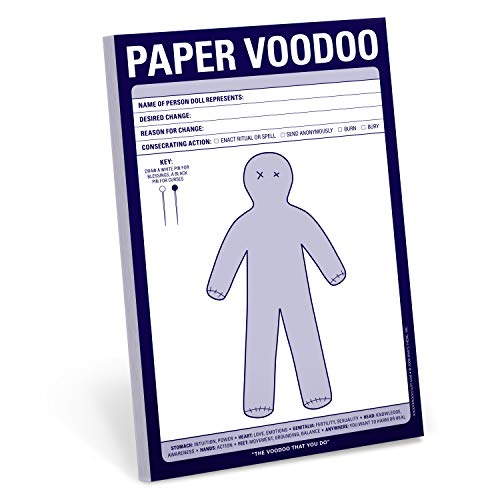 I'm pretty sure Ted from Accounting has been stealing my lunches. Yinz think I should put a habanero on my sandwich tomorrow? No, that's just too obvious. Instead, I'm going to use my paper voodoo notepad to give him a good, yet harmless, scare! It's just one of my great new novelty notepads for work.
Novelty notepads are designed to be both functional as a notepad, yet humorous for the user. They may feature calendars, checklists, or just general important note taking spaces. The humorous themes add fun to the otherwise boring activity of writing notes.
Deliver some bad juju to your rivals with your paper voodoo notepad!
The Knock Knock paper voodoo notepad is ready to take your note writing to the next level. This 6 x 9 inch paper notepad features a blank voodoo doll shape in the center. The general concept is that you'd draw on white pins for blessings and black pins for curses, depending on whether you wish health or harm on the intended subject. Of course, it's all in good fun and not really going to hex anyone…probably. But these notepads are a great way to blow off steam after your coworker embarrassed you in that meeting!
On top of the voodoo notepad, you'll find space for the name of your intended victim, the change you'd like to see (good or bad), and the reason behind the change. So, whether you want your sister's head to feel better because she's suffering from a migraine, or you want your wish your coworker's tongue would burn for stealing your lunch, there's voodoo magic for everyone! If you need guidance, at the bottom of the notepad you'll find information for what different parts of the body represent – for example that the head is associated with knowledge or awareness.
Everyone probably has at least one person in their life deserving of a blessing or a curse. No matter what, this notepad is designed to add fun and whimsy to the otherwise dull task of note taking. It makes a great general paper pad for doodling, drawing, taking notes, and otherwise staying organized. You can also use it as a safe way to take out frustration before you send that email you'll regret. Plus, it's paper – you can always burn the evidence!
These voodoo paper notepads make a fun gift for the White Elephant Christmas swap! Or, just grab a few for yourself.  You never know when you're going to need them!
Additional Notes
Measures 9 x 0.38 x 6 inches and weighs 8.3 ounces
Contains 60 pages
#5 best seller in Memo & Scratch Pads on Amazon
4.7 star rating with over 1,300 reviews!
Harry Potter fans will love this Hogwarts castle 3D memo pad. As you use the paper notes, you then reveal the hidden artwork!