Rubik's Cube Tissue Box from Big Bang Theory to your Home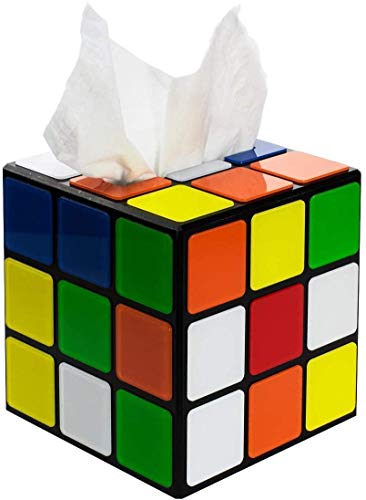 Everyone growing up in the 80's knows about the Rubik's Cube craze. Sure, yinz can search YouTube to find magicians that solve the cube puzzle in seconds flat, but where were they when I was growing up? This brainteasing puzzle even appears in the Big Bang Theory as a Rubik's Cube tissue box. Fortunately, you don't have to be a fictitious TV show character to bring the game aesthetic into your own home.
Tissue box covers add special decorative flair to a household essential item. Tissue companies already attempt to decorate their boxes for display, but if you want to add your own personal touch, a custom cover is perfect for home décor. These covers fit your standard rectangle or cube box, and design options are unlimited from elegant to eccentric.
As seen on The Big Bang Theory, this Rubik's Cube tissue box takes your nose on a nostalgia tour of the 80's!
Try as they might, tissue box companies just can't make a container you want to display in your home. Sure, sometimes you might find a gem that includes a funny quote, inspirational saying, or attractive design that's worth displaying. What happens when you finish the box though? Good luck finding the same attractive artwork again. This problem was solved by the geniuses that created the first tissue box cover. From rectangle to square, you purchase one cover to suit your tastes, and the underlying tissue box (and its gaudy design) remains relevant only for the necessary tissues.
The Big Bang Theory TV show had a particularly memorable Rubik's Cube tissue box holder. Fitting in perfectly with the characters of Leonard and Sheldon, this magic puzzle cube prominently sat inside their apartment. While not a functioning Rubik's Cube, this tissue box cover lets you add a flair of the 80's in your own home.
Any standard cube tissue box will fit inside this Rubik's Cube cover. The outer area is made of hard plastic with a slot for your tissues to poke through. To add and remove tissues, simply flip the Rubik's Cube over. Underneath, the bottom flap contains magnets to keep the unit contained. Simply open the flap and add or remove a new tissue box as needed. Close the flap, sit the Rubik's Cube right-side up, and pull your first tissue through the slot on top. Change tissues as often as you wish without ever losing your quirky home décor!
The magic cube tissue box makes a great gift. Place this Rubik's Cube in your home, office, dorm room, bathroom, or kitchen, and it will instantly become a conversation piece.
Additional Notes
Remove the tiny film covers over each square as these are to prevent scratches during shipment
Rated 4.7 stars with over 1,100 ratings! People love this 80's design and TV show memorabilia.
Product Dimensions:  5.8 x 6 x 5.8 inches
Item Weight:  1.19 pounds
Easy to refill and magnetically lock in place
Take singing Soft Kitty to the next level with this cat butt tissue holder!
Or take a trip to Easter Island with this Moai statue tissue dispenser!