KNEX Big Wheel – Giant 6 Foot Rotating Ferris Wheel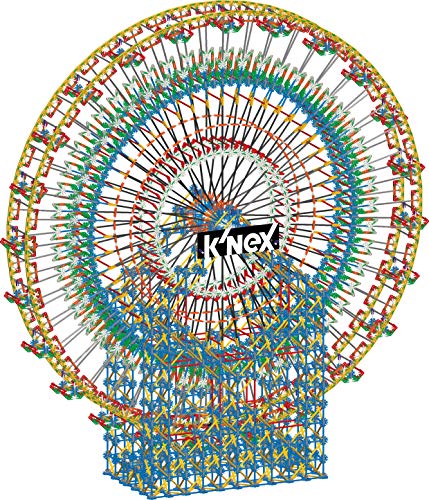 Yinz kids wanted to go to the amusement park today, didn't you? I'm sorry but since it's raining, I don't think it's going to be much fun. Let's stay inside and build our KNEX big wheel together instead. I know it's not quite the same, but it's a six foot tall Ferris Wheel, so it's sure to be impressive. Maybe you can learn more about how a real Ferris Wheel works for the next time we get to ride one!
If you want to create a K'Nex Ferris Wheel, a basic set can be constructed into the general shape and turn with human assistance.  K'Nex also offers Ferris Wheel sets, with pieces and directions specifically tuned to building a Ferris Wheel. These kits come in different size Ferris Wheels, with some including motors to make them rotate.
Bring the giant theme park thrill ride right to your living room with the big KNEX Ferris Wheel building kit!
The big KNEX Ferris Wheel building kit has everything you need to build a giant six foot tall Ferris Wheel right in your own home! You'll find 8,548 KNEX pieces along with detailed building instructions in the box. No matter if you try to build it all in one sitting or work on it over multiple days, it's guaranteed to provide hours of building fun!
When you're done building this impressive wheel, you can turn on the included motor and watch it come to life, turning just like a real Ferris Wheel! This building kit is standalone, but is part of the K'Nex Thrill Rides series. You can find other sets, including lots of roller coasters and even swings, to pair with this Ferris Wheel in order to have an entire theme park at home.
K'Nex sets are part of the STEAM learning initiative, which supports the learning of science, technology, engineering, arts, and math. Each of their building sets are designed to spark your child's creativity, curiosity, and desire to learn. They'll just know they're having fun, but you'll know that they're learning and expanding their horizons.
Toy building sets like this big KNEX Ferris Wheel make a perfect gift for Christmas or a birthday. Both children and adults alike will enjoy this fun building kit, and it's a great project for a rainy day that can be done as a family!
Additional Notes
Requires 2 AA batteries (not included)
Set weighs 33.9 pounds
Completed building is 6 feet tall, 6 feet wide, and 2 feet deep
Recommended for ages 9+ with adult assistance
Due to complex construction, solo completion may be more appropriate for teens
4.6 star rating on Amazon!
If you're looking for something else huge to build, try the LEGO World Map which is the biggest set to date!

LEGO Art World Map 31203 Building Kit; Meaningful, Collectible Wall Art for DIY and Map Enthusiasts; New 2021 (11,695 Pieces)

Create and enjoy watching your rolling masterpiece with this glowing marble run set!

Marble Genius Glow Marble Run Super Set - 200 Complete Pieces + Free Instruction App & Full Color Instruction Manual

Turn your home into an amusement park with this mini ride on carousel for kids!

The All American Carousel

This is the children's American-themed carousel that evokes the classic rides encountered in the carnivals and amusement parks of yesteryear. Built with the same sturdy steel construction of its forebears, it features four intricately detailed ABS ponies decorated with high-quality paint that...

Practice your skills on this claw machine arcade game and fill it up with your favorite treats!

Bundaloo Claw Machine Arcade Game | Candy Grabber & Prize Dispenser Vending Machine Toy for Kids, with Music | Best Birthday & Christmas Gifts for Boys & Girls (Red Claw)