American Mini Ride On Carousel – Ideal Size for Kids at Home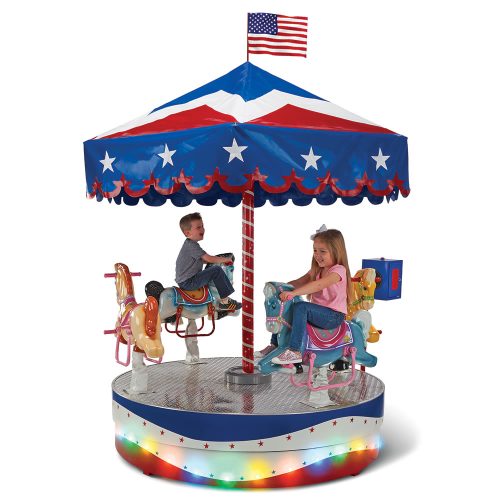 You know, when I suggested you take the kids to the amusement park, I had something different in mind. Now there's a mini ride on carousel in our home. Well, at least the kids seem to be having a good time!
Bring the fun of the park home with this mini ride on carousel which is actually for sale. That's right, it's a child-sized small carousel replica which makes a perfect addition to a home or business location. With space for 4 riders, it will delight children and be a conversation starter for sure.
This mini ride on carousel brings the feel of the amusement classic right to your home!
Did you know you could experience all the joys of a carnival ride in your home? Thanks to the mini ride on carousel, that dream becomes a reality. This small carousel is really for sale, ready to grace your home or office with the fantastic children's ride.
A sturdy steel frame construction makes for a quality merry go round, despite the small size compared to its carnival counterpart. It's designed for use by ages 3 and up, with a 740 pound load maximum.
Four ABS ponies are attached to the deck, each painted in whimsical colors that kids will love. There's a gray, tan, yellow, and blue horse to choose from. Each is equipped with a saddle for sitting on, and hand and foot holds for safety. A u-shaped bar assists smaller riders in climbing up.
During use, the base will slowly rotate, and the ponies move up and down, just like the real carnival ride!
The red and white striped support pole rises to hold a PVC canopy, decorated in an American stars and stripes design. As the ride moves, built-in digital speakers will play one of 5 classic tunes:
Stars and Stripes Forever
Entry March of the Gladiators
William Tell Overture Finale
Waltz of the Flowers
The Carousel Waltz
Each coincides perfectly with the 2.5-minute timer that signals a complete ride. To really complete that fair feeling, 32 red, yellow, blue, and green LED lights in the base flash and light up during operation.
Additional Notes
While considered a mini size carousel, this unit still measures 11′ H x 6′ diameter, and weighs 717 pounds
A slightly smaller circus carousel version is also available
Bring the bumper cars ride to your home with the Kidzone bumper car 

Kidzone 12V Kids Toy Electric Ride On Bumper Car 360 Spin 2 Speed Battle Vehicle with Remote Control, Bluetooth Music, DIY Race# 00-99 and Alphabet Stickers, ASTM-Certified, Green

A dragon pedal boat is the perfect way to bring the calm water attraction to your backyard

The Amusement Park Dragon Pedal Boat

This is the same dragon pedal boat used in amusement parks that provides a leisurely day of waterborne fun for up to two adults. Rising like a serpent 6' above the water's surface, its statuesque form ensures attention from other boaters while its quiet, human-powered operation ensures a...

While you might not be able to ride it, build a giant 6' rotating K'Nex ferris wheel to enjoy

K'NEX Thrill Rides 6-Foot Ferris Wheel

Hit the midway with a personalized Whac-A-Mole arcade game. While it's played like the classic, you can make the moles look like anyone you want!

The Personalized Whac-A-Mole Game

This is the Whac-A-Mole game that can be personalized to replace the standard mole heads with molded caricatures using pictures of members of your family, past managers, boyfriends/girlfriends, or any desired combination of personalities. The game operates exactly like the ones found in amusement...