Kidzone Bumper Car – 360 Spinning Ride On Electric Car Toy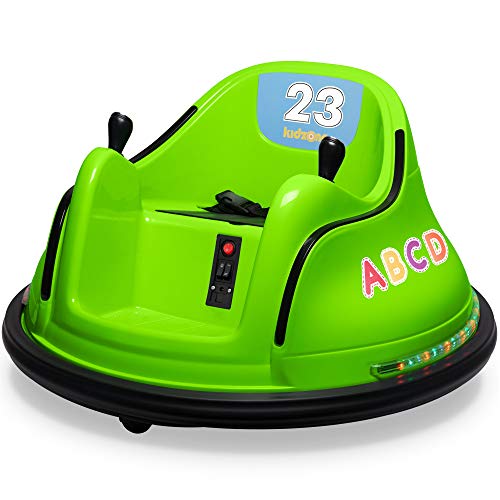 You're bored and want to go to the amusement park today? Don't you kids know it's winter? The amusement parks are all closed! You know what is open? The basement. Go down there and drive around on your Kidzone bumper car. It's a classic theme park attraction you can enjoy from home! You want to drive it in the living room? Does the Kidzone bumper car work on carpet?
A Kidzone bumper car does work on carpet. The thicker the carpet, the harder the motor will have to work to propel the vehicle though. While the average charge lasts for 1-2 hours of driving, this time will reduce on carpeted areas, relative to the thickness of the carpet.
A 360 spinning ride on Kidzone bumper car brings the classic amusement attraction to your kids at home!
A Kidzone bumper car is the ultimate ride on play vehicle for kids. These plastic cars accommodate children up to 66 pounds. They come in a variety of fun colors, and even include letter and number stickers for personalization! Each electric car toy rotates 360 degrees and is protected by a rubber bumper to prevent damage to walls and other cars.
If you have safety in mind, Kidzone has you covered. These bumper cars are ASTM safety certified, and come with an adjustable safety belt and anti-flat tires. The cars can cruise at a low setting of 0.7 mph or a max speed of 1.3 mph, so you don't have to worry about high speed crashes. LED lights and Bluetooth sound are also integrated, for even more fun!
Cars can be controlled via a simple set of built in joysticks. You can also control them with an included remote! If you have a young child struggling to operate the ride on toy, then help them out. Or, get in on the action as an adult, even if you can't fit inside the actual car.
Can the Kidzone bumper car go outside?
Yes, the Kidzone bumper car can go outside. It works on grass as well as the sidewalk and driveway areas. Just ensure you always follow traffic safety during use. These bumper cars also work inside just as well, on hardwood, tile, and even carpeted surfaces.
The 12V on board battery will power the car for 1-2 hours on a single charge. How long exactly depends on the surface you use the car on. Thick carpet and dense grass will slow it down and use more power than a hard, flat surface. A full charge requires 8-12 hours, so plugging it in overnight is recommended.
How do you pair a Kidzone bumper car?
To pair the remote to the Kidzone bumper car, follow a few easy steps. Remove the charger from the car. Grab your controller and hold down the button with the letter 'M' located on the left side of the remote. After about 2 seconds, the light in the center of the controller should rapidly blink.
Place the remote under the control panel of the bumper car, and turn on the bottom (power) switch. The remote should stop blinking and begin emitting a steady light, so you know it has paired. The light will go out after a few seconds – don't worry, it's still paired.
Make sure to take it for a couple test drives before placing your child in it, so you can get the hang of the controls.
Additional Notes
Recommended for ages 1.5 – 3 years with use of adult remote
Ages 3+ can operate independently, though adult supervision is recommended
Car measures 28.35″(L) x 28.35″(W) x 16.93″(H) and weighs about 24 pounds
Can be operated with or without LED lights on
Note that car will not power on while plugged in to charge
Pictured in green, but also available in blue, gray, yellow, white, red, or purple
Top 50 best seller in Ride-On Toys & Accessories on Amazon
4.6 stars with over 100 reviews – kid and parent approved!
Try out some go-kart fun with the Razor Crazy Cart Shift!
This Ride on Truck Jeep motorized vehicle will have your child cruising in style this summer!
For children looking to zip around on two wheels, review our guide on the best dirt bike for kids! We detail how to properly measure a child for a dirt bike, important gear, maintenance costs, and top choices for toddlers up to teenagers.