360 Spinning Kidzone Bumper Car – Ride On 12V Car for Kids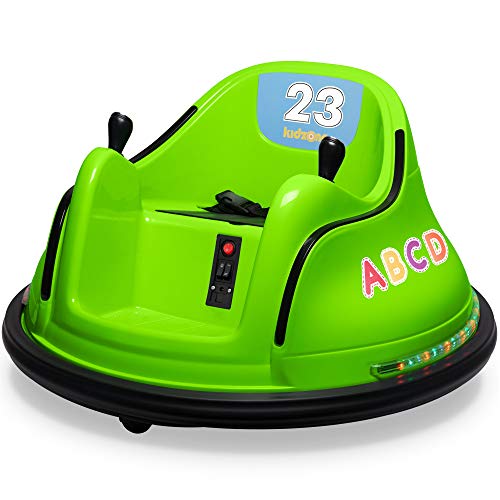 You're bored and want to go to the amusement park today? Don't you kids know it's winter? The amusement parks are all closed! You know what is open? The basement. Go down there and drive around on your Kidzone bumper car. It's a classic theme park attraction you can enjoy from home! You want to drive it in the living room? Does the Kidzone bumper car work on carpet?
A Kidzone bumper car does work on carpet. The thicker the carpet, the harder the motor will have to work to propel the vehicle though. While the average charge lasts for 1-2 hours of driving, this time will reduce on carpeted areas, relative to the thickness of the carpet.
A 360 spinning ride on Kidzone bumper car brings the classic amusement attraction to your kids at home!
A Kidzone bumper car is the ultimate ride on play vehicle for kids, with a weight limit of up to 66 pounds. They come in a variety of fun colors, and even include letter and number stickers for personalization!
Each electric car toy rotates 360 degrees and is protected by a rubber bumper to prevent damage to walls and other cars. If you have safety in mind, Kidzone has you covered. These bumper cars are ASTM safety certified and come with an adjustable safety belt and anti-flat tires.
Optional LED lights add both fun and visibility. Want to jam out to some tunes? The Kidzone bumper car plays music via Bluetooth connection for even more fun!
How fast does the Kidzone bumper car go?
The Kidzone bumper car cruises at a low speed setting of 0.7 mph or a max speed of 1.3 mph, so you don't have to worry about high-speed crashes.
Cars are controlled via a simple set of built-in joysticks. You can also control them with an included remote! If you have a young child struggling to operate the ride on toy, then help them out.
As an adult, I also love getting in on the action, since I can't exactly fit inside the actual car.
Can the Kidzone bumper car go outside?
Yes, the Kidzone bumper car can go outside. It works on grass as well as the sidewalk and driveway areas. Just ensure you always follow traffic safety during use. These bumper cars also work inside just as well, on hardwood, tile, and even carpeted surfaces.
The 12V on board battery will power the car for 1-2 hours on a single charge. How long exactly depends on the surface you use the car on. Thick carpet and dense grass will slow it down and use more power than a hard, flat surface. A full charge requires 8-12 hours, so plugging it in overnight is recommended.
How do you pair a Kidzone bumper car remote?
To pair the remote to the Kidzone bumper car, follow a few easy steps:
Remove the charger from the car
On the remote, hold down the button with the letter 'M' located on the left side
After about 2 seconds, the light in the center of the remote should rapidly blink
Place the remote under the control panel of the bumper car, and turn on the bottom (power) switch
The remote should stop blinking and begin emitting a steady light, so you know it has paired
The light will go out after a few seconds – don't worry, it's still connected. Make sure to take it for a couple test drives before placing your child in it, so you can get the hang of the controls.
If you lose or damage your remote and need a replacement, there are some compatible third-party remotes available. Pairing instructions may differ, so please follow manufacturer guidelines.
How do you charge the Kidzone bumper car?
To charge the Kidzone bumper car:
Ensure that the red wire of the battery has been connected if this is the first use (located under the seat)
Plug the power end of the charger into the wall
Insert the other end into the bumper car in the space directly under the on/off switch on the front of the seat
It takes roughly 8-12 hours to fully charge the battery on the Kidzone bumper car for the first use. Subsequent charges should average about 5 hours, and you'll get roughly 1-2 hours of use on a full charge.
How do I tell if my Kidzone bumper car is charging?
To tell if the Kidzone bumper car is charging, follow the steps above to connect it. Once connected, the charger will display a solid red light, and this indicates that the car is charging.
When charging is complete, the light will turn to a solid green color. Please do not leave it plugged in to charge for more than 20 hours, as this may damage the battery and/or charger.
If the Kidzone bumper charger is displaying a blinking green light, this indicates a weak or faulty connection. Your unit may not charge correctly or hold a charge. If this happens, a replacement charger is the most common fix.
Additional Notes
Recommended for ages 1.5 – 3 years with use of adult remote
Ages 3+ can operate independently, though adult supervision is recommended
Car measures 28.35″(L) x 28.35″(W) x 16.93″(H) and weighs about 24 pounds
Can be operated with or without LED lights on
Note that car will not power on while plugged in to charge
Pictured in green, but also available in blue, gray, yellow, white, red, or purple
Top 50 best seller in Ride-On Toys & Accessories on Amazon
4.5 stars with over 900 reviews – kid and parent approved!
Try out some go-kart fun with the Razor Crazy Cart Shift!

Razor Crazy Cart Shift 2.0 - Blue

This Ride On Truck Jeep motorized vehicle will have your child cruising in style this summer!

Best Choice Products 12V Ride On Car Truck w/ Remote Control, 3 Speeds, Spring Suspension, LED Light - Red

Once your child opens up the scissor doors of this 12V Ride On Lamborghini Aventador, you'll both be hooked!

Uenjoy 12V Kids Electric Ride On Car Lamborghini Aventador SVJ Motorized Vehicles with Remote Control, Battery Powered, LED Lights, Wheels Suspension, Music, Horn, Compatible with Lamborghini, White

Embrace your inner Batman with a Hauck Batmobile pedal go kart!

Hauck Batmobile Pedal Go Kart, Superhero Ride-On Batman Vehicle, Kids 4 and Older, Peddle & Patrol the Streets of Gotham just like Batman, Race-Styled Pedals & Rubber Wheels [Amazon Exclusive] , Black

Take a roll in this 24V Power Wheels Thunder Tank Ride On that features a working turret!

NEW WALMART EXCLUSIVE 24 Volt Thunder Tank Ride-On With Working Cannon and Rotating Turret!

Light up the neighborhood with this NEW 24 Volt Thunder Tank Ride-On. Kids will enjoy hours of fun rolling thru the neighborhood or battling in their favorite outdoor adventure area. The 24 Volt Thunder Tank Battery powered rideon offers two forward speeds and one reverse speed with a max of 5...

Let your little firefighter have some fun in this ride on fire truck with working rescue hose!

The Ride On Fire Extinguishing Truck

This is the ride-on fire truck with a working hose that assists budding firefighters in putting out imaginary conflagrations. The truck's swiveling water cannon is supplied by a 50-oz. tank and pump integrated into the rear chassis; pumping the handle provides pressure for delivering a stream...

For children looking to zip around on two wheels, review our guide on the best dirt bike for kids! We detail how to properly measure a child for a dirt bike, important gear, maintenance costs, and top choices for toddlers up to teenagers.