Ride On Fire Truck with Working Spray and Rescue Hose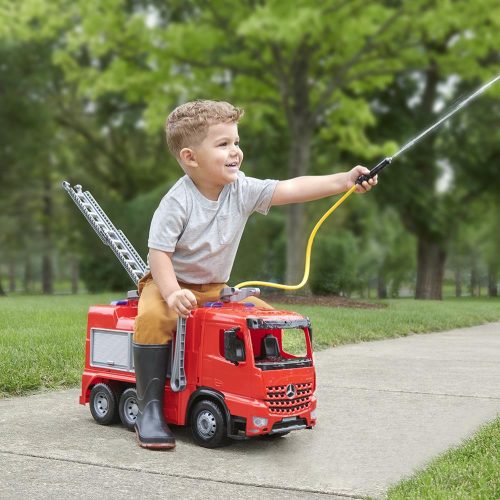 What happened to our campfire? I'm glad the kids are enjoying their ride on fire truck and rescue hose, but now what am I going to roast the weenies on? Guess I'm firing up the grill instead!
This ride on fire truck toy comes equipped with a water shooting function. Your budding firefighters move along using their feet while sitting on the back of the truck. Spray the hose while drawing water from the built-in reservoir for real fire fighting action.
Turn up the heat at playtime when you break out the ride on fire truck!
This adorable ride on fire truck is the perfect toy for your little firefighters. The red molded resin truck features a cutout seat for kids to sit on. There is no motor, but rather this vehicle is powered by foot power!
Wheel your way over to the nearest playtime emergency. Extend the ladder to save kittens in trees or people in need. Note that this is a play ladder only and not meant to be climbed on physically. Let your kids' imagination run wild, though!
Pump the handle on the right side of the truck, and the fire hose will shoot a steady stream of real water. The cannon blasts up to 26 feet! Thankfully for all our sanities, the truck is perfectly safe for use outdoors. Soak your driveway, lawn, or patio instead of the living room!
What age is the ride on fire truck good for?
The ride on fire truck is good for ages 3 and up. It has a maximum rider weight limit of 100 pounds.
Note that the seat space is designed for a single rider. If your child outgrows it or you have more than one child playing, the truck may also be pushed from behind to move.
How do you add water to the ride on fire truck?
Here is how to add water to the ride on fire truck:
 Locate the round silver cap on the seat
Flip it open
Pour water into the opening
Press the lid back down to close
The reservoir holds 50 ounces of water at a time. It's easy to fill directly with a garden hose, or you can pour from a bucket with the help of a funnel.
Additional Notes
Measures 28 1/2″ L x 12″ W x 16″ H and weighs 8 pounds unloaded
For more water shooting fun, check out the Pool Punisher tank pool float 

Pool Punisher Inflatable Toy with Squirt Gun - Swimming Accessories for Kids, Teens and Adults - Giant Size Outdoor Water Toys for Lakes and Beach - Swim Stuff for Summer

Take the tank land-side with a 24V Thunder tank ride on 

NEW WALMART EXCLUSIVE 24 Volt Thunder Tank Ride-On With Working Cannon and Rotating Turret!

Light up the neighborhood with this NEW 24 Volt Thunder Tank Ride-On. Kids will enjoy hours of fun rolling thru the neighborhood or battling in their favorite outdoor adventure area. The 24 Volt Thunder Tank Battery powered rideon offers two forward speeds and one reverse speed with a max of 5...

Hit the streets in the Nerf Battle Racer go kart and bring all your favorite darts along!

Hauck Nerf Battle Racer Pedal Go Kart, Orange/Grey/Black

Help protect Gotham City with this Batmobile pedal go kart!

Hauck Batmobile Pedal Go Kart, Superhero Ride-On Batman Vehicle, Kids 4 and Older, Peddle & Patrol the Streets of Gotham just like Batman, Race-Styled Pedals & Rubber Wheels [Amazon Exclusive] , Black