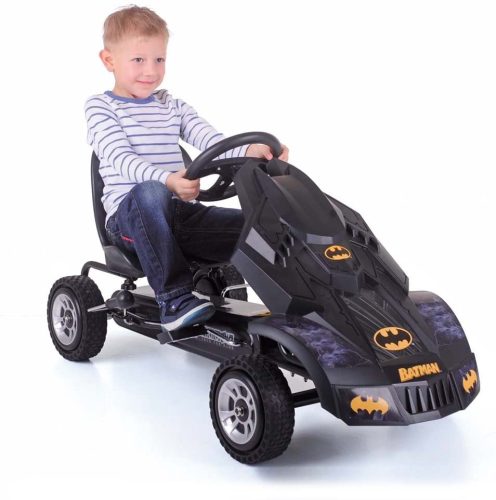 It's the car Alfred. Chick's dig the car! Maybe this isn't Batman's iconic 1989 car, but your children will love driving around "Gotham" in this Batmobile pedal go kart! Watch out Joker because little Bruce Wayne is on the way!
You can watch your kids cruise around the neighborhood streets in this Hauck Batmobile pedal go kart. Featuring Batman logos across the vehicle and a stylized "armor" design, this is the perfect ride on toy for your little Dark Knight. Evil doers everywhere are officially on notice!
Your child can patrol through Gotham City on this Batmobile pedal go kart!
If your little Superhero is looking for a new ride on toy this summer, then feast your eyes on this Hauck Batmobile pedal go kart. The armored black design adorned with bat symbols looks like it came right out of Wayne Manor's Bat Cave!
The actual pedal kart features a number of features for performance and safety. That's pretty important if the Penguin is on the loose! I know that I never saw Batman struggle to chase down a criminal!
The adjustable bucket seat ensures that Batmans of all sizes can comfortably fit and reach the steering wheel and pedals. Speaking of pedals, the race-style pedals feature bumps for better grip. A hand brake on the side is a perfect safety addition as it allows your child to quickly stop in an emergency.
I remember riding around on my Transformers Big Wheel when I was a kid, and these amazing pedal karts are the next step up from that!
Does the Batmobile pedal go kart require assembly?
Yes, you will need to assemble the Batmobile pedal go kart as it comes in a number of pieces. This includes adding all four wheels, the steering column, and the bucket seat to the base frame. A screwdriver is required for complete installation, and full assembly instructions are included.
While instructions are included with the purchase, if you happen to be stuck and could use a visual aid, then I found this assembly video on YouTube to be helpful. This could help when applying the bat symbol decals.
Additional Notes
This is a manual pedal kart and not an electric one
Batmobile measures 44″ x 21″ x 22″ and weighs 22 lbs
Appropriate for children ages 4-8
Maximum weight for Batman is 120 lbs, so adults will need a different vehicle!
Assembly will require a Phillips head screwdriver (not included)
Enjoy some time as Batman indoors with a pop up Batmobile tent 

Batman Pop Up Batmobile Tent – Indoor Playhouse for Kids | Toy Gift for Boys and Girls | Amazon Exclusive

Don't forget to prowl the air from this LEGO Batwing which is a collector's edition set from the 1989 movie!

LEGO DC Batman 1989 Batwing 76161 Displayable Model with a Buildable Vehicle and Collectible Figures: Batman, The Joker – Mime Version and Lawrence The Boombox Goon, New 2021 (2,363 Pieces)

This 6V folding go kart is an electric powered version suitable for young kids ages 2-5

The Children's Folding Electric Go Kart

This is the electric go kart for tike-sized racers that enables them to cruise on a sidewalk or driveway and folds down for compact storage when not in use. A 6-volt rechargeable battery powers the motor while the kart's steering wheel controls the direction of the front tires. A button on the...

As your kids get older, try out a 12V Razor Crazy Cart Shift for ultimate drifting!

Razor Crazy Cart Shift 2.0 - Blue

If you love NERF guns, then strap into this NERF Battle Racer with all your tools at hand!

Hauck Nerf Battle Racer Pedal Go Kart, Orange/Grey/Black

With this 360 spinning Kidzone bumper car, you can ride around in the house or outside like an amusement park ride!

Kidzone 12V Kids Toy Electric Ride On Bumper Car 360 Spin 2 Speed Battle Vehicle with Remote Control, Bluetooth Music, DIY Race# 00-99 and Alphabet Stickers, ASTM-Certified, Green