6V Folding Electric Go Kart for Children Ages 2-5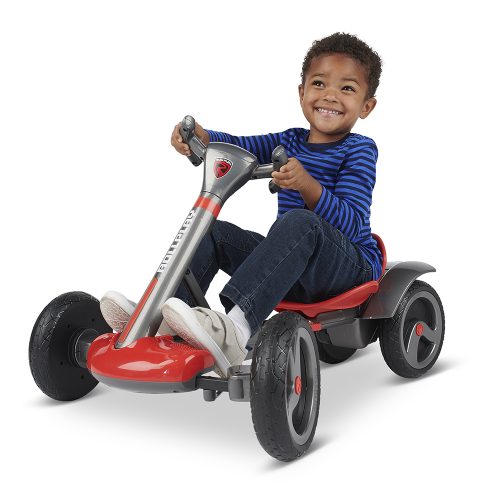 No, you can't get a go kart. Do you know how much room those things take up? Just because we can finally see the floor in the garage doesn't mean you can fill it. Well, that is, unless we get a folding electric go kart. That should help with space saving!
A folding electric go kart is a compact sized vehicle designed for children. It's primarily for fair weather outdoor use and folds up when play is over, making for a storage friendly option. It's a great alternative to large ride on style vehicles while still allowing the same driving experience.
Enjoy the fun without losing storage space with the folding electric go kart!
This folding electric go kart is an awesome driving toy for kids. Aside from their delight in using it, parents may rejoice that it folds up to save on space!
The go kart itself is recommended for ages 2-5, with a maximum rider weight of 55 pounds. Sorry adults, I know I'd want to ride on it too. It has a sturdy metal frame finished with lightweight plastic aesthetic components.
A 6V rechargeable battery provides power to the motor of the vehicle. Kids steer using the handlebars, which guide the front tires to turn. It's perfect for riding on the driveway, sidewalk, and other relatively flat, hard surfaces.
On a full charge, you can expect about 120 minutes of drive time. The maximum speed of the kart is only about 2 mph.
While your little speed demon is having a blast, you'll be able to safely chase after if needed. If they lose control and let go of the handlebars, the car stops on its own.
After play is done for the day, simply fold down the handlebar system. This allows the 6V go kart to be stored flat or upright, taking up far less space than a traditional ride on vehicle!
Additional Notes
Seat has two adjustable positions
Assembly required
Measures 12 3/4″ H x 29 1/2″ L x 10 1/2″ W and weighs about 14 pounds
When the kids get a little bigger, upgrade to the Razor Crazy Cart, the drifting go kart for kids 8+

Razor Crazy Cart Shift 2.0 - Blue

Grab your favorite Blaster, and hop in this Nerf Battle Racer go kart!

Hauck Nerf Battle Racer Pedal Go Kart, Orange/Grey/Black

Patrol through your neighborhood like a superhero with a Batmobile pedal go kart!

Hauck Batmobile Pedal Go Kart, Superhero Ride-On Batman Vehicle, Kids 4 and Older, Peddle & Patrol the Streets of Gotham just like Batman, Race-Styled Pedals & Rubber Wheels [Amazon Exclusive] , Black

Get behind the wheel indoors with the help of augmented reality in Mario Kart Live Home Circuit 

Mario Kart Live: Home Circuit -Mario Set - Nintendo Switch Mario Set Edition

Safety first! When riding outside wear this awesome Spiderman mohawk helmet to keep your head protected

BELL Spider-Man Web Shatter 3D Child Multisport Helmet, Child (5-8 yrs.) (7081692)

If you prefer the full ride on car experience, check out this ride on Lamborghini Aventador 

Uenjoy 12V Kids Electric Ride On Car Lamborghini Aventador SVJ Motorized Vehicles with Remote Control, Battery Powered, LED Lights, Wheels Suspension, Music, Horn, Compatible with Lamborghini, White

Go big or go home with this 24V Thunder tank ride on – who needs a car when you have a cannon?

NEW WALMART EXCLUSIVE 24 Volt Thunder Tank Ride-On With Working Cannon and Rotating Turret!

Light up the neighborhood with this NEW 24 Volt Thunder Tank Ride-On. Kids will enjoy hours of fun rolling thru the neighborhood or battling in their favorite outdoor adventure area. The 24 Volt Thunder Tank Battery powered rideon offers two forward speeds and one reverse speed with a max of 5...