12V Razor Crazy Cart Shift – Ultimate Drifting Go-Kart for Kids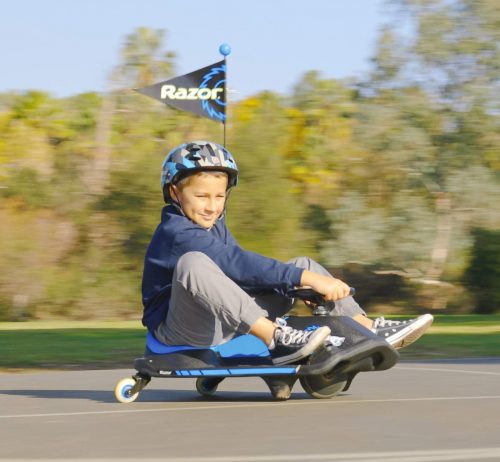 Are yinz kids sitting in the house playing Mario Kart all day? I think you need to go outside and zip around the neighborhood in your Razor Crazy Cart instead. It's like real life Mario Kart, and I'm just glad to get you to burn off some energy! What's a Razor Crazy Cart you ask?
A Razor Crazy Cart is similar to a go kart but with the added benefit of drift. Drive it, spin it, and drift it in any direction you can dream. However, while motorized, these carts are not road safe and should be driven only in driveways and other safe areas.
RELATED:
Learn how to properly size and pick the best dirt bike for your child!
The Razor Crazy Cart is the ultimate drifting go-kart for kids!
A Razor Crazy Cart is the ultimate drift machine! It features a simplified drift system which automatically engages the rear-end drifts so that your little drivers can keep both hands on the wheel and can focus on steering and throttle control – just like the pros!
Built with a fixed incline and rear caster wheels, it's constructed to offer the ultimate balance between drive and drift. With a 1:1 steering ratio, you'll also get the ultimate in steering responsiveness!
The Razor Crazy Cart Shift has a power hub motor – parents rejoice! This means no chains to break or grease, no sprockets or tensioners or complicated upkeep. The only thing you need to worry about is charging it!
This Razor cart is recommended for kids age 6+ at the 'slow' speed setting and kids 8+ for the 'fast' setting.
Parent supervision is of course highly recommended, even though the cart is designed to be as safe as possible. A helmet (sold separately) is always a good idea too to make sure your kiddos are safe while on the go!
Whether it's a surprise Christmas or Birthday gift for your own kids or given with love to another child in your life, let their imaginations run wild and quench their need for speed with this crazy go kart!
How fast does a Razor Crazy Cart go?
The Razor Crazy Cart goes as fast as 8mph. A slower speed setting of 2.5mph is available to throttle it for younger children as well.
While they're not racecars, this razor drift cart is capable of zipping, drifting, and thrilling kids everywhere!
Can you ride a Crazy Cart in the rain?
No, you should not ride on a Crazy Cart in the rain, snow, or any other inclement weather. This may damage the motor or battery. Like anything with electrical components, it's best used in fair weather conditions.
If it starts raining while you're out, you should be able to make it home safely without issue. It's just not recommended for prolonged exposure or extreme moisture. A few drops won't ruin the day!
What age is a Crazy Cart for?
A Crazy Cart is recommended for ages 6 to 10 , based on size and operation of a wheel for steering. However, children as young as 3 may be able to use it safely. Parents should always use their discretion for their individual child's size and abilities.
Even though a Razor drift cart is designed with safety in mind, it's always good to put a helmet and pads on. This helps prevent injury in case of a crash.
Can adults ride Crazy Carts?
Crazy Carts are not designed for adults, however, adults can ride if they are under the 120 pound weight maximum and otherwise fit into the vehicle.
This Crazy Cart Shift is also only about 30" long, which may feel cramped for adult length legs.
Alternatively, the Crazy Cart XL model supports up to 240 pounds and may be a better alternative for an adult wishing to ride.
What's the difference between Crazy Cart and Crazy Cart Shift?
The differences between Crazy Cart and Crazy Cart Shift are:
Recommended age – 9 vs 6
Maximum rider weight – 140 vs 120 pounds
Top speed – 12pmh vs 8mph
Range – 8 miles vs 5 miles
Battery size – 24V vs 12V
Motor size – 250W vs 90W
Wheel size – 8 inches vs 6 inches
Weight of the cart 53 pounds vs 22 pounds
We're featuring the Crazy Cart Shift here, but if you have an older child that's comfortable with faster speeds, the regular Crazy Cart may be a better choice.
Additional Notes
Has 4.7 Stars on Amazon with over 150 ratings!
Ranked #11 for kids wagons on Amazon and their top choice for "crazy cart"!
Finalist in the 2020 Toy of the Year Awards from the Toy Association
Drive around in style with this Ride on Truck Jeep motorized vehicle!

Best Choice Products 12V Ride On Car Truck w/ Remote Control, 3 Speeds, Spring Suspension, LED Light - Red

The 6V folding electric go kart is the perfect space saving vehicle for children ages 2-5

The Children's Folding Electric Go Kart

This is the electric go kart for tike-sized racers that enables them to cruise on a sidewalk or driveway and folds down for compact storage when not in use. A 6-volt rechargeable battery powers the motor while the kart's steering wheel controls the direction of the front tires. A button on the...

Is that Batman riding around your neighborhood in this Batmobile pedal go kart?

Hauck Batmobile Pedal Go Kart, Superhero Ride-On Batman Vehicle, Kids 4 and Older, Peddle & Patrol the Streets of Gotham just like Batman, Race-Styled Pedals & Rubber Wheels [Amazon Exclusive] , Black

Your little speedster will enjoy safety when rocking this Spiderman mohawk helmet!

BELL Spider-Man Web Shatter 3D Child Multisport Helmet, Child (5-8 yrs.) (7081692)

If you have a child that wants to drive around inside, then the Kidzone Bumper Car will fit the bill!

Kidzone 12V Kids Toy Electric Ride On Bumper Car 360 Spin 2 Speed Battle Vehicle with Remote Control, Bluetooth Music, DIY Race# 00-99 and Alphabet Stickers, ASTM-Certified, Green