Bat Signal Stand for Google Home Mini or Amazon Echo Dot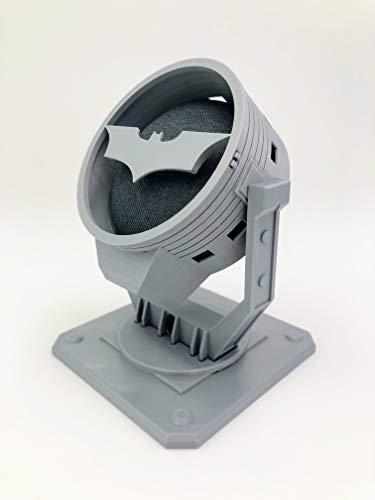 I have to go, Gotham needs me. What, didn't you see the Bat Signal? Don't be silly Janet, that's totally not just my Bat Signal stand for my Google Home mini. It's a cry for help from the streets! Fine, so maybe it just keeps my smart home assistant safe and looking awesome!
A stand for your home assistant both protects your device and allows you to add personalized expression. Both Google Home mini and Google Nest mini are the same size, so a stand sized for one also fits the other. There are many different designs and themes available to suit your tastes.
RELATED:
Learn what games you can play on Amazon Alexa from song games and trivia to escape room!
Embrace your inner Dark Knight when you use the Bat Signal stand for your Google Home mini!
This Bat Signal stand is a 3D printed enclosure compatible with Google Home mini and Google Nest mini. It's made from polylactic acid (PLA), which is a renewable resource thermoplastic polymer. Not only is it durable, but it's also environmentally conscious! The stand is a gray color, and designed to emulate the Bat Signal from the Batman universe. The base looks like a spotlight, with the Batman logo stretching across the front.
Nestle your smart speaker into the rounded portion of the spotlight (the bat logo can be removed for installation). Since Google Home mini and Google Nest mini are the same size, this stand is compatible with either unit. The stand can also accommodate the Echo Dot (gen 1 – 3). Please note that the smart speaker is not included. A channel beneath the base serves as a place to hide the power cord.
An adjustable tilt in the stand allows you to point your speaker wherever you need. Make sure they can hear you at home and throughout the offices of Wayne Enterprises! The Bat Signal stand does not light up. However, if you really want to invite Batman to the party, you could add your own illumination. Check out our favorite LED light strips here.
Additional Notes
Designed and produced in the USA
Measures 5" wide x 6.5" tall
Rated 4.3 stars on Amazon
If you prefer your heroes a bit lazier and fatter, enjoy this Snorlax Google Home holder!

Snorlax Google Nest Mini Stand - Works with 1st and 2nd Generation Google Home Mini & Nest Mini

Thanks to this Bat Signal kitchen timer, you won't overcook your pot roast again!

Batman Kitchen Timer - Bat Signal Lights Up When Done - Cook Like a Super Hero - Great DC Justice League Gift for Men

Add some Bruce Wayne inspired light to your room with this Batman Eclipse lamp!

Paladone Batman Eclipse Batsignal Light - Table Top or Wall Mount

Build this LEGO Batwing from the 1989 movie which featured Batman's best vehicles!

LEGO DC Batman 1989 Batwing 76161 Displayable Model with a Buildable Vehicle and Collectible Figures: Batman, The Joker – Mime Version and Lawrence The Boombox Goon, New 2021 (2,363 Pieces)

Your little Dark Knight will enjoy playing in this Batmobile tent!

Batman Pop Up Batmobile Tent – Indoor Playhouse for Kids | Toy Gift for Boys and Girls | Amazon Exclusive