Superhero Floating Bookshelf – Superman Optical Illusion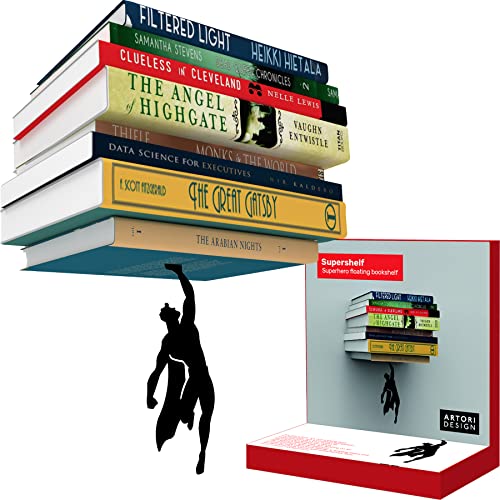 Come check out what I got for my room! I convinced a tiny Superman to hold up my books; how cool is that? Alright fine, so it's really a superhero floating bookshelf. I had you fooled for a second there, though!
The superhero floating bookshelf is a minimalistic metal shelf designed to hold your books on the wall. It's made by Artori Design, and available in either Superman or Supergirl shaped cutouts. The floating design is simply an optical illusion, making the shelf very sturdy.
This superhero floating bookshelf uses superpowers and optical illusion to display your books!
The Artori Design superhero floating bookshelf is here to save the day, when it comes to organizing your books anyway. This charming wall-mounted metal shelf uses an optical illusion to appear as though your favorite superhero is holding up your library.
With a matte black finish, this shelf goes flawlessly in any room. Hold up cookbooks in the kitchen, reading material in the bathroom, and keep your living room organized.
Choose between a Superman and a Supergirl cutout design or go with both! I like having one of each on the side of the bed in a "his and hers" sort of style.
It's a perfect way to keep organized and clean around the house – everyone could use some superhuman strength for that. The Superman shelf is also a great way to add a little touch of your love of comics, superheroes, and geeky flair to your home décor.
How do you hang a superhero floating bookshelf?
While the optical illusion makes it look complicated, hanging a superhero floating bookshelf is easy:
Mount the shelf to the wall using two screws (It's recommended to locate a stud for stability)
Grab a paperback (or thin hardcover) book, and slide it over the shelf so that the bottom cover is under the shelf while the rest of the book is on top
Attach the superhero's magnetic hand in the center of the cover, so that it attaches to the shelf
That's all you need to do, and the optical illusion is completed so that the shelf appears to be floating. In reality, it's firmly secured to your wall.
From there, simply stack additional books on top of the starter book. The Superman floating shelf has a maximum weight capacity of 7 pounds. Make sure not to overload it, but you should be able to get around half a dozen paperback books stacked comfortably.
Additional Notes
Makes a great housewarming gift, and is perfect for couples for Valentine's Day or an Anniversary gift
Measures 5.12 x 4.72 x 6.3 inches and weighs around 1 pound
Impressive 4.8 star rating with over 700 reviews – superhero fan approved!
Walk down a fantasy alley with this Medieval bookshelf insert!

MINIALLEY Medieval Assembled Booknook Bookshelf Insert Bookshelf Decor Alley Book Nook

Trust in the Force to hold up your stuff with this Yoda bookend!

Premium Heavy-Duty Metal Bookend - Black L-Shaped Bookend Supports on Office Desk, Creative Gift for Dad and Lover (Master)

Your cat can enjoy floating style shelves too with these wall mounted cat shelves 

PetFusion Cat Activity Wall Shelves (Available as a 3-Piece Set or Individual Shelf.) Sisal Surfaces for Cat Scratching & Plush to Lounge, Neutral Design & Color Tones. Easy & Secure Wall Mount

Hang playable games on the wall for a space saving option, like this giant wall chess board 

Tubibu Unique Wall Game Chess Set, Extraordinary Gift, Wall Decor, Wall Art, Wall Decor

Add more superhero flair to your home or office with a Batman chair cape 

Justice League Movie Batman Chair Cape - Convention Exclusive

Add this tensegrity table to your desk and enjoy marveling at the floating optical illusion!

Tensegrity Table by Kontax

Heroes need love too, as in A Very DC Valentine's Day 

A Very DC Valentine's Day (DC Valentine's Day/Love Stories Collection)

These shelves would be a great place to display the books you choose together as part of the 100 dates scratch off poster 

100 Dates Scratch Off Poster - Couple's Bucket List - Valentine's Day Idea (16.5" x 23.4")