Wall Mounted Cat Shelves – Safe Perch for Your Climbing Cat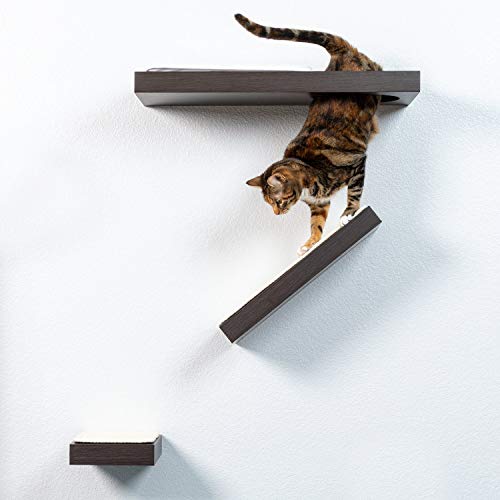 Mittens, if you knock that vase over, I'm going to be pretty unhappy. I don't know why you insist on climbing up the bookcase. Maybe I should get some cat wall shelves for you to play on instead.
Cats like wall shelves because it encourages climbing and exploration, but it's far less risky than a tree. They'll get a great view and have a safe escape to retreat to. This climbing system is a great way to burn off energy and provides a designated space for cats to mitigate mishaps.
Make your kitty the climbing king of the castle with their own set of cat wall shelves!
It's a well-known fact that cats love to climb. Why not give them a safe outlet to do so with these innovative cat wall shelves?
Your cat will naturally seek higher ground, whether it's stalking their favorite prey, or escaping from predators (like the dog). Instead of climbing on counters or scaling the porcelain cabinet, what if they had a shelf to safely climb up the walls of your home?
This is a set of 3 espresso-colored shelves designed to hang on your wall. Included are one small, one medium, and one large perch. The largest has a hole in one side, for cats to move through. They may be hung flat or at an angle, in any combination or layout you like!
Each of the wall mounted platforms has a sisal base as well. That's just perfect for scratching and keeps them off the arms of the couch. When not sinking their claws in, it still makes a perfect base for lounging and napping.
Additional platforms and multiple sets may be paired together to create larger environments. This is great for multiple cat homes, or if you just happen to have the extra space. Your cat will thank you!
How do you install cat wall shelves?
Cat wall shelves are easy to install, and you should be able to complete installation in about 20 minutes. Here are the steps required:
Identify where you will hang the shelves. Use a level if you'd like to ensure they're perfectly flat, but this is optional
Find the studs. Again, this step is optional and only if you'd prefer to anchor directly into studs
Insert drywall anchors using a hammer and screwdriver. This is only applicable if not using studs
Pull the shelf away from the bracket on the telescoping rails so you can access the holes
Screw in the 4 screws through the holes in the shelf bracket into the wall
Slide the wooden shelf back in until it is flush with the bracket on the wall
Secure the set screws through the top of the shelf into the bracket. This prevents the shelf from telescoping when your cat is on it
Cover the screw holes with the sisal cover, using the Velcro to secure it
For best results, wall mounted cat shelves should be about 12" apart (whether horizontally, vertically, or diagonally spaced). If you have smaller kittens, feel free to reduce the distance slightly.
Each shelf has a maximum weight capacity of 30 pounds, so it should support a couple cats. If your cats are on the larger side or you have more than 2, it's recommended you secure to the studs for additional support.
Note that if you have plaster walls, pre-drilling of holes will be required for successful installation.
Additional Notes
Made of high-grade MDF
Large shelf measures – 26" L x 11" W x 2" H, medium is 18" x 8" x 2" , and small is 8" x 8" x 2"
4.2 star rating with over 600 reviews – pet approved!
You may also enjoy this cat bed end table. It's a functional side table, with built-in sisal scratchers and a snoozing spot!

THE REFINED FELINE Purrrrfect Cat Bed End Table Nightstand with 2 Curved Sisal Scratching Post, Perfect Cat Scratcher Claw Pad

Have your new perches lead to this bubble pod cat house. Now your kitty can lay in the window and watch the birds!

K&H Pet Products EZ Mount Window Bubble Pod Green 27" x 20" Kitty Sill

In the warmer months, how about a cat teepee? It's an outdoor house and climbing system to keep your cats safe

Kittywalk Systems Cat Teepee

Your pet really will be king or queen of the castle with the help of this 5' tall corrugated cardboard cat castle scratcher!

Furhaven Pet Cat Furniture - Tiger Tough High Castle Tower Playground Apartment Hideout Corrugated Cat Scratcher with Catnip for Cats and Kittens, Cardboard (Brown), One Size