100 Dates Scratch Off Poster – Bucket List of Ideas for Couples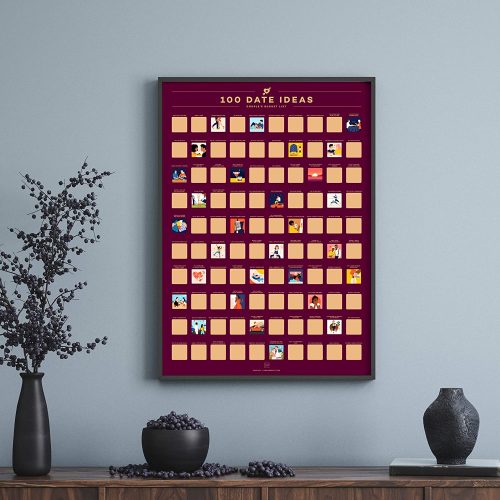 I'm starting to run out of ideas for date night. So, I got us this 100 dates scratch off poster to inspire us with new things to do together. We'll even have a memento when we're done to remember all our adventures!
The 100 dates scratch off poster is a bucket list of date ideas. You and your partner simply perform the task indicated together, then scratch off the corresponding square. Once completely finished, you'll have a poster-sized print to display and remember all your fun dates.
Tackle your romantic bucket list with the 100 dates scratch off poster!
The 100 dates scratch off poster is designed to give you 100 things to do together. No more asking the age old "what do you want to do today" question with your partner. Instead, you'll have a fun activity to enjoy and bring you closer together.
This poster is filled with 100 tiles with a scratch off coating and a date idea printed at the top. Once you do the indicated task, simply scratch the tile off to reveal the artwork underneath. It's a great way to track everything you've experienced as a couple.
Once it's complete, the date poster makes for a beautiful piece of art in your home. You'll be able to reminisce on your adventures (or maybe go for round 2)! Just pop the poster in a standard A2 poster frame (not included) for hanging on the wall.
100 dates bucket list poster offers a variety of different types of dates to enjoy together. Stay at home or go out on the town. Be lazy together, or get your sense of adventure ready.  You'll be able to choose the style of date you're both in the mood for.
Thankfully, there's no time limit to completing this romantic bucket list. Whether you want to do 100 dates in 100 days, or work at the list over the course of a couple years, the choice is yours.
Either way, it will inspire you and your partner to spend more time together and make cherished memories!
What are the date ideas on the 100 dates scratch off poster?
Meditate together
Bake a cake
Take a dance class
Go bowling
Read a book together
Attend a sports game
Go out for brunch
Get a couples massage
Go to a cheese & wine tasting
Have a fancy dinner night
Visit a VR café
Try a new restaurant
Go to a karaoke night
Visit a planetarium
Go on a walking tour
Recreate your first date together
Cook without a recipe
Go to a jazz club
Visit an animal shelter
Explore a national park
Go ziplining
Get a drink at a rooftop bar
Have a dinner in the dark
Go thrift shopping
Watch the sunset at the beach
Visit a botanical garden
Go fruit picking
Start learning a new language
Enjoy a hot air balloon flight
Go for a long walk
Plant a tree
Have a tech-free day together
Go camping
Take a nap together
Have a movie marathon
Go stargazing
Test drive a supercar
Pick out a book for each other
Go horseback riding
Hit a trivia night
Take a cooking class
Go ice skating
Do couples Yoga
Go to a comedy show
Work out together
Do a photoshoot with a disposable camera
Attend a painting class
Catch a drive-in movie
Go boat rowing
Play a childhood game
Try mixing cocktails
Visit a museum
Go rock climbing
Visit an aquarium
Enjoy a video game night
Take a pottery class
Explore a new neighborhood
Listen to a classic album
Visit your grandparents
Spend a night in a treehouse
Learn about your family trees
Put together a jigsaw puzzle
Tackle an escape room
Look through old photos
Go to a water park
Take a brewery tour
Watch your favorite childhood movies
Explore a farmers' market
Attend the ballet
Do a home science experiment
Volunteer together
Write a love letter
Go mini golfing
Get a psychic reading
Have a pajama day
Go to a live music concert
Play hide and seek
Have a paper airplane contest
Learn to juggle
Go on a bike ride
Make a scrapbook
Go to a street fair
Build a giant blanket fort
Play truth or dare
Go on a weekend road trip
Learn a new skill together
Have a snowball fight
Go paintballing
Volunteer to babysit
Go trampolining
Make a TikTok video
Attend an open house
Tackle a DIY project
Visit a zoo or animal preserve
Create a time capsule
Pretend you're tourists for a day
Visit an amusement park
Garden
See a musical
Attend a music festival
Additional Notes
Perfect for Valentine's Day or an Anniversary gift

Ships in a rolled tube to prevent creasing

Rated 4.5 stars with over 300 reviews!

Is perfume a good gift for a girlfriend? We reveal important things you need to know first!
Whether it's a birthday, anniversary, or holiday, find out if concert tickets are a good gift idea as we discuss 5 important things to know!

You may also enjoy the

Talk, Flirt, Dare game for a date night adventure

Fun and Romantic Game for Couples: Date Night Box Set with Conversation Starters, Flirty Games and Cool Dares - Choose from Talk, Flirt or Dare Cards for 3 Games in 1 - Lovely Gift!

Far apart from one another? Stay close with these

Bond Touch bracelets 

Bond Touch - Bracelets That Bring Long-Distance Lovers Closer Than Ever

Share some

capsule letters in a bottle together to bring the good feelings

Merry Poppin Funny Marriage Quotes in a Pill - Message in a Bottle Capsule - Anniversary Wedding Valentine Love Gifts for Her - Bachelorette Party Bridal Shower Gift for Bride - Fun Unique Gift Wife Husband Fiance - 170 capsules

Looking for more bucket lists? How about this

scratch off book poster, with 100 titles to read before you die

Enno Vatti 100 Books Scratch Off Poster - Top Reads of All Time Bucket List (16.5" x 23.4")

If you're not going out on a date, then enjoy this cheesy and funny pick-up lines adult coloring book!

Cheesy And Funny Pick-up Lines Adult Coloring Book: A Humorous Coloring Book for Couples and Not Only |Perfect for Adults Relaxation and Stress ... Girlfriend ,or Crush. (Adult Coloring Books)