Consuela the Cactus Dog Toy with Sad Cactus Squeaker Inside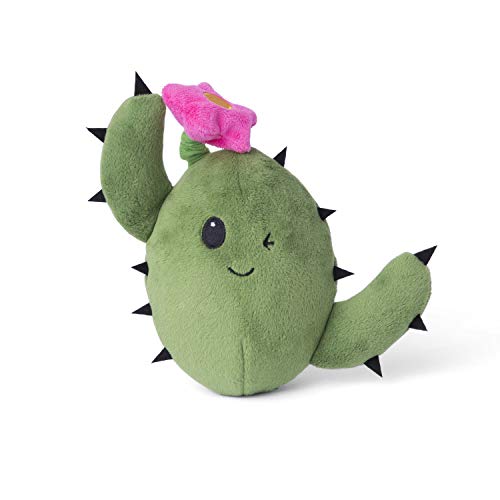 If yinz have a pup at home that's a professional chewer, I know how difficult it can be to find toys that survive their teeth!  Thankfully, Consuela the Cactus Dog Toy offers a 2 in 1 treat! This BarkBox cactus squeak toy is engineered with a cactus inside another cactus, to be long lasting for your toughest pups.
Consuela the Cactus dog toy is a 2-in-1 toy featuring a cactus within another cactus. The outer layer is a smiling plush cactus. After the exterior is inevitably destroyed, reveal a sad cactus with a squeaker underneath. This Barkbox cactus toy is perfect for the avid chewer.
The BarkBox Consuela the Cactus Dog Toy offers fun squeakers for dogs of all sizes!
This 2-in-1 Consuela the Cactus dog toy is meant to stand up to rough play from your furry friends. These interactive stuffed plush toys are perfect for shredding, trashing, and squeaking galore! BarkBox designs their dog toys to be destroyed, and this cactus is no exception.
Consuela the Cactus is green with black spikes and a pink flower. It's made from a non-toxic high quality plush, safe for your pups to rip and shred to their heart's content. Better yet, once your dog shreds through the first layer, there's a whole new toy inside!
That's right, there's a smaller, sad cactus squeaker-filled blue spiky ball toy inside so your dog can continue to play. No more having to buy a new dog toy because Spike destroyed another one. I'm with the cactus though, I'd be sad too if I was being shredded!
This BarkBox cactus toy is great for playing, fetching, and the cactus arms are ideal for tug of war! Your dogs (and your kids) will get tons of play time from this great toy. They are available in two sizes, one geared towards small to medium dogs, and another designed for medium to large dogs.
If you're not into adorable succulents, check out Penny the Pineapple instead. It's the tropical remix of the cactus inside a cactus toy.
The BarkBox cactus toy makes a great gift too (for your own pet or someone else's). Get your pooch a birthday present! They make great Christmas gifts or stocking stuffers too.  Anyone with a dog will love this unique cactus dog toy!
Additional Notes
Best Seller in the Dog Squeak Toys category on Amazon
4.6 Star rating with over 20,000 reviews – dogs and humans agree these are great!
The small size has a 2.5″ core and the larger size has a 4.75″ core. Outer dimensions differ based on design selected
Let your pet have some fun and drinks outside with this step on dog sprinkler!

Dog Fountain Water Fountain Dog Sprinkler Step On Dog Sprinkler Toy for Big and Small Dogs For Drinking and Pets Playing And Happiness

Set the PetDroid automatic rolling ball on the floor, and let your pet play while you work!

PetDroid Interactive Dog/Cats Ball Toys,Durable Motion Activated Automatic Rolling Ball Toys for Puppy/Small/Medium Dogs,USB Rechargeable (Blue)(Deep Blue) (Blue)

If you enjoy self playing pet toys, then the iFetch automatic ball thrower will let your pet play fetch even without you around!

iFetch Interactive Ball Launcher for Dogs – Launches Mini Tennis Balls, Small

The Outward Hound dog tornado puzzle lets you hide treats for your pet to spin and uncover!

Outward Hound Invincibles Mini Penguin Plush Dog Toy

With a snuffle mat for dogs, you can also hide tasty treats while your dog naturally sniffs and forages through the mat!

AWOOF Dog Puzzle Toys, Pet Snuffle Mat for Dogs, Interactive Feed Game for Boredom, Encourages Natural Foraging Skills for Cats Dogs Bowl Travel Use, Dog Treat Dispenser Indoor Outdoor Stress Relief

Cats love to play too, and this flopping fish cat toy provides the right kind of movement to entertain their feral instincts!

Potaroma Electric Flopping Fish 10.5", Moving Cat Kicker Fish Toy, Realistic Floppy Fish Dog Toy, Wiggle Fish Catnip Toys, Motion Kitten Toy, Plush Interactive Cat Toys, Fun Toy for Cat Exercise

If you really enjoy this cactus, then maybe decorating your home with a pre-lit Saguaro cactus Christmas tree sounds fun this holiday season!

Goplus Pre-Lit Artificial Cactus Christmas Tree with LED Lights and Ball Ornaments, Perfect Holiday Decoration Indoor Xmas Tree