Cauldron Bath Bomb – The Magic Witches Brew for Relaxation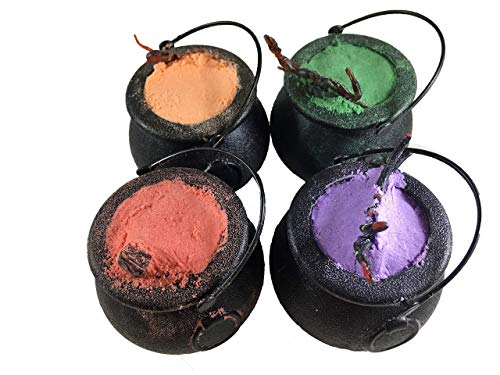 Bubble, bubble, boil, and trouble what? If you kids are making soup in the bathtub again, your mom is going to be so angry. I'm not explaining that mess to her again. You're just taking a bath with a cauldron bath bomb? I always knew you were secretly little witches. I'll probably find a toad in my coffee next.
A cauldron bath bomb is created the same as a regular one. Use a mix of baking soda, citric acid, and dyes or fragrances as desired. Instead of a circular mold, the ingredients are pressed into a small plastic cauldron instead. Once the cauldron is placed into the tub, it bubbles and brews.
Make bath time fun with a witches brew using your cauldron bath bomb!
Witches don't just take normal baths; they use a cauldron bath bomb! These adorable little fizzing bombs are the perfect addition for bath time fun. Whether you're looking for a fun way to celebrate Halloween or just feeling a little witchy, they've got you covered.
This set of 4 bath bombs is ready to transport you to the witching hour. Each 7 ounce cauldron holds a different color and scent of witches brews:
Red, in pumpkin spice scent. If you're a pumpkin spice fan, then check out our list of the weirdest pumpkin spice products you can buy!
Orange, which is pumpkin pie.
Purple is a soothing lavender scent. Want to learn more about aromatherapy? Check out our guide to creating a home spa with an aromatherapy shower!
Green is the traditional scent of witches brew.
In fairness, I don't really know what all is in a witches brew. I'd imagine some eye of newt, bat wings, etc. I jest, these bath bombs are made from totally natural ingredients. In fact, they even have apricot kernel oil, which helps to nourish and hydrate skin. No scaly witch skin for you!
If the fun bomb wasn't enough, each little cauldron also contains a hidden surprise creepy crawly. That might include a scorpion, cockroach, spider, rat, centipede, and more. The kids will love them – adults, maybe not so much. I envision finding one in my morning coffee, like a creature cup, but scarier.
After bath time, reuse these cauldrons for anything you like. Make homemade bath bombs, use them as décor, and they also make great party favors!
Additional Notes
Won't help with that wart on your nose (sorry)
Will not gain broom flying abilities or be able to turn your neighbor into a toad
#2 best seller in Handmade Bath Bombs on Amazon
Perfect 5 star rating so far!
Cook up some trouble in the kitchen with the help of these broth bombs. They're like a bath bomb you can eat!

Broth Bomb - Fizzy Seasoning Mixes (Complete Set (8))

Bring your favorite DC Comics characters with you thanks to these superhero bath bombs! Features 12 different collectible mini hero and villain figures!

Two Sisters Spa Bubble Bombs Superhero Surprise Set | Bath Bombs for Kids with Toys Inside | 6-Pack Set in a Gift Box | Safe for Sensitive Skin | Fizzy and Bubbly Bath Balls for Boys and Girls

Enjoy brining yourself in some roast beef bath salts! Just kidding – they're not really beef scented.

Roast Beef Sandwich Bath Soak – Amber Bath Salts Luxury Bath Funny Girlfriend Gifts for Best Friends Bath and Body Gifts for Men Sea Salts Funny Spa Gifts for Men Weird Gifts Au Jus French Dip

For a more relaxing time, try these bioluminescent jasmine bath salts. They glow and soothe!

Bath Diamond Jasmine 19 Bioluminescent Soaking Salts

Indulge in aromatherapy with the highest quality jasmine essential oils that help regenerate, nourish, and heal your skin while providing deep relaxation. Like diamonds, our marine luciferin light crystals are both rare and luxurious. Found in bioluminescent organisms who roam the tranquil depths...

No time for a bath? Use a shower steamer to get the same spa-like treatment of a bath bomb, but in the shower!

Cleverfy Shower Steamers Aromatherapy Gifts for Women - [6X] Shower Bombs with Essential Oils for Stress Relief - Great as SPA Gifts for Mom, Birthday Gifts for Women, Unique Gift for Women,Mom Gifts

This silver leaf aromatherapy necklace diffuser allows you to swap reusable essential oil pads within the pendant!

Leaf Diffuser Necklace (Silver)

If you love cauldrons, add some to the kitchen too with this Harry Potter cauldron mug. I'd serve up some broth bomb deliciousness in this cute, themed vessel.

Harry Potter 48013 Cauldron Soup Mug with Spoon, Standard, Black

Want to get your witch on? These glowing witch hats are the perfect addition to your outdoor décor this Halloween season!

OZMI Halloween Decorations Witch Hat, Outdoor 6 Pcs Witches Hat, Hanging Lighted Glowing Witch Hat Decorations, Halloween Witchs Hat Decor for Indoor, Outdoor,Garden, Trees, Yard, Party Decor

Check out our guide to spooky home décor for other great ideas to add to your home this Halloween