Spaceship Simulator Toy – Your Child's Immersive Space Flight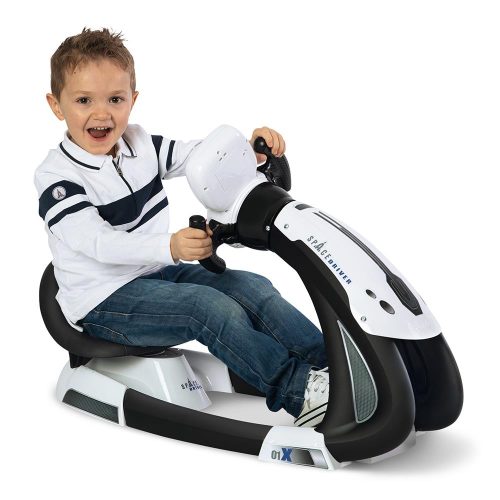 You want to go play on the moon? Well, oxygen struggles aside, I still think it's going to be a stretch. Why don't you pretend to be an astronaut with your spaceship simulator toy instead? You can go to space without ever leaving home!
The spaceship simulator toy is an immersive intergalactic experience designed for kids. It puts them in the seat of a spacecraft, allowing them the ability to control it and explore space. It utilizes a smart device for display, while the controls are manually operated.
Your children will embark on a journey to the stars with this spaceship simulator toy!
This spaceship simulator toy puts your child in the cockpit of their very own spacecraft. It's designed for ages 3+ and features an adjustable seat to grow with your little astronaut.
They'll sit in front of the controls of their very own spaceship! Lights, sounds, and interactive buttons support their imagination in this simulator. Fly forwards and in reverse, or make one of 15 different sounds from the control panel.
Watch your gas tank, or you might run into a space emergency! Sound the SOS for a space breakdown. Fire the laser to defend yourself or use boost to get out of a tight spot. Foot pedals help your kids feel engaged and in the action!
A smartphone mount allows for the installation of a screen so your child can see the action too. A free app simulates spaceflight and helps bring their imaginative play to life!
Additional Notes
Assembly required
Measures 33 1/2″ L x 22 1/2″ W x 14″ D and weighs just 4.5 pounds
Requires 3 AA batteries (not included)
Comes in a race car simulator version as well, if you prefer driving to flying!
If you kids love flying through space, they may also like this sky lite laser star projector for their rooms. Put the cosmos on the ceiling!

BlissLights Sky Lite - LED Laser Star Projector, Galaxy Lighting, Nebula Lamp for Gaming Room, Home Theater, Bedroom Night Light, or Mood Ambiance (Green Stars)

Use this crystal solar system as a cool desk light that's also educational about space!

3D Crystal Ball with Solar System model and LED lamp Base, Clear 80mm (3.15 inch) Solar System Crystal Ball, Best Birthday Gift for Kids, Teacher of Physics, Girlfriend Gift, Classmates and Kids Gift

Prepare to face your space foes when you practice with this projecting arcade game. You can target those pesky UFOs!

The Wall Projecting Virtual Target Game

This is the wall projecting arcade game that challenges children to take aim at virtual targets with laser blasters. The rotating console projects images of bullseyes, U.F.O.s, or ducks on the wall of a darkened room as two players battle for the highest score. The system console comes with five...

Bring a piece of the galaxy to family game night with Butts in Space, the hilarious card game!

Butts in Space: The Card Game