Auto Darkening Sunglasses – AshChromics Light Transitions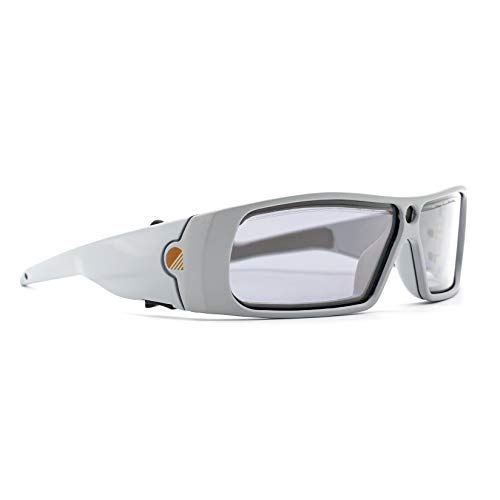 Sometimes, I miss wearing glasses. Those transition lenses were the coolest things, and now that I have contacts I'm missing out. I guess it's time to invest in some AshChromics auto darkening electrochromic sunglasses instead.
These auto darkening electrochromic sunglasses are the innovative way to protect your eyes. Put them on and step into the light, and they'll automatically adjust to the perfect level. Sunglasses protect your eyes and make it more comfortable to spend more time outdoors.
Have fun in the sun with these AshChromics auto darkening sunglasses!
It's time to get outside and enjoy the day with these electrochromic auto darkening sunglasses. These unique sunglasses automatically adjust in about 2 seconds to your lighting conditions, keeping your eyes safe from the sun.
Like most sunglasses, they offer full UV-A and UV-B protection. However, these non-polarized lenses also offer best in class contrast to keep things looking great.
The lenses feature a scratch-proof coating and a shatterproof outer layer. No matter what you're into, you can rest assured these electrochromic glasses will keep up. Try them out for:
Biking
Hiking
Rock Climbing
Driving
Boating
Gardening
Running or jogging
Fishing
Yard work
Since the glasses automatically adjust as you walk inside and out, there's no muss or fuss taking them on and off. Plus, there's no need to worry about low visibility when keeping them on indoors – perfect if your hands are full.
A single 45 minute charge provides enough power for 3-5 days (or 30 hours) of runtime. Rest assured that your road trips, vacations, and days at the beach will be fully protected. Turn them off when not in use or when it's dark out to save power – they'll remember the setting they were at next time they're on!
If you're worried that they'll "burn out" after a while – don't. These automatic darkening sunglasses have been tested up to 1.2 million transitions without loss of integrity. That's a lot of coverage!
Additional Notes
Made in the USA
Tested in humidity, salt spray, and temperatures from -22 to 149 degrees Fahrenheit
Polycarbonate and thermoplastic elastomer frame available in matte or glossy finish in grey (pictured), black, or tan colors
Unisex, one size fits most
For color changing frames instead, check out these Del Sol Solize sunglasses
Need polarized glasses? The Torege polarized sunglasses offer interchangeable lenses for any activity!
These sunglasses are great for kayaking! Check out our guide on what to wear kayaking to complete your outfit
Since these are great for both cycling and boating, why not try them out on your new bike boat?