Torege Sunglasses – Top Sports Polarized Lens Sunglasses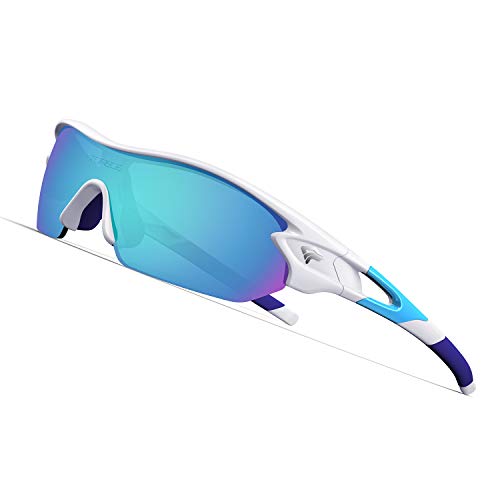 You want to know why I'm carrying three pairs of sunglasses in my purse? Well, one of them is for driving and reflection on pavement. Then, we might go to the lake, so I brought these for the water. But, I also planned to go cycling on my lunch break, so that's the third pair. What are these? These Torege sunglasses include a set of interchangeable polarized lenses, so I only need to carry one pair with me. Well, this sounds life changing!
Polarized lenses in sunglasses are designed specifically to filter light. Thus, they reduce certain types of glare better than traditional sunglasses. Using interchangeable lenses, you can swap to the correct polarization for your surroundings. Polarized sunglasses even work with contacts.
Be ready for wherever the day takes you when you bring your Torege polarized sport sunglasses with interchangeable lenses!
These Torege polarized sport sunglasses with interchangeable lenses are a must-have for outdoor activities. The stylish frames are available in 10 different colors, though we're featuring a cool blue and white pattern here. These frames allow you to snap in lenses with different characteristics that are perfect for whatever you're doing!
All the lenses are polycarbonate and have a scratch resistant coating, so they remain durable. Each set of lenses also offers 100% protection from UVA and UVB rays, including UV400. You'll receive a total of three different lenses with this set. The primary Revo lens helps to restore true color and keep your eyes safe during the day. The yellow tinted lens is for night activities, to enhance contrast and reduce light scattering. The last lens is black, polarized specifically for driving to help reduce glare.
This stylish pair of Torege sunglasses has a clean, modern design that will look good on anyone. They're lightweight, and even have a soft rubber nose pad for comfort! The rimless bottoms offer better field of vision during sports and other activities. You'll see everything more clearly, and keep your eyes safe!
Sunglasses are a must have accessory for anyone who spends a lot of time outside. They also make a great gift! Try them out for Christmas or a birthday – they're a great choice for the avid outdoorsman in the family. No matter where you go, make sure you can always see clearly and keep your eyes safe with these Torege polarized glasses and interchangeable lenses!
What are polarized sunglasses good for?
Polarized sunglasses are good for a lot of outdoor daytime activities. Spots where sun glare is created is where they particularly shine. Here are some examples for what polarized sunglasses are good for:
Fishing
Golfing
Hiking
Driving
Boating
Beach trips
Skiing
Snowboarding
Bicycling
Running
Since they reduce glare, polarized sunglasses are ideal where you'll get refractions from water, glass, snow, or sand. However, they should not be used in situations where you need to read an LCD screen, as they emit a polarized light which may be blocked.
Additional Notes
Manufacturer offers lifetime breakage warranty on frames
Span is 150mm, height 43mm, length 160mm
Designed to be anti-fog when sweating
Not designed for use over regular glasses
Windproof and sand proof
#6 best seller in Men's Outdoor Recreation Sunglasses on Amazon
Rated 4.4 stars with nearly 9,000 reviews!
Grabbing these glasses for a kayaking trip? Our article on what to wear kayaking can help you pick out the rest of your gear too
Looking for non-polarized lenses? Check out these fun Del Sol color changing sunglasses instead!

Del Sol Solize Color-Changing Unisex Sunglasses - Too Hot To Handle - Changes Color from Pearl to Pink in the Sun - Polarized Pro, Mirrored Lens, 100% UVA/UVB Protection

Always enjoy perfect lighting for your tastes with these AshChromics auto darkening sunglasses 

AshChromics Auto Darkening Electrochromic Sunglasses for Men Women, Golf Sunglasses, Advanced Powered Fades Eyewear (Mountain Grey - Glossy)

These color therapy glasses offer a 10 pack of different frames to help adjust your moods

GloFX Color Therapy Glasses 10-Pack Chakra Glasses Chromotherapy Glasses Light Therapy

Use the CarbonKlean Peeps to keep your lenses clean with the same technology used by NASA!

CarbonKlean Peeps Eyeglass Lens Cleaner - Efficient and Durable Carbon Microfiber Technology - Exclusively Used by NASA - 500 Uses (Injected Blue)

Know what else goes great with the outdoors? These waterproof socks will keep your feet dry for hours of outdoor time

Ankle Socks, 100% Waterproof Socks, [SGS Certified]RANDY SUN Unisex Soft Comfortable Cycling Socks For Outdoor Activities Black & Gray Medium