CarbonKlean Peeps Eyeglass Cleaner – also used by NASA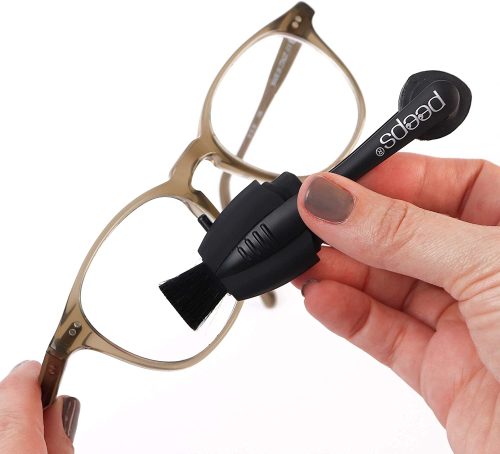 My glasses are all dirty again. I swear every time I walk outside, they attract dirt, pollen, and everything else. Thank goodness I brought along a CarbonKlean Peeps eyeglass cleaner to save the day. I'll be seeing again in no time!
CarbonKlean Peeps eyeglass cleaner uses the same technology that NASA does to clean windows. If it's that good, just imagine how great your glasses and sunglasses are going to look and feel. They require no chemicals and won't harm your lenses, but they will leave them looking great.
Get an out of this world level of clean when you use CarbonKlean Peeps on your glasses!
I figure if it's good enough for NASA, how could I go wrong with CarbonKlean Peeps to clean my glasses? Look, any glasses wearer knows that the lenses are always getting dirty. Dirt, sweat, pollen, you name it – it ends up on my lenses and clouds my vision.
Thankfully, those woes are a thing of the past thanks to this innovative eyeglass cleaner. It uses a carbon-based dry-clean technology, so I don't have to worry about restocking solution. It's safe and effective on both regular glasses and sunglasses, so I'm always covered!
From designer glasses to off-the-shelf reading glasses, you don't have to worry. Peeps won't damage your lenses or any coatings on them. They will, however, get rid of residue, fingerprints, smudges, and whatever that is on your glasses.
Note that Peeps should not be used to remove things such as hairspray, makeup, or lotion. These items will render the cleaning pads ineffective. If you have one of these items on your glasses, simply rinse with soap and water, then dry before trying to use CarbonKlean on them.
At only 4" long and 1" wide, this cleaner packs easily into a purse, backpack, beach or diaper bag for easy on the go access. It comes in 7 different colors and two different finishes, so choose your favorite!
How do you use Peeps?
Here is how to use Peeps on your glasses:
Remove from the case by grabbing the grips in one hand and the case in the other
Pull the two pieces apart to release the Peeps
Use the brush to dislodge loose debris from the lenses
Place the lens of your glasses in between the two cleaning pads
Squeeze the cleaning pads against the lens. You should have full contact, but not more than gentle pressure
Rub the Peeps back and forth, up and down, or in a circular motion
Repeat with the other lens until both are clean
For particularly tough spots and stuck-on debris, exhale onto the lenses, then resume cleaning. The heat and moisture from your breath will help to dislodge the problem area. Repeat a couple times if needed.
Just make sure to place the cleaner back into the case before storage to prevent damage to the cleaning pads. The case also "charges" the cleaning pads (no electricity required, it's kinetic-based) to ensure they continue to work effectively.
Peeps don't need to be pinched together to be re-inserted into the case. Simply slide them in, aligning the notch. Forcing them in will damage the pads.
How long do CarbonKlean Peeps last?
CarbonKlean Peeps are designed to last for about 500 uses. If you clean your eyeglasses daily, then expect about a year and a half before they'll need replacing.
Of course, if you're cleaning multiple pairs a day, this time will be reduced. Conversely, if you only clean your glasses once every few days, you may get 2-3 years out of them!
Thankfully, Peeps replacement pads are available, so you won't need to buy an entirely new system. Just replace the worn out pads and you're ready to shine again!
How do I clean my Peeps?
Should you need to clean your Peeps, rinse the tongs only under a small stream of water. Do not soak or submerge, just enough to clear debris. Allow to dry completely for a couple days before replacing into the case.
This should clear any residual "gunk" stuck to the tongs. If your glasses are particularly dirty or oily, it's best to use a wet cloth or a quick wash before trying to use Peeps. This will help prevent needing to clean them.
Additional Notes
Works on real glass as well as polycarbonate (plastic) lenses
Rated 4.3 stars with over 16,000 reviews!
Look cool in the summer sun with these Del Sol Solize color changing sunglasses

Del Sol Solize Color-Changing Unisex Sunglasses - Too Hot To Handle - Changes Color from Pearl to Pink in the Sun - Polarized Pro, Mirrored Lens, 100% UVA/UVB Protection

These auto darkening sunglasses adjust to keep your eyes comfortable in changing light

AshChromics Auto Darkening Electrochromic Sunglasses for Men Women, Golf Sunglasses, Advanced Powered Fades Eyewear (Mountain Grey - Glossy)

Torege sunglasses are polarized for all your favorite outdoor activities

Torege Polarized Sports Sunglasses With 3 Interchangeable Lenes for Men Women Cycling Running Driving Fishing Golf Baseball Glasses TR002 (White&Ice Blue lens)

Enjoy some chromatherapy with GloFX color therapy glasses 

GloFX Color Therapy Glasses 10-Pack Chakra Glasses Chromotherapy Glasses Light Therapy