What to Wear Kayaking as a Beginner and Other Essential Gear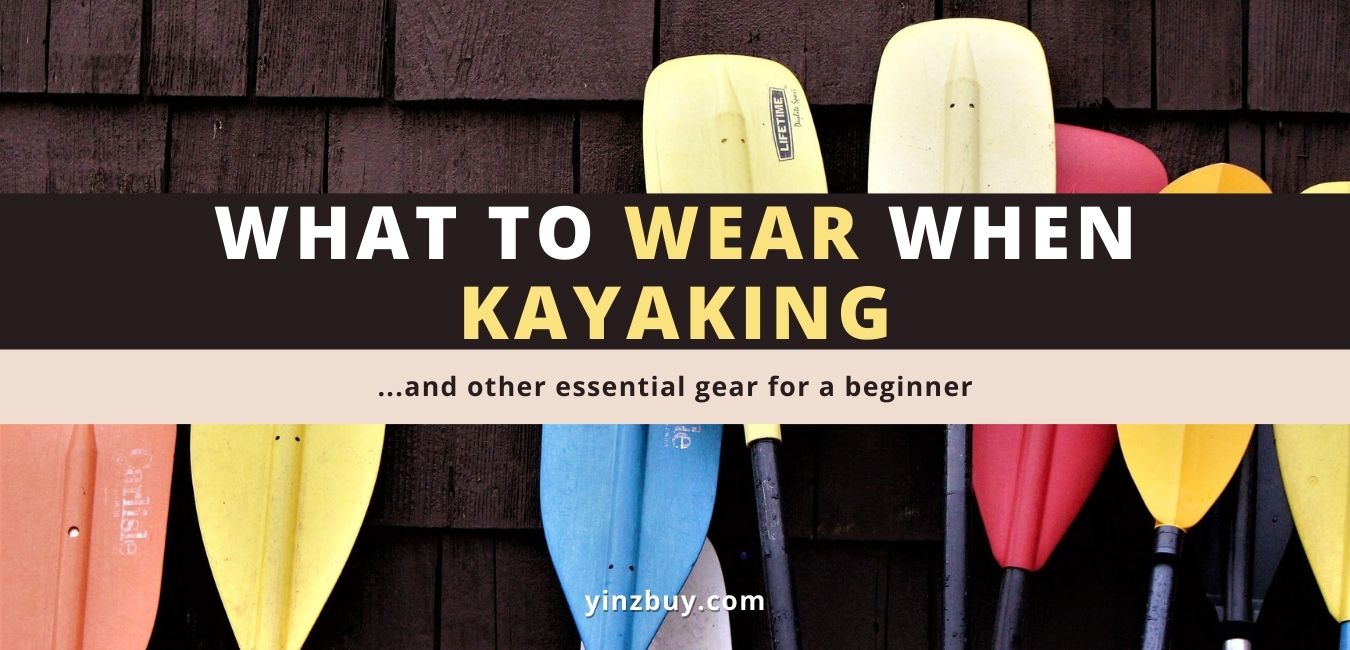 Kayaking for the first time is always exciting and thrilling. As a beginner kayaker, you are no doubt wondering what you should wear and what other essential gear you need to bring.
Here's what to wear and take as a beginner kayaker:
Proper footwear (sneakers or sandals especially)
Clothes that are still warm and comfy when wet
A life vest or other safety floatation device
A waterproof storage container or backpack
Water, sunscreen, a hat or sunglasses, and snacks
A lot goes into the type of clothing and gear necessary for a fun and pleasant kayaking experience. Continue reading below, and we'll go into much more detail about all of the "do's" and "don'ts". It's always better to be prepared for your first kayaking adventure .

What Do You Wear on Your Feet When Kayaking?
You may be wondering about the best kind of shoes to take with you when kayaking, or if you can simply wear anything on your feet. This is a great concern as not all kinds of footwear are recommended when going kayaking.
Can You Wear Sneakers Kayaking?
The answer is yes, you can wear sneakers when going kayaking. However, wet shoes are generally preferred. It is very likely you'll get wet, and sneakers can become heavy while also taking longer to dry.
If you do decide to invest in wet shoes, they actually tend to be very affordable. You'll find a range of wet shoes available from as little as $5 all the way up to $100, depending on brand, style, and options.
When going the route of traditional sneakers, focusing on your socks may help. Waterpoof socks can still get wet in deep water, so they won't help if you capsize. However, they'll keep your feet dry even in regular sneakers, which is great when walking in shallow water.  Check out some of our favorite waterproof socks for more info.
If you decide to wear sneakers, make sure they fit properly, are not too big, and fit inside the kayak. Make sure to also wear sneakers that are comfortable and provide you with proper heel rest while kayaking for long periods of time. 
Can You Wear Flip Flops Kayaking?
Flip flops are usually not recommended footwear for kayaking, as they can become very slippery and cause a fall. They usually tend to come off when in the water and do not provide kayakers with the proper support and necessary grip that wet shoes or sneakers provide.
Can You Kayak Barefoot?
The answer may vary according to your specific situation. In most cases, you can go kayaking barefoot.
However, if you expect your kayak ride to end at a location where it could be dangerous to walk barefoot, or if you don't happen to be comfortable being barefoot in the case you may need to jump in the water, then you probably want to consider proper footwear.
If you do decide to go barefoot, rest assured that it is safe (and actually preferred by some) as it prevents the need to deal with soggy shoes.
As an alternative to both shoes and bare feet, consider aqua socks. They offer feet protection and give you better grip, but are more lightweight and flexible than a traditional shoe. Read our full review on aqua socks here.
What Clothes Should a Beginner Wear Kayaking?
Like most other outdoor activities, kayaking requires comfortable and convenient clothing. You can also expect a lot of sun exposure or very cold weather, depending on the time of the year.
This being said, when kayaking you might want to:
Wear long sleeves to protect against UV rays, but make sure they are made of a synthetic, breathable material in the case of hot summer weather.

This way you can prevent overheating while kayaking.

Avoid cotton clothing and bulky coats as these take longer to dry. If it happens to be cold, it can be very unpleasant to walk around with a wet shirt. Kayaking requires a lot of arm movement and strength, and the last thing you want is a bulky coat making the job harder. A lightweight windbreaker is a great choice instead.
Opt for a pair of shorts for comfortability

and to give you more freedom of movement and breeziness.
Don't forget a good, wide brimmed hat to block the sun, too! A baseball cap isn't a bad choice, either.

Should You Wear a Bathing Suit Kayaking?
Many people choose to wear a bathing suit when kayaking, this is completely ok if the weather allows for it and the water temperature is not too cold. 
If it happens to be cold, although not as comfortable as a swimsuit or pair of shorts, a wetsuit or drysuit is recommended. These will help prevent hypothermia in the case of falling in the water. However, if you're a beginner, you likely won't be kayaking in the times and seasons where that is likely to be a real danger.
Can You Wear Jeans Kayaking?
As briefly mentioned above, you'll want to avoid cotton clothing, and jeans fall within this category. Wearing jeans when kayaking will leave you soaking wet throughout the day.
Also, if you do end up in the water, you'll want to wear something that won't weigh your legs down like jeans. Heavy, waterlogged pants can be a very serious safety concern when you're way out from shore.
Choose to wear lightweight pants or shorts for an optimal and rewarding kayaking experience.
What Other Items Should I Consider Packing for Kayaking?
We already covered footwear and clothing which are usually some of beginners' top concerns, but you may be also wondering what else you need to pack for your first kayaking adventure aside from proper clothing.
Here are some essential items you should pack for the best experience when kayaking:
Personal Flotation Devices for Safety
Life jackets or preservers are many times required by law and will protect you against any possible danger of drowning.
Life preservers are especially needed if you plan to go kayaking during the cold wintertime as they help to protect kayakers against the dangers that come with cold water shock.

Bring a Waterproof Backpack to Keep Your Essentials Dry
A waterproof backpack is a great investment when going kayaking, especially for the first time. When kayaking you'll need something to hold your belongings and keep them safe in case of falling in the water or simply water getting inside the kayak. 
With most waterproof backpacks out there, your items should be safe from water damage. Most of them can be submerged underwater without your belongings getting wet. This is crucial as we usually carry things like our phones or important paperwork, and an unexpected fall in the water while kayaking could be detrimental for these.
One of our favorites is the Earth Pak waterproof dry bag. It's waterproof, available in a variety of sizes and colors, and it even floats!
Sunscreen Is a Must
As we already covered above, you'll likely be exposed to long hours of sun and UV rays. Dermatologists constantly warn us of the many risks that come with a lack of sun protection, making it a must during long hours of outdoor physical activity.
Do not forget to carry (and actually use!) a nice protective sunscreen to avoid sunburns and other risky skin conditions. You don't want to regret your first trip the next day when you wake up red as a tomato and burning all over!
Hat / Sunglasses to Deal with Reflections
It is also important to take a pair of good quality polarized sunglasses with you to avoid being blinded by the sun and suffering a possible headache. Polarized sunglasses will protect your eyes from UV and UVB rays damage, providing you with the best possible experience.
The reflection of the sun off of the water is not something many beginners think about. However, it's essential to bring good sunglasses to protect your eyes when kayaking.
You may also want to take a good quality hat you do not mind getting wet to provide you with the best protection against UV rays.

Bring a Good, Durable Water Bottle 
During long hours of sun exposure and physical activity you want to make sure to stay hydrated.
You may want to consider taking with you something like a Hydro Flask Water Bottle so you can keep your water cold, regardless of the weather outside.
Snacks Because You Will Be Hungry!
Last but not least, you need to keep your body fueled up! It is very likely you'll feel hungry after long hours of paddling and sun exposure. Make sure to take your favorite temperature-resistant snacks to eat when kayaking.
It is not recommended to take anything that needs refrigeration, as it will likely go bad after being exposed to the summer heat when you're out on the water.
The Bottom Line: Essential Gear for Beginner Kayakers
Thankfully, you don't have to spend a ton of money when going kayaking for the first time. You likely already own most of these items and can pick up the rest on your next store trip.
Whether you choose to rent a kayak for your first trip or take the plunge by buying your own kayak, you'll be ready to go.
Always keep safety in mind when deciding the kind of gear to take with you. Then, enjoy your trip on the water!
As noted on our Affiliate Disclaimer page, links to products inside this blog could lead to sales commissions (at no additional cost to you) which allow this site to continue operations.