Taco Takeover – Fast Paced Taco Stuffing Board Game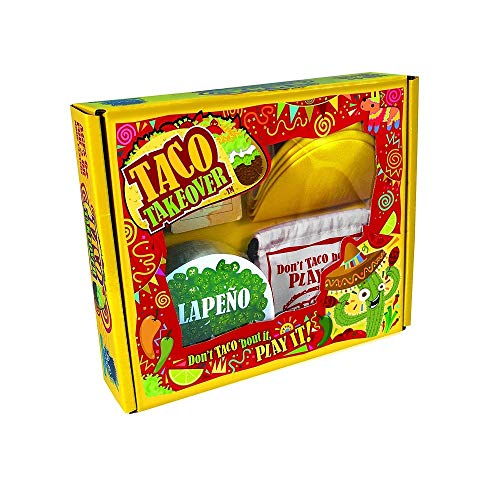 I know you kids are excited for Taco Tuesday, but you're crowding the kitchen. Why don't you go sit in the other room until everything is ready? Look, I got you a game of Taco Takeover to play while you wait. You can compete with each other to build game tacos before we enjoy the real ones!
Taco Takeover has a few simple rules. Players start with an empty taco shell and an order card. On the order of "go", players scramble through a pile of facedown cards to find toppings that match their order. The first person to correctly assemble the taco wins the round. It sounds simple, but is chaotic fun for the whole family.
RELATED:
Learn how to build your own taco bar at home!
Make everyday Taco Tuesday when you play Taco Takeover!
Taco Takeover is a fast-paced fun game that the whole family will love. In the box, you'll find a total of 4 plastic taco shells, 75 topping cards, 10 order tickets, and a cloth storage bag. Taco Takeover is designed for 2-4 players, though you could pair multiple sets together for larger families easily. Each game takes approximately 15 minutes to complete, making it a perfect choice for game night.
Players begin by selecting an empty taco shell and drawing an order card, which remains face down. All of the topping cards are spread in a pile face down in the center of the table. At the count of 3, 2, 1, go, players flip over their order cards. From there, the object is to locate all of the toppings needed to fill your taco to match your order card. Race to dig through the toppings pile and locate yours first. The first player to complete their taco correctly and shout "Ole" wins the round. Collect three round wins to be declared the winner of the game.
It may sound easy at first glance, but some traps are included to trip you up. If you draw the dreaded cockroach card, you'll have to dump any ingredients you've collected and start again. If your opponent draws an antacid card, they can play it on you, so you have to dump and start again. But, if you're lucky and find a 'loco' card, it's a wild card that can stand in for any topping!
Taco Takeover is a fun game that kids and adults can enjoy playing together. It helps to teach reading skills to the kids, and keeps the adults on their toes. Whether at home or on the go, spice things up with a little Taco Takeover!
Additional Notes
Recommended for ages 6 – 99
Total weight is just over 1 pound – perfect for travel!
Has a 4.7 star rating with over 130 reviews – people love it!
Keep playing with your Mexican food thanks to Throw Throw Burrito!

Throw Throw Burrito by Exploding Kittens - A Dodgeball Card Game - Family-Friendly Party Games - Card Games for Adults, Teens & Kids

Kids will have a great time escaping the Zombie Gotcha game!

Mattel Games GFG17 Zombie Gotcha

You can also setup a Halloween Monster Mash with Scary Bingo for children!

Scary Bingo: Fun with Monsters and Crazy Creatures

Or attempt to race a shark with the popular Shark Bite game!

Shark Bite w/ Bonus Let's Go Fishin' Card Game (Amazon Exclusive)

Let everyone make the dinner they desire with a taco lazy Susan!

Nostalgia Taco Tuesday Heated Lazy Susan Topping Bar Perfect for Burritos, Nachos, Fajitas, 20-Oz. Warming Pot, Includes 4 Tortilla Holders, Red

After a rousing game of tacos, wrap yourself up for a nap in a burrito blanket!

CASOFU Burritos Blanket, Giant Flour Tortilla Throw Blanket, Novelty Tortilla Blanket for Your Family, Soft and Comfortable Flannel Taco Blanket for Adults. (Burrito-a, 71 inches)