RC Water Bomb Tank – All Terrain with 360 Degree Movement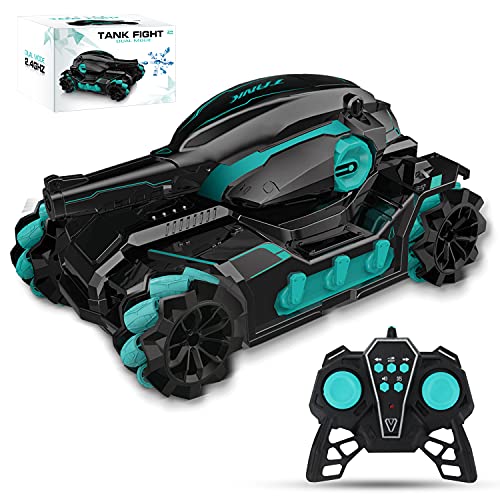 Why is my foot wet? Did I step in something? You were shooting your RC water bomb tank in here again, weren't you? Well, now I need to go change my socks again, so thanks for that.
The RC water bomb tank is a fully remote controlled tank that's capable of launching water beads as ammo. It's a fun toy for both kids and the kids at heart. It operates on a variety of different terrains for both indoor and outdoor fun. Best of all, water beads don't hurt like BBs.
Launch surprise attacks and enjoy the fun with a RC water bomb tank!
A RC water bomb tank takes the fun of operating a remote control vehicle to a whole new level. This 4WD tank is designed for use both indoors and outdoors. It easily handles terrain like your floors and carpet, as well as grass, sand, and gravel. The tank can drive up to a 45 degree slope!
With the help of the remote control, the RC tank can be piloted forward, backward, left, or right. The translation feature offers sideways movement to make it extremely maneuverable!
That's perfect for getting yourself into position to launch your ammo – the water bomb! The tank ships with 1500 water beads to prepare your arsenal. If you run out, any 7-8mm size water bead replacements will work.
Simply soak your beads in water for about 4 hours to prepare them. Then, load the tank!
Using the 360 rotation of the tank with the additional 180 degree rotation of the turret, you'll line up the perfect shot. Just press the button on the controller, and fire away! Water beads are safe, odorless, and don't hurt if they contact skin (unlike some pellet ammo).
Realistic sounds when moving and firing make you really feel like you're in the action with this RC tank. The strong motor can zip it along as fast as 7 mph! A built-in rechargeable battery gives you about 20 minutes of awesome tank action on a full charge.
Additional Notes
Integrated 7.4V 1500mAh rechargeable lithium battery
USB charging cable
Available in black with green (pictured) or black with brown accents
Recommended for ages 5+
Do not shoot water bombs towards face, or at pets
Newer product with a perfect 5 star rating so far!
If you don't want the awesome water bead action, try these RC battling tanks instead. They use infrared turrets and come in a set of two for epic battles!
For more water, the pool punisher tank pool float has you covered. Fire water guns from inside your awesome pool toy!
Don't forget your pet! Equip your cat with a cat tank scratching toy so they can get in on the action too (or, just hide from the water bombs)!