Poooliprint Mini Inkless Pocket Printer – a Modern Day Polaroid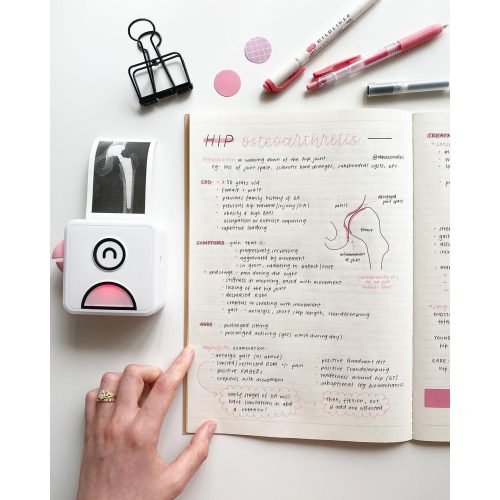 Are you still lugging around that old Polaroid camera? Why don't you trade it in for a Poooliprint inkless pocket printer? I can bring it nearly anywhere since it's so small and lightweight.
The Poooliprint L2 inkless pocket printer is made for portable design printing on the go. It can print a picture in just seconds and requires no fiddling around with ink cartridges. It's perfect for pictures, images, stickers, shopping lists, and more.
Print anytime, anywhere with the help of the Poooliprint inkless pocket printer!
Poooliprint, the inkless pocket printer, is the modern day take on the classic Polaroid style camera. However, this portable little printer is only 3.25 x 3.25 x 1.5 inches, so it fits easily into your pocket.
Print anything from your smartphone in seconds. Use the companion app to edit and print your favorite pictures, images, notes, lists, and more. Poooliprint doesn't even require Wi-Fi, as it uses a Bluetooth connection with your phone.
No more worrying about costly ink refills, since Poooliprinter doesn't use ink! Instead, it uses a special thermal heating system to transfer your image to the paper. However, since this process doesn't use inks of any sort, it means that Poooliprint does not print in color.
If you're missing the color though, you can instead use different colors or patterns of thermal paper! You'll also find sticky backed and transparent papers for specialty projects.
Poooli can print a 2.1" wide picture with 300dpi HD. It's small but mighty! You can expect to get about 100 pictures per roll of paper, so it's economical as well.
We all know a Polaroid will fade over time. Thankfully, Poooliprint inkless pocket printer images are very durable. They'll maintain integrity for 10-25 years depending on care. They're also water resistant, oil-proof, and scratch free. Keep your moments preserved for many years!
Additional Notes
Works wirelessly, and USB recharging cable is included
Prints for around 24 hours before needing a recharge
Detachable "beak" is a small magnet or card holder for displaying your favorites
iOS and Android compatible
If you want to attach another fun device to your smartphone, then check out this Bluetooth Banana Phone handset which works with Android and iPhone!
Add hidden images and wizarding magic with the help of a Harry Potter portable photo printer
This camera is perfect for scrapbooking images! If you enjoy scrapbooking also check out a Cricut Maker machine
Haven't heard of one? Learn more about what is a Cricut machine and what does it do?
Prefer to write your lists in a notebook? Check out the innovative Rite in the Rain notebook, which offers waterproof pages for all your list needs!