What is a Cricut Machine & What Does it Do? (A Helpful Guide)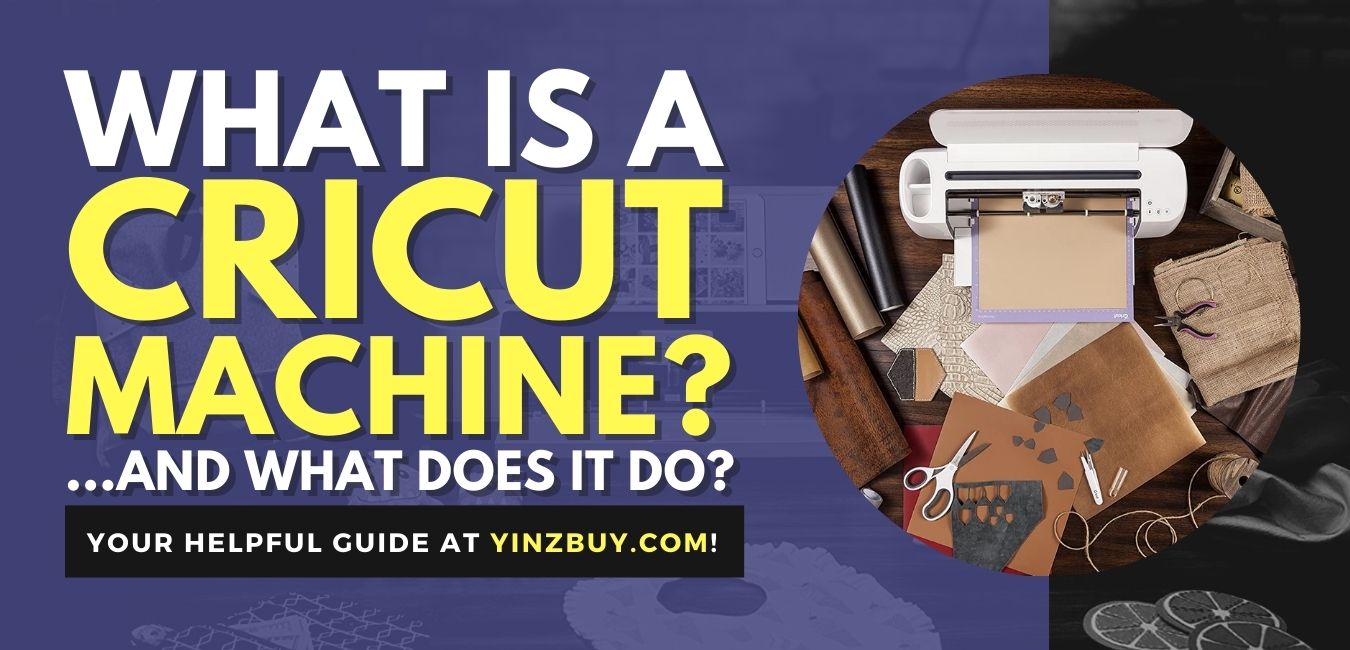 The hobby of arts and crafts allows a person to explore anything their imagination can create. As technology advances, we gain tools such as the Cricut to aid in their creation. But, what can you do with a Cricut machine?
A Cricut machine is used to create and design patterns. It will then cut these patterns on multiple materials, such as fabric, vinyl, or wood. The capabilities of a Cricut machine depend on the model and materials being used, and the user's creativity.
If you've been considering investing in a Cricut machine, you may want to learn more about what it can do! Don't worry, I'm here to help! If you're already sold on the benefits and instead want help choosing a model, visit our comparison guide on the Cricut machine differences between each device.
In this guide, though, I'm going to cover what you can do with a Cricut machine. I'll also reveal some frequently asked questions about them, and some of the great craft projects you can do with Cricut. I hope you'll find this helpful for all your crafting endeavors!
What is a Cricut Machine & What Does it Do? (A Helpful Guide)
hide
What Does a Cricut Machine Do?
That's the main reason you're here, right? You want to know what you can do with a Cricut machine. Well, at its core, it's a digital precision cutting machine.
Basically, if you have a design in mind, the Cricut will cut said design into whatever material you desire. Here is just a sampling of the crafts you can do with a Cricut machine:
Cut cardstock for custom cards
Create printing transfers

for shirts, jackets, hats, and more

Slice leather

for projects, such as a bracelet or belt

Design and cut wood

monograms

Prepare materials for assembly

, such as cutting pieces for a birdhouse

Felt and fabric cutting

for scrapbooking, artificial flowers, and decor

Sewing pattern cutting

, which reduces time and hand strain

Applique creation and cutting

, for stockings, blankets, and more

Adhesive vinyl cutting

for decorating water bottles, tumblers, etc

Precision cutting consistent sizes

for patches, button making, etc

Engraving or debossing

various materials

Many more other great functions!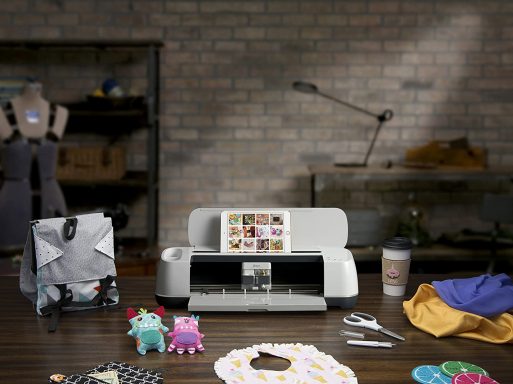 These functions are but a small sampling of the many crafts you can do with a Cricut machine. The possibilities are only as limited as your imagination!
So, let's talk a little bit more in depth about some of the most popular Cricut craft functions.
RELATED on YinzBuy:
Are Handmade Gifts Better Than Store Bought? Find Out the Answer!
Engraving Projects with Your Cricut
One of the most popular craft projects the Cricut can do is engraving. While only achievable with the Cricut Maker machine, engraving is as simple as switching in the Cricut Engraving Tip.
The chosen materials should be no more than 3/32" thick, although in some circumstances, materials up to 1/8" can be used.
When engraving with your Cricut Maker, it works best on:
The Cricut cannot engrave on glass. However, it can be used to create a reverse cutout vinyl sticker, which may be applied to your glass as a template. Then, use a glass etching cream to create the effect in the space!

Alternatively, when engraving isn't the best choice, debossing is an option. The Cricut debossing tip creates a similar concept as engraving, without the cutting. This is ideal for more delicate items.
You can do debossing with a Cricut machine best on:
Paper
Cardstock
Foil
Cardboard
Anything else that tears easily
That's not to say you can't use the debossing tips on some other items as well. I always recommend experimenting for unique and creative designs!

Creating Printing Transfers with Your Cricut
Any Cricut machine can do at least one of two different methods for printing transfers, based on your model:
Print transfers by using transfer material

, such as vinyl, to print the design on. Then, use an iron or the

Cricut EasyPress Mini to apply the design.
Use invisible ink with transfer paper

to create and transfer a design.
I love the versatility you have in creating customized designs. You could do matching t-shirts, hats, or even design personalized baby clothes!
 

View this post on Instagram

 
You Can Cut Patterns for Sewing with Your Cricut
Creating patterns for sewing is another great thing your Cricut machine can do. In fact, there are several advantages to using the Cricut!
 

View this post on Instagram

 

Once you've created or uploaded the original pattern, it can be saved to your computer.  If you make a mistake sewing, it's easy to recut the specific piece you need, quickly and easily.
It's also ideal for mass production. Need to make 10 identical vests for a camping trip? Cut them quickly, easily, and accurately in a flash!
If you're planning to use it for sewing, note that the compatible materials for each machine varies, so make sure to choose a model based on your needs.
What Types of Fabric Can a Cricut Machine Cut?
If you're a sewer planning to use your Cricut machine primarily for sewing projects, you'll want to know what types of fabric it can cut.
Here's a short list of some common types of fabrics, and which Cricut machines can cut through them:
Cricut Maker
Cricut Explore
Cricut Joy
Cricut Cuttlebug
Bamboo Fabric

X

Burlap

X

Canvas

X

Cashmere

X

Chiffon

X

Corduroy

X

Cotton

X

Denim

X

X*

Flannel

X

Fleece

X

Jersey Knit

X

Leather

X

X

X**

Silk

X

X*

Suede

X

X**

Tulle

X

*Bonded only
**Faux only
Certainly, this is not a complete list, as Cricut machines can handle hundreds of different types of materials. For a deeper look beyond just fabrics for your Cricut crafts, make sure to check out our Cricut machine comparison for more details.
Can a Cricut Machine Cut Wood?
This is probably one of the most common questions I hear about a Cricut. The only version of Cricut machine that can cut through wood is the Cricut Maker.
This model has the necessary quick change tool system and knife blade. That, coupled with the most powerful motor, provides for cutting thicker materials, such as balsa wood.
That being said, no Cricut machine can cut plywood, hardwood, or anything beyond craft wood. You'd need to switch to woodworking tools for that purpose.
Do You Need to Use a Computer with Cricut?
For the best and simplest use of any digital Cricut machine, it is recommended  that you connect it to a computer. Most models offer USB or Bluetooth connections for this.
This is largely because you'll need your computer to access Cricut's software, Design Space. This free software allows you to create and upload your designs for use on your Cricut machine.
 

View this post on Instagram

 

Cricut does offer a premium service as well. For $96-$120 annually (depending on the plan), you gain access to a larger image, project, and font library. If you don't feel that's worth it for your personal needs, then the standard free plan is still included.
Additionally, if using the print then cut function on a compatible Cricut machine, it requires communication with a home printer. This must be done via computer to work.
Alternatives to Using a Computer with Cricut
There are options for the designer who doesn't want to have their computer tethered to the Cricut, or vice versa. If you have a smartphone with either iOS or Android, then you can download the Cricut Design Space app instead.
It is important to understand that if you decide to use the app instead of the desktop version, the functionality is much more limited.
Cricut Design Space cannot be used offline so you'll still need to have access to Wi-Fi, even on a mobile device. Another limitation is that you cannot use Cricut Design Space with the Chrome OS, despite being able to download it from the Google Play Store.
Finally, as I mentioned before, the handy print then cut option is not available on the app.
Conclusion
Hopefully, you've come away with an answer to the question: what is a Cricut machine? I also hope along the way that you've learned about some of the great Cricut machine crafts you can create.
Remember, your imagination and creativity are really the only limitations to these awesome crafting helpers.
Check out our review of the Cricut Maker if you're ready to jump right in.
We also reviewed the Cricut EasyPress Mini, which is a perfect little tool if you plan to do a lot of heat transfer projects.
Need some space for your new Cricut crafting projects? Check out our guide on how to remodel a finished basement to turn it into the crafting spot of your dreams!
Wouldn't you like to create your own surprise explosion box or stuffed animal kit for gift giving this year? With Cricut, now you can!
As noted on our Affiliate Disclaimer page, links to products inside this blog could lead to sales commissions (at no additional cost to you) which allow this site to continue operations.