Cricut Machine Differences – A Comparison DIY Crafters Need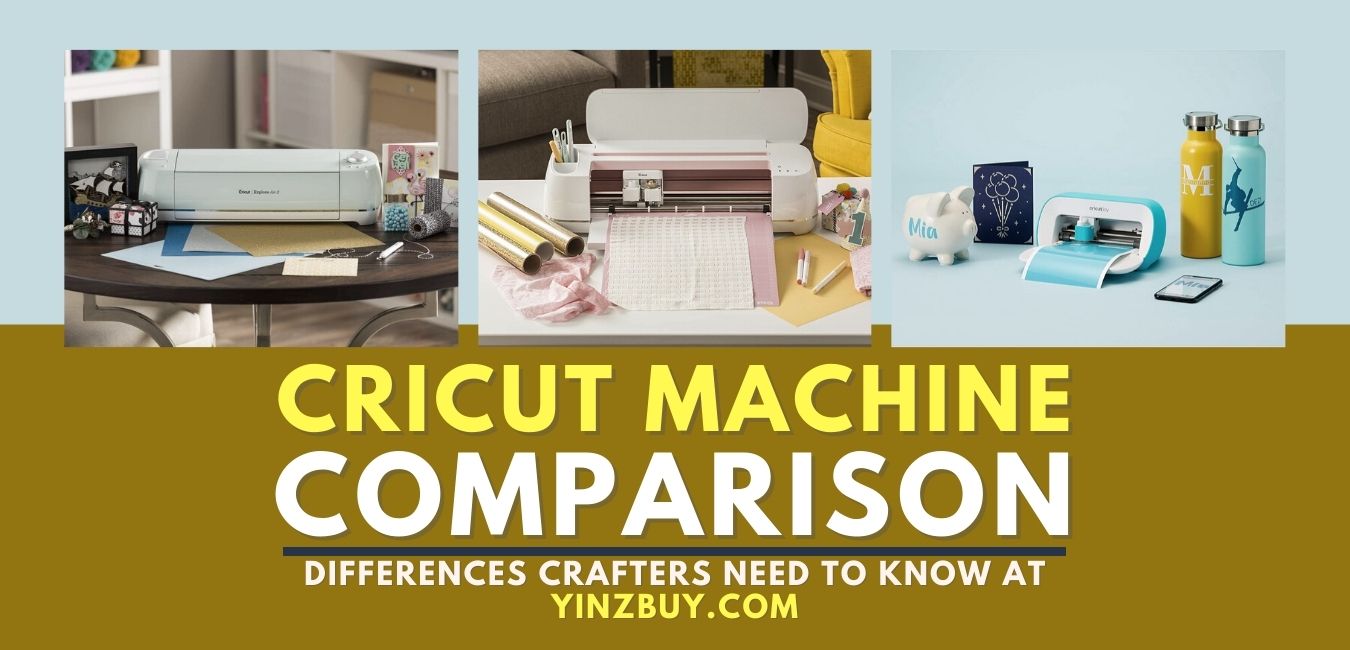 You've probably heard all about the Cricut machine and how it's taking the craft world by storm. In fact, it's likely that you're here because you want to learn about the differences between Cricut machines.
Cricut machine differences are largely in the craft functions it can perform and the materials it can use. When it comes to Cricut machine comparison, you'll want to consider these elements against your intended use.
If you purely want to learn more about what is a Cricut machine and what it can do, then we have another detailed article just for that!
In this guide, however, I'm going to teach you about the different Cricut machines that are out there. I'll walk you through the differences between each Cricut machine and which Cricut machine is best for certain activities.
Are you ready to get crafty? I know I am!
What are the Differences Between Cricut Machine Models?
There are currently 3 different Cricut machine models available for the aspiring artist or crafter. Those machines are:
Cricut Maker
Cricut Explore
Cricut Joy
Cricut Cuttlebug (discontinued)
So, what are the differences between each Cricut machine? Let's take a look at what each one can do in this Cricut machine comparison.
Cricut Maker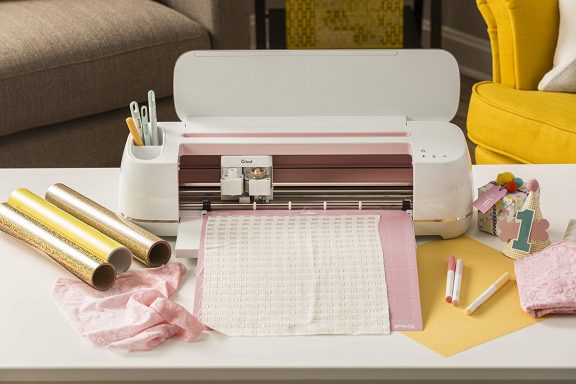 The Cricut Maker is the most advanced of the Cricut machines. If you are planning to use sturdier materials when you craft, such as acrylic, metal, or wood, then this is the machine you will need. It is also perfect for cutting fabric as well.
The Maker also has an expandable suite of tools. With a wide array of interchangeable attachments and tools, the Cricut Maker evolves with whatever craft you get into.
Cricut Explore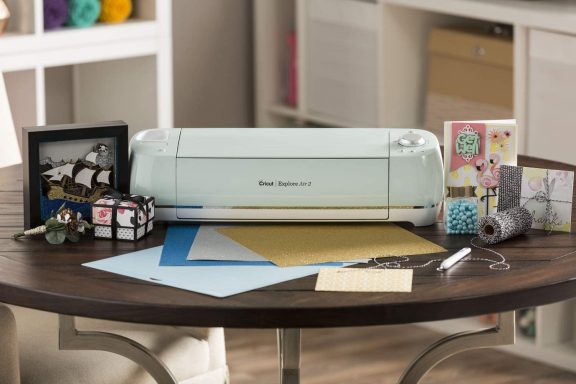 For a more budget-friendly option, consider the Cricut Explore. It comes in several models, such as the popular Cricut Air Explore 2.
It has many of the same functions as the Maker. However, it does not have the interchangeable attachment function and isn't quite as powerful.
While you're more limited in materials and options, it can still create a lot of different projects. Cricut Explore is perfect for creating stickers, greeting cards, appliques, and décor. It's a less expensive way to get started on your Cricut adventures!
Cricut Joy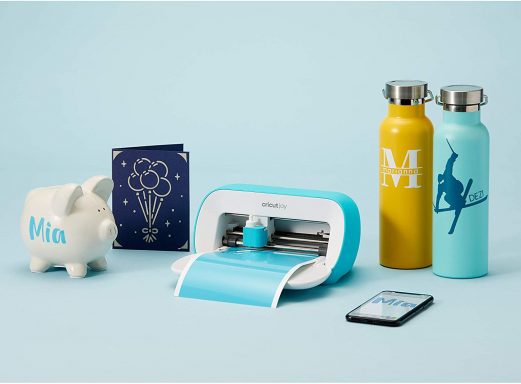 The Cricut Joy is the newest smart cutting machine released by Cricut. This model is geared primarily towards those working in smaller spaces or on smaller projects.
Joy's size also lends itself well to the artist on the go, as its compact design is perfect for portability!
One feature of the Cricut Joy is that all of its cutting can be done without a cutting mat. This means that you can select a design, load your materials, and start cutting.
Despite its small size, the Cricut Joy cuts continuously up to 4'. Alternatively, with the use of smart vinyl, it may cut repeatedly up to 20'!
The Joy excels at label making, decals, greeting cards, and small transfer designs.
Cricut Cuttlebug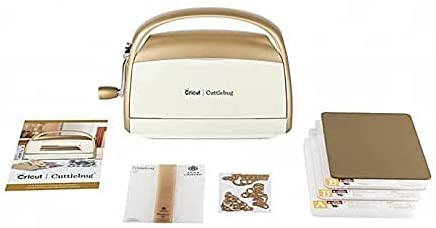 The Cricut Cuttlebug was discontinued in 2020, but you may still be able to locate some units. It's unique among the other models for its one special feature – you can use it offline.
As a true manual die cutter, it works via hand crank operation to cut or emboss materials. The pattern is created by individual manual cutting dies, with each pattern requiring its own die.
Cricut Cuttlebug is easy to learn, use, and the least expensive base model. However, you'll need multiple cutting dies, and they won't be useful if you upgrade to one of the other digital type Cricut machines later.
Differences in What Each Cricut Machine Can Cut
As I previously alluded to, one of the biggest Cricut machine differences is what each model can cut.
All versions of the Cricut machine can cut through a variety of materials. Each machine is equipped with different blades, as well as a motor appropriate to its size. This helps determine the materials it can work with.
Here is a comparison chart for some of the most common crafting materials and the differences between which Cricut machine can cut each:
Maker

Explore

Joy

Cuttlebug

Acetate

X

Canvas

X

Cardboard

X

X

X

Cardstock

X

X

X

X

Craft foam

X

X

X

Crepe paper

X

X

Denim

X

X*

Felt

X

X

X

Fleece

X

Foil

X

X

X

X

Iron-On

X

X

X

Labels

X

X

Leather

X

X

X**

Photo paper

X

X

Quilt batting

X

Sheet metal (thin)

X

X

Tulle

X

Veneer

X

X

X

Vinyl

X

X

X

Wood (Balsa)

X

*Bonded denim only
**Paper thin, faux leather only
This list is in no way exhaustive, as there are hundreds of different materials a Cricut machine can work with. However, I tried to cover a broad range to give you an idea of the capabilities of each.
In fact, Cricut recommends experimenting with different materials to see what you can create. Just make sure to respect the maximum thickness your machine allows to prevent a jam.
Depending on what kinds of projects you are most interested in, these Cricut machine material differences will determine which machine would suit your needs best.
Cricut Machine Comparison Chart
In addition to the differences in materials, Cricut machines also vary in a number of functionalities.
To make life easier, I've put together this handy comparison chart of the main features of each Cricut machine. This will better help you understand if it fits your needs, space, and most of all, your budget:
Maker

Explore
Joy

Cuttlebug

Retail Price

$399.99

$249.99
$179.99

Varies*

Unit Size

25" x 10.5" x 10.5"

22" x 7" x 6"
8.4" x 5.4" x 4.25"

6.5" x 11" x 13"

Max Material Width

12"

12"
5.5"

6"

Max Cut Length

2 feet

2 feet
20 feet**

7 inches

Print Then Cut

Yes

Yes
No

No

Cutting Mat  Required

Yes

Yes
No

Yes

Interchangeable Tools

Yes

No
No

Yes

Cutting Function

Yes

Yes
Yes

Yes

Writing Function

Yes

Yes
Yes

No

Scoring Function

Yes

Yes
No

No

Debossing

Yes

No
No

Yes

Engraving

Yes

No
No

No

Computer Required

Yes

Yes
Yes

No

Connectivity Types

Bluetooth, USB

Bluetooth, USB
Bluetooth

None

*Since Cuttlebug is discontinued, price will be up to third party reseller
**Requires use of Cricut Smart materials
Note that some of the functions require the use of special accessories. In some cases, accessories may also be available to increase cut lengths, if that is of particular concern to you.
Which Cricut Machine Should You Buy?
Now that you understand the differences between Cricut machines, you may have a better handle on which model is best for you.
If you're looking for a quick answer on which Cricut machine you should buy based on your specific needs, I've put together a quick guide on the best Cricut machines for a number of projects:
Getting Started: The Best Cricut Machine for Beginners
The best Cricut machine for beginners is the Cricut Cuttlebug. I know, it's discontinued and that's a pain, but here's why it gets the pick:
No computer (or even power) required

Incredibly easy to use – even a child can operate it safely

Compatible with a variety of name brand and third party dies (templates)

Useful in many crafts, particularly excelling with paper crafts
Sewer's Helper: The Best Cricut Machine for Cutting Fabric
If you're a sewer or quilter, the best Cricut machine for cutting fabric is the Cricut Maker. While it's got the highest price point, it's worth it and here's why:
Cuts through hundreds of fabric types, including thick, dense weaves

Easy to load patterns

Saves hours of cutting work, and ensures consistency
If You Got it, Wear it: Best Cricut Machine for Shirts
Whether you're planning to create matching shirts for a family trip, or you're in charge of soccer uniforms this year, Cricut has you covered. When it comes to creating iron ons, decals, or patches, the best Cricut machine for shirts is the Cricut Explore.
Here's why Explore gets the pick:
Saves you money vs. the Maker for the same shirt-related functions

Cuts thin fabrics for patches or custom designs

Compatible with print then cut, so you can print custom designs, then cut them out with pinpoint accuracy
 

View this post on Instagram

 
Stick it to Me: Best Cricut Machine for Making Labels
Hands down, the best Cricut machine for making labels is the Cricut Joy. If it couldn't do other projects too, I'd swear that's what it was exclusively designed for. Here's why I'd pick Cricut Joy for all my labeling needs:
Super Slick: Best Cricut Machine for Vinyl
When it comes to the best Cricut machine for vinyl, arguably any model aside from the Cuttlebug can be the best choice.
If you plan to predominantly make small designs, or batch labels, then I recommend the Cricut Joy as the best choice for your vinyl needs.
 

View this post on Instagram

 
For larger projects such as logos or decals, then I recommend the Cricut Explore as the best choice for your vinyl crafts.
 

View this post on Instagram

 
Why not the Maker? Certainly, you could easily use the Maker for vinyl. However, unless you have plans to craft with fabric, or need to emboss or engrave something, then you're paying for functionality you won't use.
Feeling Crafty: The Best Cricut Machine for Crafts
Last, but certainly not least, let's talk about the best Cricut machine for crafts. Again, this largely depends on the type of crafts you plan to do.
The Cricut Maker is the best Cricut machine for crafts involving:
Leather
Craft Wood
Metal
Sewing
Embossing
Engraving
This is purely due to the Maker's interchangeable tool system, and the huge variety of materials it can work with.
 

View this post on Instagram

 
If that's not up your alley in terms of craft projects, the Cricut Explore is the best Cricut machine for crafts including:
Felt
Vinyl
Iron-ons
Foil
Photos
It's a less expensive option that's ideal for scrapbookers, album creators, home décor creations, and custom decals.
 

View this post on Instagram

 
Both models tackle the basic paper related crafts easily, so you can feel free to make that personalized greeting card to go with whatever else you're cooking up!
Cricut Comparison Conclusion
As you've probably seen, Cricut machines are a versatile tool in the world of crafting. Each of the Cricut machine models contains differences that make them unique and suitable for a variety of users.
I hope we've thoroughly explored a Cricut machine comparison to help you choose the best Cricut model for all your crafting endeavors!
If you're using your new Cricut to get ready to quilt, learn about the best sewing machine options for machine quilting too!
Grab an engraving pen for those occasional jobs on glass, metal, or wood. It's an easy way to expand your repertoire without investing in the most expensive Cricut model.
Paper crafters may enjoy a wax sealing kit. Finish your newly personalized envelopes off with a one of a kind seal that's as unique as you are!
As noted on our Affiliate Disclaimer page, links to products inside this blog could lead to sales commissions (at no additional cost to you) which allow this site to continue operations.