Engraving Pen – Original Easy Etcher for Glass, Metal, & Wood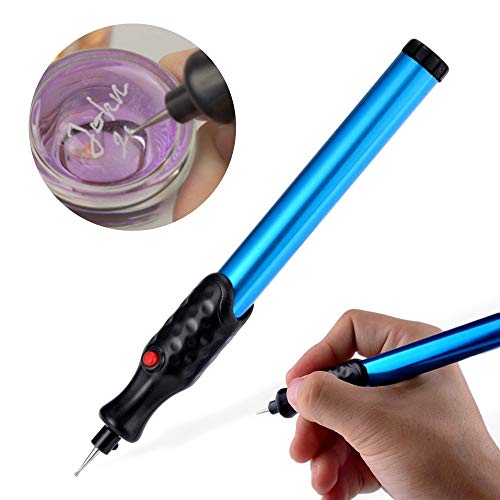 Is that my wine glass you're drinking out of? That's the third time this week! Can't you remember which one is yours? That's it, I'm pulling out the Easy Etcher engraving pen and fixing this once and for all. I'm going to etch my name and a design right into the side of the glass so you can tell them apart!
An engraving pen is a handheld tool designed to engrave words or designs on many surfaces. It uses a diamond bit, so it can cut into metal, wood, glass, stone, leather, and more. It's a useful tool for personalization and home crafting needs.
Engrave and personalize to your heart's content with this Easy Etcher engraving pen!
The Easy Etcher is the engraving pen tool you didn't even know you needed. This pen lets you engrave almost any surface you can think of. It's easy to make personalized gifts, crafts, and do other DIY projects around the home. The ergonomic design makes this tool as easy to hold as a regular pen. Plus, it's made of lightweight aluminum and highly portable, so you can bring it along anywhere!
The engraving point is a diamond tip bit powered by a 12,000 rpm motor. It's strong, yet slow enough to allow for precise design work. The bit can cut through all sorts of materials with ease. You can engrave on glass, metal, wood, plastic, leather, jewelry, stone, and more! This engraver even comes with 10 stencils to help you get started etching beautiful designs.
Whether you're a beginner or a pro, you'll have everything you need to be successful. This Easy Etcher engraving pen comes with a spare bit and bit changing tool, just in case. You'll also receive 5 additional tips in different shapes and sizes, allowing you to create customized designs. Finally, a sandpaper bit and 6 spare covers is included so you can polish the finishing touches on your works of art!
An engraving pen is the perfect choice for anyone that's into arts and crafts. Plus, not only can it help create great gifts, it can be a gift in and of itself! Give an Easy Etcher engraving pen for Christmas, a birthday, or Mother's Day to the DIY pro in your life. Anyone can make unique, beautiful, and personal works of art with an engraving pen tool!
Additional Notes
Requires 2 AAA batteries (not included)
Measures 6 x 0.59 x 0.59 inches and weighs under 4 ounces
#6 best seller in Jewelry Making Engraving Machines & Tools on Amazon
4.3 star rating with over 700 reviews!
Try crafting your own art pieces with a 3Doodler Create 3D printing pen! This pen is a great option for beginners.