Cricut Maker Ultimate Machine for Homemade Crafts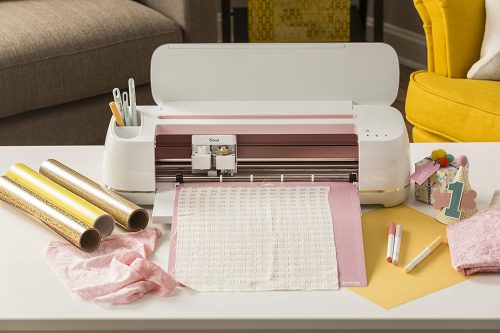 What do you mean yinz need me to sew you a costume for the play by tomorrow? Your brother needs help with his science project, and I'm still trying to get holiday decorations done. There just isn't enough time in the day. I know, I can use my new Cricut Maker to do all the measuring and cutting to save time. Maybe I can do it all, with a little help!
There are so many things a Cricut Maker can do. It can cut a variety of materials, from crepe paper to leather. It can help with jigsaw puzzles, balsa wood crafts, and homemade cards. A Cricut machine can also score and mark pieces for easy identification, saving you time. It's the ideal tool for home sewers and crafters.
Take your homemade crafts to the next level with the help of a Cricut Maker!
The Cricut Maker is your innovative helper when it comes to all things crafting. This machine comes with seven different tools to assist in your material preparations. From cutting tools to pens to a scoring tool, there's a tool for everything. For instance, the included rotary blade can cut through almost any fabric. It's fast and accurate, and can cut through everything from delicate crepe paper to tough craft felt. Need more power? Check out the knife blade, which can cut through matboard for framing and other projects. It also works on lightweight balsa wood, which is popular for many crafting, model, and school projects!
Your mobile device is the key to creativity with your Cricut Maker. Simple and free design apps are available for Windows, Mac, iOS, and Android devices. Use a computer, tablet, or smartphone to design your project! If you need inspiration, you'll find hundreds of digital sewing patterns available. You can also upload your own images or fonts for even more customization! Plus, Cricut Maker comes with a convenient docking slot for your tablet or smartphone. You can take a break from design and set it down for a charge on the USB connection.
Once you choose or create your own pattern, it's time for Cricut to go to work. This machine will cut and mark all your pieces quickly and accurately. This helps you identify and align all your Cricut cut pieces, which saves time when sewing the final product! Whether you're a beginner or a professional, the Cricut Maker is the perfect handy helper for all your crafting needs.
So, if you're looking for home-use help or own a small crafting business, consider picking up a Cricut Maker machine. For sewing, scrapbooking, quilting, and crafting, it's made to save you time, hassle, and frustration. You can even gift one to the crafter in your life! It's a great choice for Christmas or Mother's Day. Everyone who crafts can appreciate a helping hand!
Additional Notes
Pictured in rose color, but also available in mint, champagne, blue, or lilac colors
#2 best seller in Scrapbooking Die-Cut Machines on Amazon
Measures 21.18 x 6.99 x 5.93 inches and weighs 24 pounds
Boasts an impressive 4.8 star rating with nearly 7,000 reviews!
Learn more about what a Cricut machine can do in our detailed and helpful guide!
Ready to purchase a Cricut, but not sure the Maker is right for you? We compare the various Cricut machine differences to help you choose the perfect model for your crafting needs.
Crafty DIYers can also learn about machine quilting for beginners in our in-depth guide!
If you want to draw an object and bring it to life, then try out the 3Doodler Create 3D printing pen!
The original Easy Etcher engraving pen allows you to customize your existing treasures!