DIY Stuffed Animal Kit – Narwhal Learn to Sew Kit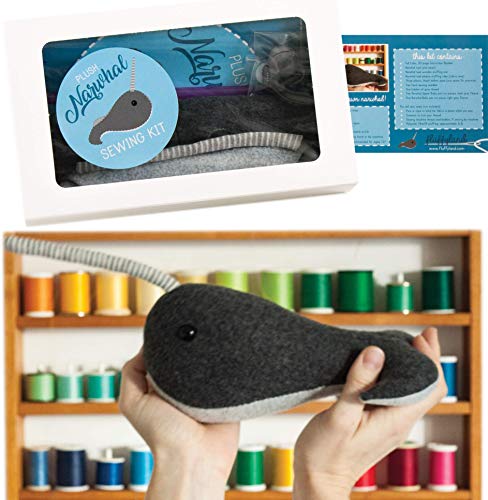 Another rainy day outside. Let's do something fun inside instead. What we need is a new fun friend to cuddle today! What's even better is that we can make one ourselves with our DIY Narwhal stuffed animal kit. Not only is this a project we can do together this afternoon, but then we have a cute plush Narwhal to keep us company while we read later. Do you think the kit has everything we need to make a stuffed animal at home?
There are a few materials you need to make a stuffed animal at home. You'll need fabric scraps for the outside, with furry or fuzzy being best. Stuffing for the inside could be foam, cotton batting, or similar material. Finishing touches such as plastic eyeballs, teeth, or felt cutouts round it out.
This DIY Narwhal stuffed animal kit lets you create your new cuddly whale friend right in your living room!
This DIY Narwhal stuffed animal kit comes with all the supplies you'll need to create your own cuddly Narwhal whale. This kit is rated for beginners, but smaller sailors might need assistance from an adult when it comes to the sewing. The 20-page full-color instruction booklet will walk you through all the steps to make a new plush friend, right at home! From how to sew, to how to stuff, to how to attach the accents and keep it lump-free, they've covered everything.
In the box, you'll find everything you need to make your Narwhal come to life. Fabric for the body comes pre-cut and features a dark gray fleece top with a light gray fleece bottom. The Narwhal's tusk arrives pre-sewn, but you'll have to stuff it. To aid you in that, a stuffing rod and tube are included as well. Three plastic eyes are the finishing touch (with one as a spare in case you mess up the first time)! Your whale also comes with fiberfill stuffing to make it nice and plush. A pair of needles and some dark gray thread round out the kit.
Your Narwhal stuffed animal kit is simple to assemble by following the directions. You can choose to either hand sew it, or use a sewing machine for faster work. If you're particularly crafty and want to be able to choose your own materials, you can purchase just the Narwhal pattern on Amazon with directions instead. This allows you to get any color fabric you desire. You can make one, or a whole pod of Narwhal!
Sewing kits make a lovely gift. This stuffed animal kit would be great for anyone who loves whales, loves to sew, or who loves DIY projects. Consider gifting one for Christmas, a birthday, or an alternative to candy for Easter. You can also pick up this kit and use it to make a handmade gift! Handmade gifts are always well received, and who wouldn't love to get this cute Narwhal? Consider gifting the finished whale for Mother's Day, Father's Day, or Valentine's Day!
Additional Notes
Recommended for ages 10+
Finished whale is 9" L x 6" W x 2" H
Eyes are a small part and can be hazardous for children under age 3
Rated 4.7-stars on Amazon!
If you graduate from sewing your own stuffed animal, then learn about machine quilting for beginners in our full guide!
Let your kids create a fun and colorful DIY firefly light jar with this kit!