Laptop Desk with Speakers Built-in – Enjoy Music & Save Space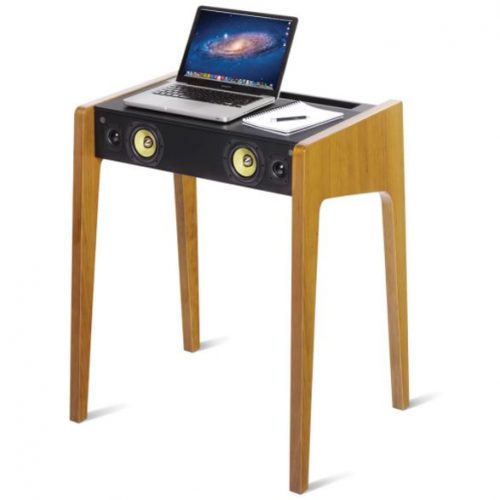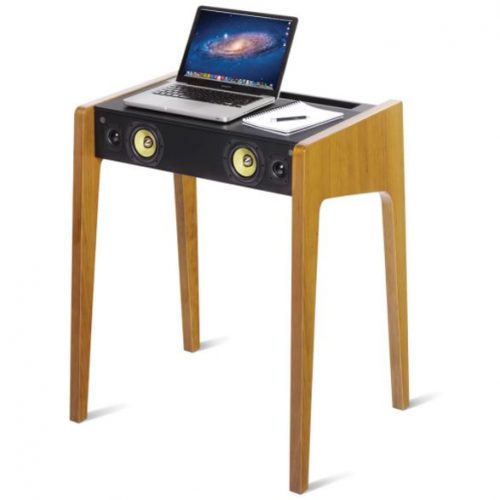 There's nothing I love more than listening to my favorite music while I'm swimming in spreadsheets at work. Thank goodness for this laptop desk with speakers built-in. It gives me a place for my computer and also rocks out the tunes!
The laptop speaker desk combo is an all in one laptop sized desk with built-in speakers. No more trying to fit clunky external speakers on your limited desk space. It even plays music directly from the computer, so it's truly a fully integrated piece of office furniture.
Turn your office into a musical paradise with the laptop desk with speakers built-in!
This laptop speaker desk combo is perfect for your office, or home office. It's a slim, space-saving desk that's designed to support a laptop. Whether you have the corner office or a studio apartment, it's sure to fit in nicely.
Wooden legs covered with a lacquered finish support the desk for stability. The desktop is foam padded for comfort and leather wrapped for a stylish, sleek look.
Aside from the functional desk design, the laptop desk with speakers really shines from within. A total of seven drivers, including tweeters and a woofer, hit all the notes. The rear speakers project up to 120 degrees for amazing fullness of sound.
The laptop you probably have on the desk anyway is even the source for the music. It plugs in via USB directly to the desk. A Hi-Fi sound card converts the digital music files that play impressively clear and crisp.
No laptop around today? No worries! Other computers, tablets, or your smartphone can also connect to the speaker desk via Bluetooth. Even when you're done with work for the day, you can still enjoy music from your favorite comfy chair.
Additional Notes
Measures 30 1/3″ H x 27 1/4″ W x 20 1/2″ D and weighs about 66 pounds
Maple toned wood grain sides with black desktop
Laptop not included
If you're a true music lover, you may also enjoy this audiophile pod chair
For another great alternative laptop table, check out the Sobro smart coffee table. You can charge your device, play music, and grab a cold drink – all in one place!
Use this balance ball chair to strengthen your core while you work
Keep your desk clean with this mini desk vacuum
Store writing utensils and keep a light nearby with the handy color changing desk lamp
Tired of sitting at the desk? Take it on the go instead with this portable laptop lap desk
Day just slowly grinding by? Check out our list of the best desk games to play at work to make the day go by faster!