Immersive Audiophile Pod Chair – Hear and Feel the Music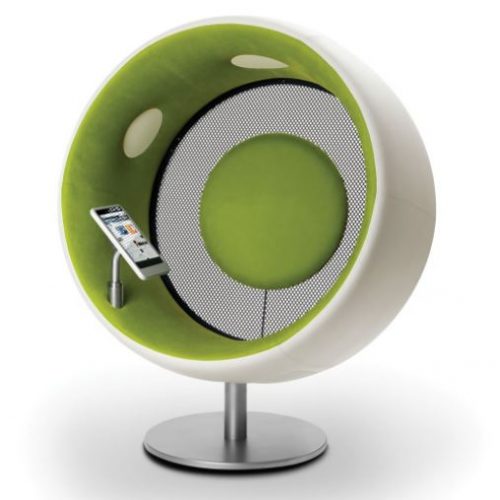 If you need me, I'll be in my immersive audiophile pod. It's the only place I can relax, listen to music, and feel the beats too. It takes me to my happy place after a long day, and that's pretty important!
Lovers of music rejoice, because this immersive audiophile pod is designed for you. It's a comfortable hideaway that allows you to hear, feel, and experience your music on a whole new level. It's like a book nook for music instead of reading. Though, I hear you can do that too.
Enter a new dimension of music experience with the immersive audiophile pod chair!
This highly unique and innovative immersive audiophile pod is the ultimate creation for music lovers. It's a specially designed, acoustically optimized pod to enhance your listening experience!
The plush, microfiber upholstery makes a comfortable place for you to curl up. While designed primarily for the audio experience, it's a great place to read or nap as well.
Five speakers are built into the ceiling of the pod, with separate tweeters, drivers, and subwoofers. The system turns out clear, crisp sounds all the way to 16Hz frequencies. Humans can't actually hear at that level, but you sure can feel it!
That's right, a structural membrane in the backrest allows you to feel the frequencies you wouldn't otherwise hear. That's really taking your music to a whole new level of experience!
Also designed to block out background noise, this audio pod chair helps to better immerse you in whatever you're listening to. Whether it's a super intense action flick or your favorite orchestra, you'll enjoy it without outside distraction.
Inside the chair, you'll find an aluminum rest space designed for the included 16 GB iPad.  Stream from your library or directly from the Internet! An RCA port also allows external device plug in, so you'll have flexibility in how to transmit your music.
Additional Notes
Made in Germany
Stainless steel base rotates 350 degrees
Measures 47 1/4″ W x 56 2/3″ H and weighs about 220 lbs
You may also enjoy this Rhythm Viola clock, which plays music and tells time too!
Let others in on the party with an auto-tune karaoke machine. There won't be any bad singing here!
Too much effort? Let the self contained hootenanny play your favorites as a 17 piece band in a box
The all media jukebox plays music from nearly any type of format, so you're never limited by outdated technology
Enjoying the noise cancelling technology of your new audio pod? Check out our tips on how to soundproof a room to quiet the rest of your home, too
After lunch, do you ever get that food coma feeling? Thanks to the technology in this nap pod chair, 10-20 minute power naps will leave you feeling refreshed and more productive!
Like the design of an egg chair, but don't want all the bells and whistles of these high tech versions? If so, then this modern globe chair will fit your sleek décor.