Billion Dollar Art Gallery – USB with 500 Famous Works of Art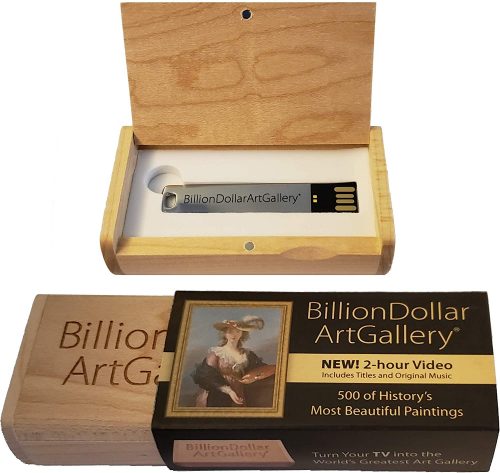 I'd really love to go explore the art gallery this weekend. However, I still really don't want to put on pants. Let's stay home and use the Billion Dollar Art Gallery to make the art come to us, here on our television set.
Turn your TV into a wall art gallery with the Billion Dollar Art Gallery. It works with almost all modern television sets. In fact, all it requires is a USB connection to your media device. Your existing TV, tablet, digital photo frame, monitor, and more can become a work of art.
With one click, the Billion Dollar Art Gallery USB turns your TV into an art show!
Billion Dollar Art Gallery is a small USB device that plugs into your existing TV to turn it into a live work of art. Simply plug it in, access the stored data, and bring the museum right into your living room!
It works with most modern televisions and broadcasts the images in 3840 x 2160 ultra high definition (UHD) for stunning quality. Even large screen TV's work, so feel free to set it up right in the main room. You could also enjoy it in the bedroom or a home office.
A 2-hour long video will play original music as it loops through 500 of history's greatest works of art. Here are just some of the great artworks you'll see in Billion Dollar Art Gallery:
The Starry Night by Vincent Van Gogh
Two Women at a Window by Bartolome Esteban Murillo
The Flowering Apple Tree by Piet Mondrian
Winter High Bridge Park by George Benjamin Luks
Dancers in Blue by Edgar Degas
Primavera by Sandro Botticelli
Boating by Edouard Manet
Ashes by Edvard Munch
The Sleeping Gypsy by Henri Rousseau
The Anatomy Lesson of Dr Nicolaes Tulp by Rembrandt
If you want to learn more about a particular piece, access the info on your device. It will display the name of the painting, painter, year created, and the museum where you can find it today! If your TV isn't information compatible, just access via smartphone on the Billion Dollar site instead.
This is the perfect addition for any art aficionado, lover of the classics, and is sure to be a conversation starter in any home!
Additional Notes
Comes in a maple wood gift box
USB stick is chrome
Measures 2 x 3.5 x 0.5 inches and weighs just 4 ounces
Makes a perfect stocking stuffer!
4.2 star rating with over 700 reviews!
Compatible with the Samsung Frame TV, so you can take it to the next level by framing your new art
Really bring the room together when you set up on your Ameriwood fireplace TV stand
Are digital photo frames worth it? Check out our guide if you're considering grabbing one to see if it's the right choice for you!
Feeling inspired? Create your own unique, ever-changing art with a moving sand art picture frame