Are Inflatable Hot Tubs Worth It? What to Know Before You Buy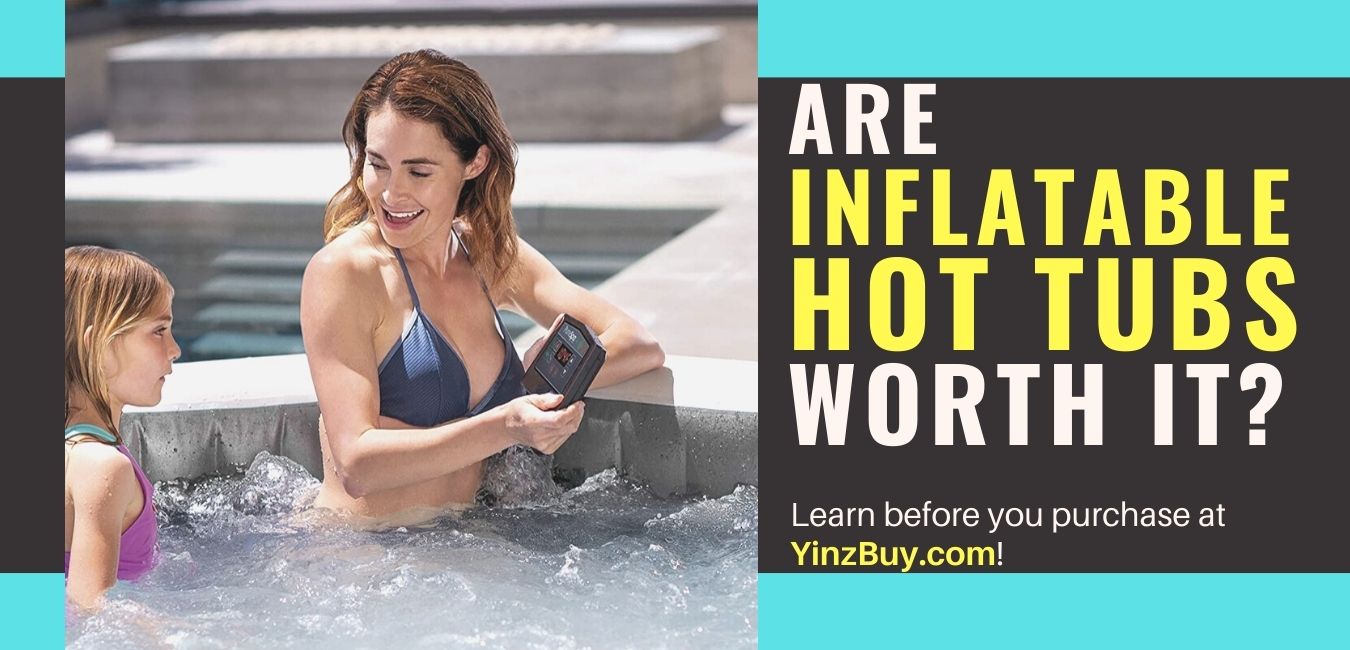 I'm always looking for ways to unwind after a long, stressful day. Whichever way I choose to relax though, I'm always conscious about the cost. Enter the budget and user-friendly inflatable hot tub. It sounds great, but are inflatable hot tubs worth it?
An inflatable hot tub is worth the investment for a few reasons. This fantastic invention is budget-friendly, easy to set up and move, and provides that soothing hot spa feel. Best of all, they fit a variety of spaces, offering flexibility and convenience.
Does that sound good to you, too? In this guide, I'll take you through everything you need to know about an inflatable hot tub. I'll cover everything from operating costs to maintenance. Plus, we'll look at some great features you can expect. Relaxation here we come!
If you've already made the decision to purchase an inflatable spa, you can check out our list of the best inflatable hot tub choices to help you make the perfect decision!
Read on to dive into the inflatable hot tub world!
What is an Inflatable Hot Tub?
First off, you're probably wondering what an inflatable hot tub is. How do you know if inflatable hot tubs are worth it without even knowing what they're all about?
I mean, it sounds like a relaxing, heated bath. But, do I have to blow it up? Well, kind of. Let me explain.
An inflatable hot tub is a hot tub that is not permanently installed, but rather inflated with air. This means it can be set up anywhere you like and deflated and moved as needed.
You may also hear an inflatable hot tub referred to by the following names:
Blow up hot tub
Inflatable spa
Portable hot tub
No matter the name, they're all the same thing. If you're looking for an easy way to venture into hot tub ownership, then this inflatable version might be for you!
What are the Benefits of an Inflatable Hot Tub?
Perhaps you're unsure of whether a traditional tub, inflatable hot tub, or even if getting one in general is right for you. Let's take a look at some of the benefits offered. Then, you'll have a better idea when you ask yourself are inflatable hot tubs worth the money?
Here are the top benefits to an inflatable hot tub:
Affordable price point. An inflatable spa can cost a fraction of its traditional counterpart. Depending on the model, you'll spend as little as 1/6 the price

, which is very budget-friendly.

Convenient.

Setup takes minutes and doesn't require special landscaping considerations.

Easy to move around. If you're moving, you can take an inflatable hot tub with you. Even if you're staying put, perhaps you want to relocate your tub for the changing seasons. That's easy too!
Durable material. Tough PVC exterior resists damage from outdoor elements like rain, wind, or sun.
Guests can easily use it. Blow up spas require little advanced hot tub knowledge to operate.
Space-saving. A hot inflatable spa is much more compact than the traditional style. It also stores easily when not in use, keeping your outdoor space free if needed. If you live in an apartment, you can enjoy this option and just take it down when you're done.
Designed to be used indoors or outdoors. Many inflatable hot tubs may be used indoors, which is perfect in the chill of winter.
Like a traditional hot tub, an inflatable spa still needs to be filled with water, connected to power, and be regularly cared for.
That's a lot of great reasons why an inflatable hot tub is a worthwhile choice for many folks. Let's dive a little deeper into that whole affordability factor!
 

View this post on Instagram

 
Are Inflatable Hot Tubs Heated?
Yes, inflatable hot tubs are designed to be heated. In fact, most inflatable hot tubs come with a heating system.
However, not all models come equipped with a water heating element, particularly when you target a cheap inflatable hot tub. Always check the product specifics to understand what your model offers.
Can Inflatable Hot Tubs be Used in the Winter?
An inflatable hot tub can be used in the winter. In fact, they're great for nearly any season. However, while insulated, they are not as good at retaining heat as a permanent tub.
Your inflatable spa will take longer to come to temperature and will draw more power to keep up with excessive cold. Many blow up spas are not recommended for use below freezing temperatures.
If you live in a cold winter area like I do, you have a couple options. You can move the spa indoors in the winter months. Alternatively, choose an inflatable hot tub that's rated for freezing temperatures, making it safe to leave out year-round.
This hot tub gazebo not only helps add a bit of privacy to your backyard, but the shelter also protects you and the inflatable spa from the elements.
Should you decide to move your spa indoors, make sure that the location is safe for an inflatable hot tub. This includes adequate ventilation, support of up to 2,500 pounds (factoring in both the spa and the water), and resistance to water damage in case of leaks.
Do Inflatable Hot Tubs Have Seats? 
Most inflatable hot tubs do not have seats in the traditional sense. There are no rigid, molded plastic like those in a normal hot tub. Instead, they're commonly waterproof, inflatable vinyl pillows that serve as a back or headrest.
Don't worry, you'll still be able to relax and enjoy without the seat in there – I promise. There's also the added benefit of flexibility in the number of people that can fit comfortably.
With a 4 person traditional hot tub, there are 4 defined seats, and you're pretty much stuck to that. In an inflatable spa, you could probably wiggle 5-6 folks in a 4 person tub depending on how close you are!
However, if you feel like you're missing out, you can always add an aftermarket plastic seat designed to be compatible with an inflatable tub.
A spa surround system is also a nice touch. It adds external seating, a place to set snacks or drinks, and a step to help you get in. While much pricier, it's worth it if you plan to spend a lot of time entertaining around your inflatable hot tub.
 

View this post on Instagram

 
What Size Inflatable Hot Tub Should You Buy?
When thinking of what size inflatable hot tub to buy, consider a few things:
How much space do you have to set it up?
Will a round, square, or rectangle shape best suit your needs and space?
What number of people will be using it regularly?
The most popular sizes of inflatable hot tubs are between four feet by four feet (round or square) or five feet by eight feet (rectangular).
However, there are certainly smaller options if space is limited for you. Alternatively, those with larger properties may prefer bigger models because they have more capacity, which means you can have more guests over to enjoy your inflatable hot tub!
What Does an Inflatable Hot Tub Cost?
An inflatable hot tub costs on average between $500 and $1,000. Some models will cost more than this, depending on size and features selected.
Note that this is purely the cost for the purchase of the blow up hot tub itself. The costs of running it and the maintenance will be additional. I'll get to more about that later.
Most inflatable hot tubs include these features:
Built-in water filtration system
A water pump
Seats for relaxing
Water jets for a soothing massage and hydrotherapy support
Some optional inclusions that can increase the cost of your inflatable spa are:
Air pump

for inflation

Water treatment system
Additionally, inflatable hot tubs do not often come with an insulated blanket. While an extra cost, it may be worth the money because it:
Helps keep the temperature regulated inside your hot tub 
Makes it more enjoyable for you to use 
Lowers your total costs throughout the year 
Improves the life of your cover by limiting exposure to chemicals
If you plan to use your inflatable hot tub regularly, it's worth investing in one that includes everything you need or want. Then, you won't have to worry about adding pieces and parts. Just get to relaxing sooner!
However, if your hot tub only receives occasional use, a cheap inflatable hot tub with limited amenities may serve you better.
Additional Costs of Inflatable Hot Tub Operation
While the actual purchase of your hot tub is probably the biggest consideration, you shouldn't overlook some of the additional costs as well. Here are some of the common additional costs of inflatable hot tub operation to consider:
Chemicals. Hot tub chemicals

keep the spa clean and healthy. Depending on use, size, and style selected, expect to pay $150 – $350 annually.

Cleaning.

While chemicals keep things in decent shape, you should still perform a full cleaning annually. A professional cleaning service averages around $150. To save money, you can also perform this task yourself with

hot tub cleaner

and some elbow grease.

Repairs.

While we always hope to not need repairs, it's a normal expectation for hot tub ownership. Budget $200 – $500 annually to cover pump, jet, heater, controller, or structural fixes required.
In short, plan to spend about $600 annually on maintenance and upkeep associated with your inflatable hot tub.

How Often Do You Have to Put Chlorine Tablets in Your Inflatable Hot Tub?
Chlorine is the chemical typically used to keep hot tubs sanitized and free from bacteria. Hot water can allow bacteria to grow, which can be risky for your health if you choose not to put chlorine in the hot tub.
There are non-chlorine alternatives for inflatable hot tubs, but if you choose to use chlorine tablets, you want to make sure your water is properly sanitized by using the correct amount.
You should replace your chlorine tablets after they have dissolved completely from their dispenser. This amount of time can vary based on the following factors:
Hot tub usage

Pump flow and spa capacity

Water temperature
You should see chlorine tablets generally dissolve between three and seven days in an inflatable hot tub.
Monitor your spa to understand how fast your tablets dissolve so you can keep your hot tub sufficiently chlorinated and free of bacteria. Are inflatable hot tubs worth it for this amount of maintenance? I'd say the relaxation well outweighs the work required!
The Cost of Water for an Inflatable Hot Tub
Since a hot tub is veritably a small, hot pool, it needs to be filled with water! You may not have even considered it, but there is a cost associated with the water you'll need for your inflatable spa.
Here are some of the most common sizes of inflatable hot tubs, and the associated water costs:
| | |
| --- | --- |
| Capacity (Gallons) | Cost to Fill |
| 177 | $0.27 |
| 210 | $0.32 |
| 222 | $0.33 |
| 290 | $0.44 |
*Based on the US average water cost of $1.50 per 1,000 gallons
While this cost seems negligible on top of your existing water needs, it can certainly add up. If you regularly move your tub (one of the benefits of an inflatable after all) that means a lot of draining and refilling. This, in turn, means recurring cost every time you do so.
Keep in mind some areas will see much higher increases in their water bills because the price of water varies widely across the United States and the world. However, on average you should expect to pay about $3 – $5 more on your water bill annually for your inflatable hot tub.
How Often Do You Change the Water of an Inflatable Hot Tub?
In your inflatable hot tub, you should plan to change the water every three months. This keeps the water from getting cloudy and ensures that your water will not put too much strain on your filter by being bogged down with chemicals, debris, and bacteria or algae.
You may change the water more frequently than that, as needed. Plus, as mentioned, anytime you need to move or store it, it will need to be drained and refilled anyway.
 

View this post on Instagram

 
How Often Should You Add Water to Your Inflatable Hot Tub?
Add water to your inflatable hot tub any time you notice the water level is low.
Maintaining the fill level at 100 percent helps keep it running smoothly. If your hot tub is not full to the proper capacity, it can cause the water filtration system to work improperly.
Keeping the cover on your inflatable hot tub when not in use will help reduce evaporation. In turn, this reduces the frequency with which you will need to "top it off".
How Much Water Will My Hot Tub Hold?
Your inflatable hot tub will hold on average between 150 and 300 gallons of water, depending on the size and shape of the inflatable tub you choose.
By knowing this, you can more accurately gauge how much your water bill will increase due to filling and topping off your inflatable hot tub.
Here is a handy breakdown of some common shapes and sizes of inflatable hot tubs and how many gallons of water they hold:
| | | |
| --- | --- | --- |
| Number of People | Shape of Tub | Gallons of Water |
| 2 Person | Oval | 145 |
| 4 Person | Round | 192 |
| 4 Person | Square | 177 |
| 6 Person | Round | 242 |
| 6 Person | Square | 250 |
*Capacities will vary slightly by brand, these are rough estimates based on popular models
How Much Electricity Does an Inflatable Hot Tub Use?
Your inflatable hot tub will have wattage ratings for the heating and pump system separate from the jet system. For the heating and pump system, most inflatable hot tubs use between 1 and 1.5 kilowatts of electricity.
On the other hand, jet systems in inflatable hot tubs can range between 0.5 and 1.1 kilowatts. Just remember, the more powerful the jet, the more power required!
The combined wattage of these systems will run you between 1.5 and 2.6 kilowatts of electricity per hour to power your inflatable hot tub.
Using your inflatable spa can increase your electric bill, just like your water bill!
 

View this post on Instagram

 
How Much Does Your Electric Bill Go Up with an Inflatable Hot Tub?
That's right, in addition to paying more for water, you should consider that you must pay more for your electric bill. This is because a hot tub's filtration, heat, pump, and jet system run on electricity.
The amount you will see your electric bill go up with an inflatable hot tub will vary depending on the following factors:
Frequency and duration of use
Price of electricity in your area
Size of the hot tub
Type of heating and jets used
The type of pump used
Climate where you live
If you are using the hot tub daily, it is recommended to use a timer so that each hot tub session does not exceed more than ninety minutes.
This is a good length of time both for your health and for your electric bill! It is not recommended to spend extended periods in extremely hot water.
In short, expect to see your electric bill increase by about $5 a month on average when running an inflatable hot tub. This is based on the national US average  $0.10 charge per kilowatt-hour and using your hot tub for around 20 hours a month.
You may notice a more significant increase (around $151 per month) if you choose to have the inflatable hot tub running at all times. While this will do damage to your electricity bill, it will keep the water clean, warm, and ready for use.
Are inflatable hot tubs worth the money to run all the time? Well, if you use it often and don't want to wait to enjoy it, then the answer is yes!
How Long Will an Inflatable Hot Tub Last?
In a hot tub, the lifespan is dependent on the quality of its construction and the level of use it receives. A hot tub that sees heavy usage will break down faster than one that is used infrequently.
On average, an inflatable hot tub will last anywhere from three years to five years. After that,  it will begin to deteriorate and lose its capacity to insulate properly.
While that may not seem like an incredibly long time, even permanent hot tubs have a finite life expectancy. You'll probably go through about three inflatable spas in the same span as one traditional hot tub.
Factor in the cost difference and convenience, and ask yourself are inflatable hot tubs worth it? I still think the answer is yes!
Just make sure to avoid sharp objects around your inflatable tub, and take it down during extreme weather. Nothing shortens the lifespan of an inflatable faster than a pointy object. I also recommend always having a patch kit on hand for emergencies.
 

View this post on Instagram

 
In Summary: Inflatable Hot Tubs are Worthwhile Options
So, after all we've discussed, are inflatable hot tubs worth it? If you are searching for a hot tub that is easy to set up and takedown, an inflatable hot tub might be the right choice for you.
Blow up hot tubs  offer another option in the market of spa relaxation products, so it's no surprise they're becoming more popular with consumers.
They are low-maintenance and can be used year-round if properly heated and monitored. While inflatable spa prices vary greatly depending on size, materials, and brand, there are budget friendly options for everyone.
I hope you'll find that the investment into inflatable hot tubs is worth the money – I know I do!
As noted on our Affiliate Disclaimer page, links to products inside this blog could lead to sales commissions (at no additional cost to you) which allow this site to continue operations.