Squishable Sushi Roll – Your Adorable Plush Kawaii Shrimp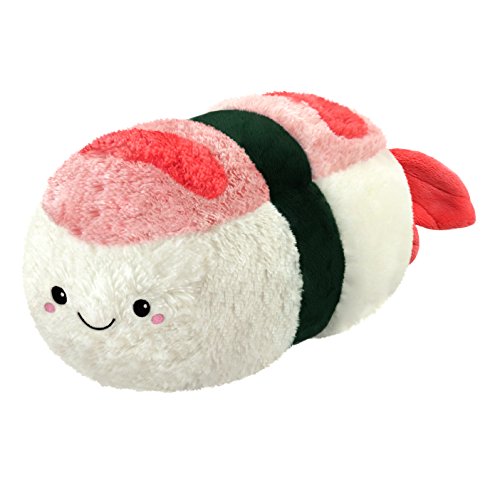 Is that a giant shrimp you're carrying around? I swear you get weirder by the day. It's a Squishable sushi roll shrimp plush that you're going to nap with? Well, at least it's not a real shrimp. I'd be kicking you out of here if you left random shellfish on the couch!
Don't listen to anyone who tells you not to play with your food. This Squishable shrimp sushi roll is the adorable kawaii style plush that's made for snuggling. It's the only type of sushi you can bring to bed without worrying about that old seafood smell in the morning.
Play with your food when you snuggle this adorable Squishable sushi roll shrimp plush!
This Squishable shrimp sushi plush is your favorite sushi in a cuddly friend. It's made in a super cute kawaii style that makes a fun addition to your home. From bed pillow to accent pillow to a plush toy, it's time to squish some sushi!
Styled after authentic shrimp nigiri, this sushi roll plush has a two-tone pink top resembling a cooked shrimp. An adorable little shrimp tail sticks off the back. The white puffy base represents the rice, while a black band is the "seaweed" keeping it snug.
The smiley face on the front – well that's all cuddly plush. If my sushi actually smiled back at me, I might find that slightly disturbing.
Anyway, rest assured this is completely fish and shellfish free. It's made from polyester fibers, so it's the closest anyone with a shellfish allergy can safely get to the real thing!
Additional Notes
Recommended for ages 3+
Measures about 7" long
Definitely don't try to eat it – I already tried and promise it wasn't tasty
Rated 4.7 stars with almost 300 reviews!
Sounds like we know what's for dinner tonight. Serve it up on this fun shark sushi platter
Don't forget to set out the panda relief dipping bowls, revealing a hidden image in your soy sauce
Journey to a galaxy far, far away with lightsaber chopsticks for your eating utensils
Missing your favorite character? Find out where to buy lightsaber chopsticks for all the fan favorites!
When it comes to drinks, you'll want to break out the color changing sake cups. Simply add sake and watch the cherry blossoms come to life!
Keep your feet warm while you snuggle your plush when you wear sushi socks
For additional accent pillows, you may also enjoy the Smillow scented pillow. This pineapple kawaii style goes with the sushi plush perfectly. It even smells like pineapples!
Ready for bed? The Tatami mattress is a quick and easy sleep mat for home, travel, or guest use. I hear shrimp sushi makes a great pillow!