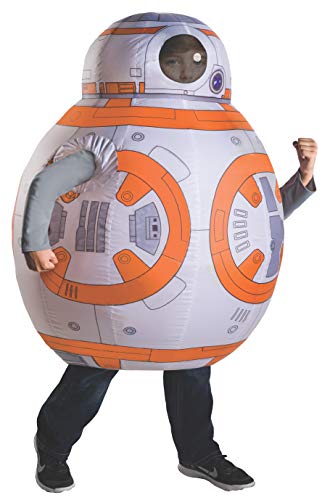 There's a lot of beeping and bopping going on in the living room. I wonder if we've got a rogue robot again. Nope, you're just getting into your Star Wars inflatable BB-8 costume I see.
Everyone's favorite, sassy, rolling robot is here for dress up with the inflatable BB-8 costume. Now you too can roam the galaxy, or even just the neighborhood, on adventures of your own. This costume is available in both child and adult sizes, to suit kids and kids at heart alike.
Go adventuring in a galaxy far, far away with your Star Wars BB-8 costume!
Don your Star Wars BB-8 costume, and get ready to explore the galaxy. You'll never be left behind, as everyone knows you're the whole reason this hunk of junk is still running.
This adorable costume is made from 100% polyester and designed to look like Star Wars fan favorite robot BB-8. A round body capped with a smaller dome head creates the shape. A white base is accented with printed accessories in orange, grey, and blue.
The head compartment features a see-through screen so you may walk safely while wearing the costume. Don't worry, the powerful built-in fan will still be able to keep the costume inflated.
Put on your favorite base outfit to get started. Then, switch on the fan, and step into the costume. Clip the interior fan pack to your clothing to secure it. Finish by zipping the costume and securing leg, neck, and arm holes to prevent air escape.
As a child sized costume, this is a one-size fits most kids aged 5 to 8. An adult size BB-8 costume is also available for older kids and grown-ups.
While you may not be able to roll around, you'll still be a hit at the next Halloween event, costume party, office party, or Star Wars themed party with your awesome BB-8 costume!
Additional Notes
Officially licensed
Fan motor requires 4 AA batteries (not included)
If you want to give rolling around a try, use these hover shoes to embrace your inner robot
Don't forget to pack along your lightsaber umbrella in case of rain!
For long trick or treating nights, make sure you start the day off with a healthy breakfast from your Death Star toaster to stay fueled up
Bring your furry family member along with this Ewok pet costume
A Chewbacca blanket with sleeves makes a great last minute costume for adults, but is also just an awesome way to relax and stay warm on cool fall nights