Dragon Throne Chair – A Medieval Seat for Kings or Queens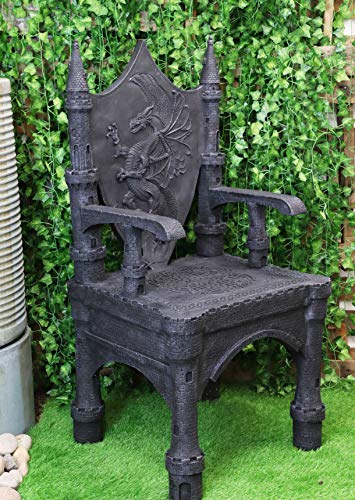 These new dining chairs you got are really something. I feel like I've stepped back into medieval times. Are you sure you didn't pick them up at the Renaissance fair? I mean, where else would you find a dragon throne chair?
Whether you're the mother of dragons or king of the castle, this dragon throne chair is for you. Made of modern materials, this chair boasts a heraldic crest that transports you to days of yore. For a unique and distinctive look, pile them around the dining table.
All hail he who sits upon the dragon throne chair at dinnertime!
Whether you're overseeing the joust or digging into a turkey leg, it's better from your dragon throne chair. It's made from molded resin over a wooden frame, for a modern innovation on a classic design. I can't imagine what it would weigh if it were iron, anyway.
The legs, sides, and supports are designed and hand painted to look like a castle. Arches, spires, ramparts, turrets, and more lend to a Medieval inspired throne upon which to sit.
On the back panel of the chair, a heraldic crest graces the design. A fierce, fire-breathing dragon marks the seat of the fierce warrior who dares to sit upon the throne.
When sitting, you'll be perched upon the gorgeous Celtic circle on the seat.
Whether you choose this as an accent chair for your home, a set for your dining chairs, or even as a party prop, you're sure to start the conversation. These eclectic chairs are sure to please any fans of dragons, Medieval times, and collectors of the unique.
Additional Notes
If you're looking to compare prices, then feel free to check out this identical dragon throne on Walmart
Chair measures 24″ W x 22″ D x 48″ H and weighs about 98 pounds
Safe for actual seating use by kids or adults (maximum recommended weight 220 pounds)
If you're using it as an office chair, make sure to grab a coordinating dragon stapler for your desk!
Pull the chairs up to the table for game night. Then, break out the dungeons and dragons coaster set and pour the mead!
In fact, this throne seems like a perfect seat for someone drinking from this wooden Dungeon Master mug!
Let your guests know what to expect when your dragon mailbox post cover greets them in front of your home
Don't get your cats feel left out. Get them a cardboard castle, perfect for scratching!
After a long game night, mount your "fallen" into this Westeros beer cap map. Bonus points if you're also drinking Medieval inspired beers!
Need help making those turkey legs? Check out our smoking meat 101 guide for how to choose a smoker and meat for the best results!