Dungeon Master Mug – Wooden Mug for the Game World God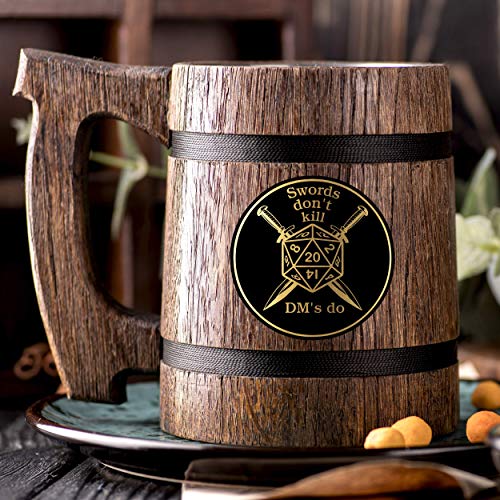 Hey, you're coming to D&D night, right? We're about to start a new campaign, and I think you're going to love it. The guys even got me a customized wooden Dungeon Master mug to celebrate. Oh, don't look at me that way. I won't purposely try to kill you off… probably.
Wooden Dungeon Master mugs are an easily personalized gift. They're made from wood and lined with a modern liner such as metal for drinking. Not only are they a great keepsake and display piece, but a functional mug for D&D games. These mugs are the perfect choice for a DM or D&D fan.
Commemorate your latest diabolical Dungeons and Dragons campaign with this wooden Dungeon Master mug!
This gorgeous handmade customized wooden Dungeon Master mug is the perfect addition to your next campaign. The mug is made from natural oak wood and finished with a customizable brass plaque. The plaque features a pair of crossed daggers with the iconic D20 in front of them. The phrase "Swords don't kill – DMs do" is engraved on the tag, with an option to add someone's name below.
The same design is located on the bottom of the mug. Make sure to make eye contact with anyone you want to intimidate while drinking from your tankard for maximum effect. Speaking of drinking, fear not. Food grade stainless steel lines this stein. In addition to keeping things cleaner, it also aids in keeping cold drinks cold and warm drinks warm for longer periods. This Dungeon Master mug holds up to 22 ounces of your favorite beverage. Bring along a hearty beer, mead, soft drink, and more. After all, we're sure it's going to be a long campaign. So put down the dice, you don't need to roll your intellect to know this DnD Dungeon Master mug will be a hit at game night!
Additional Notes
Since mugs are handmade, natural color and grain variation may occur in wood
Makes a perfect gift for the DM, gamer, or Dungeons and Dragons fan in your life
Note that it ships from Ukraine, so plan ahead for shipping times!
The ultimate Dungeon Master deserves to sit in this dragon throne chair!