Dungeons & Dragons Coasters – Features All 12 Core Classes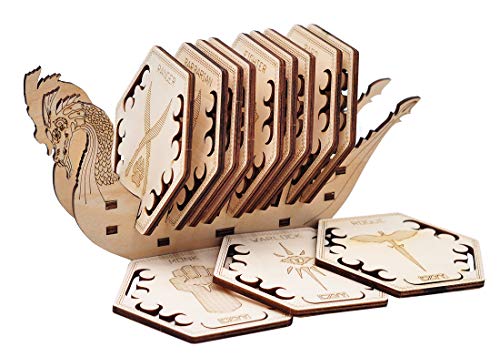 Welcome to the start of our new campaign. I'll be your dungeon master this evening. Now, before we even get to serving drinks, you're going to need to choose your class. Why, you ask? Well, so I can give you the matching Dungeons and Dragons coasters of course!
Who wouldn't be excited by 12 awesome coasters in a dragon longboat storage rack? This set of nerdy coasters is perfect for gamers, geeks, and nerds alike. Everyone will find their favorite class in a beautiful laser etched coaster that's just begging for game night.
Keep the drinks flowing and the table safe all campaign long with Dungeons and Dragons class coasters!
What Dungeons and Dragons campaign would be complete without the matching set of DnD class coasters? Now, you'll be able to keep the table and all your papers safe from dreaded condensation. Place your drinking vessel upon these gorgeous coasters and you're ready to roll…the dice, that is.
Each coaster is made from natural birch plywood. They're lightweight, sturdy, and each one has individual character from the wood grain. The hexagon shape is unique, but wide enough to hold your Dungeon Master mug with ease. They measure 2.5" side to side, and 3.9" corner to corner. Yay geometry!
Using laser etching, the coasters are marked with the 12 different core DnD character classes; one of each. You'll receive the following in the set:
Barbarian
Bard
Cleric
Druid
Fighter
Wizard
Monk
Paladin
Ranger
Sorcerer
Rogue
Warlock
When not in use (because sometimes you do need to sleep you know), they slide into a dragon longboat for storage. Yeah, that's right – a dragon. It'll look awesome on the table or mantle in between campaigns. Wipe coasters clean with a damp cloth before tucking them away if needed.
Additional Notes
Safe for use indoors and outdoors
Requires minor assembly upon arrival
Dragon boat is 8" L x 4" H x 3.8" W
Set weighs just 8.4 ounces in total
Impressive 4.8 star rating with nearly 200 reviews!
Don't forget to stock up on Geek Grind Goblin Gulp coffee to fuel game night
For a real dragon boat, check out this dragon pedal boat to rule the lake!
What DnD campaign is complete without some more dragons? It is Dungeons and Dragons, after all. Here's some of our other favorite dragon themed items to add to your home: