Giant Fog Breathing Dragon – Best Halloween Yard Decoration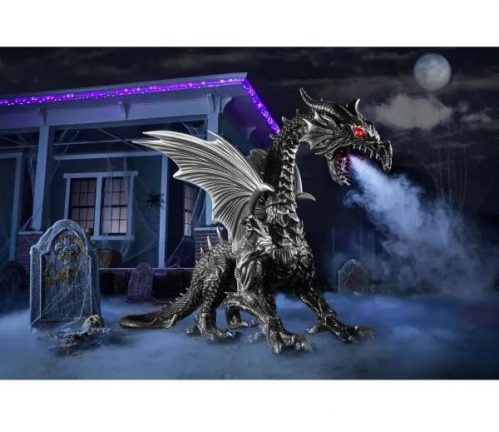 Whoa there, Tim. Where on Earth did you find a real dragon that breathes fog for your yard? I didn't think you could just go to the store and come home with a dragon. You actually can? You went to Home Depot and got this giant fog breathing dragon just for Halloween? I don't even want to know how you fit it in the cart.
An animatronic dragon is a type of realistic prop designed for outdoor home use. Facial movements, sounds, and faux smoke create the illusion of a realistic dragon. While most popular for Halloween, there are a variety of designs suitable for different seasons as well.
Protect your castle from neighborhood kids this Halloween with a giant fog breathing dragon from Home Depot!
The Home Depot dragon that breathes fog adds a lot of roar to your front yard. No more worrying about the house getting covered in TP or eggs with this fearsome beast standing guard. Standing just under six feet tall, this dragon is an imposing statement to any yard. It features a black and silver body, with incredible painted detail. Two broad scaly wings, clawed feet, and a tail make this a full-fledged fire breathing dragon!
Fine, I was kidding about the fire – kind of. This animatronic dragon really comes to "life" with some great details. Two red LED eyes burn through the night, creating a menacing look. Instead of actual smoke and fire, this Home Depot dragon breathes a cloud of faux smoke with the help of a fog machine hookup (not included). An animated mouth moves to not only let the mist out, but also to release a roar!
Scare trick or treaters and guests with your ferocious black silver dragon. A motion sensor will control the jaw, growl, and flashing red eyes when passersby get close. Simply toggle the on/off switch in the dragon's mouth to turn the sensor on and off. When not in use, it's best to turn it off to preserve battery life. Three AA batteries are used for this system, but come with the fog breathing dragon to get you started.
Additional Notes
AC adapter (US Only) included for alternative power source
Assembly is required – package weighs nearly 90 pounds at delivery, so plan for assistance!
Fully assembled, measures 69" tall x 46.5" wide x 95" deep and weighs 63 pounds
Dragon comes with internal hose and fitting for attachment to fog machine
Includes a sign to not sit/climb on to deter kids from doing so
For more great Halloween yard décor, check out some of our favorites:
Love dragons aside from Halloween time? Check out some more great dragon-themed ideas for your home: