Dragon Stapler – Medieval Office Novelty Stapler Minus the Fire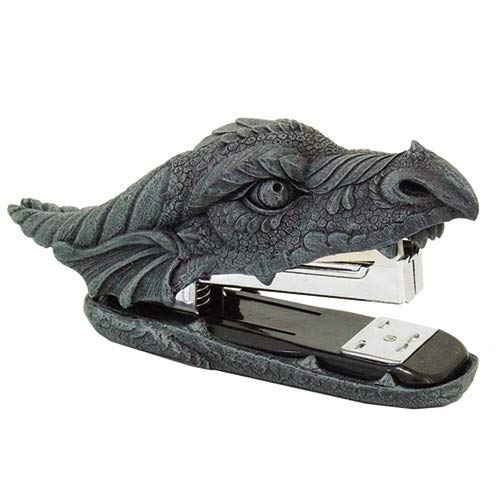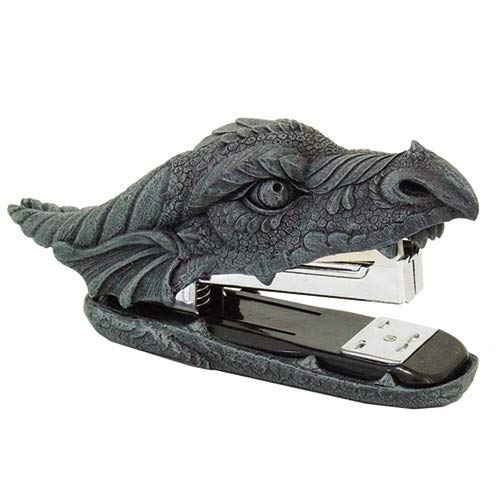 Why are you lingering near my desk again, Terry? I told you to get your own stapler, this one is mine. In fact, my new novelty dragon stapler might burn your papers up. Dragons are great at keeping evildoers away.
Novelty staplers are available in multiple different designs. They emulate characters and objects from many different genres or shows. Like any stapler, they can be made from a variety of materials, such as wood, metal, plastic, or resin. The novelty design brings a personalized flair to the office.
You don't need to be the mother of dragons to use this novelty dragon stapler!
Pacific Giftware's novelty dragon stapler is ready to bring a little more bite to your workspace. The inner workings are a standard desk stapler, made from lightweight, durable aluminum. The outside is set from cold-cast resin and designed to look like the head of a dragon. It's hand painted in various shades of gray for an almost stone-like appearance. While this fearsome dragon won't breathe fire, it is excellent at sinking its fangs into your papers.
A dragon stapler is perfect for the lover of fantasy and mythical creatures. Whether you're playing D&D or watching Game of Thrones after work, this novelty stapler is a great choice. It's a manual stapler, so you'll have to press down on the head to staple your paper. We tried to get the dragon to just do it for us, but he didn't seem to listen. Dragons are difficult like that.
Refills are easy, as the top flips open just like any standard desk stapler. It accepts standard staples for your convenience. Even if the dragon bites, they're not all that painful. So, if you're looking to add a little fantasy charm to your desk, grab a dragon stapler. Just keep an eye out for the villagers – I mean, coworkers – showing up with pitchforks and torches again. Why does that keep happening?
Additional Notes
Stapler measures 6.25 x 1.75 x 2.5 inches and weighs about 10 ounces
Pair with a dragon staple remover for the perfect desk duo!
Will not seek fiery vengeance on your behalf (sorry)
Cannot be opened up completely flat – desk use only
Staples not included
Can staple roughly 15-20 sheets at a time, depending on page thickness
Rated 4.3 stars with over 800 reviews – office approved!
Try adding these Little Live Aqua Dragons and their deep sea habitat to your desk! They are the perfect desk pet and also great for your kids!
Need more fun dragon themed office items? Check out our favorite coffee mug with a hidden dragon inside!
Make a statement outside your home this Halloween with a fog breathing dragon!
Let your mail carrier experience your love of mythical beasts with this dragon mailbox post cover by Design Toscano!